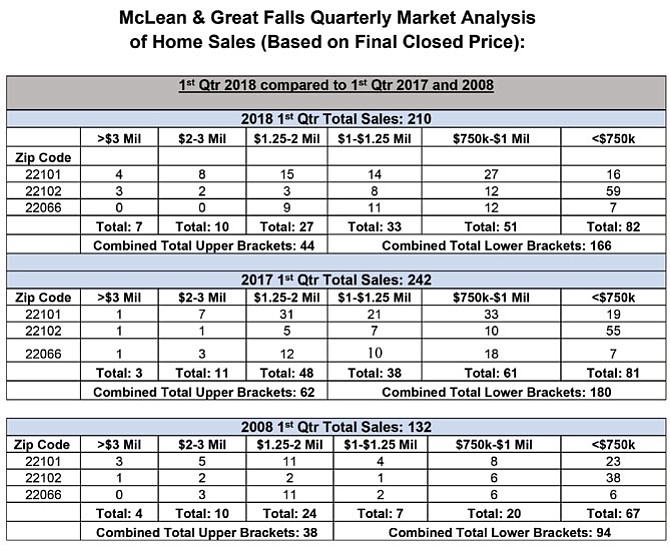 The number of real estate transactions in McLean and Great Falls closed out the first quarter 2018 softer than in the same time period in 2017, with 210 transactions vs. 242 the previous year. In comparison to the 2008 market just one decade ago, the number is up almost 60 percent. Allow me to speculate on the reasons I see for the market shift.

First, there was uncertainty as to the effect of the tax reform that took place in the fourth quarter of 2017. This caused many people to put their moving decisions on hold.

Second, inventory levels in many segments were low relative to demand. With not as many choices available to buyers, they either had to raise their price point, make concessions, or put their move on hold until more choices became available. Many chose to wait.

Third, the weather was not cooperative! The groundhog saw his shadow and that foretold more winter-like weather, which was an accurate prophecy. Early spring-like weather is a key attribute to strong first quarter market sales. Now that the cherry blossoms are in peak season, I predict stronger spring like real estate market activity.
Home sellers in the area experienced in many cases the "best of times" market conditions in 2016 and 2017. As we move into the second quarter of 2018, there are strong indications that homes priced well and in good condition will sell for solid prices. Should demand continue to remain strong relative to supply, some market segments may experience price appreciation.

Home buyers in the area can purchase with the confidence that purchasing in an up market cycle frequently proves advantageous over time. The second quarter 2018 is poised for strong activity. Begin working with an experienced agent now to beat the rush.

Karen Briscoe, with HBC Group at Keller Williams, is an active and experienced Realtor in the Northern Virginia marketplace. Karen, alongside her partner Lizzy Conroy and team, works with sellers, buyers, investors and builders in all price ranges. www.HBCGroupKW.com, 703-734-0192, Homes@HBCGroupKW.com.