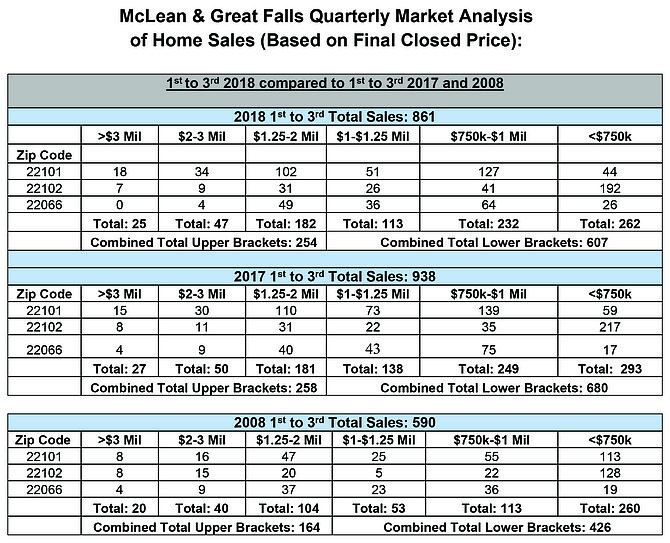 The number of real estate transactions in McLean and Great Falls closed out the first three quarters 2018 softer than in the same time period in 2017, with 861 transactions compared to 938 the previous year. To provide perspective to the 2008 market a decade ago, 2018 is up over 45 percent. The market shift has likely occurred for several reasons.
First, inventory levels in many segments are low relative to demand. Buyers do not have as many choices available, particularly in the lower price points. In those market dynamics, buyers are faced with several options. Either they raise their price point, make concessions, or put their move on hold until more choices became available. Many are still sitting on the sidelines waiting for prices to be in line with the market and/or for more inventories to become available.
Second, interest rates are up over the historic lows. Buyer's purchasing power is affected as interest rates rise. In some cases interest rates increasing can have a positive market effect as buyers have urgency to purchase and lock in the rate.
Note that in comparison to the 2008 market a decade ago, all brackets have improved considerably. Inside the Beltway McLean zip code of 22101 continues to remain the strongest due to the most housing type options and proximity to D.C. metro center. Outside the Beltway McLean zip code of 22102 offers both condos in the Tysons market as well as estate-style houses on large lots. That area is a bit down year over year. Great Falls zip code 22066 remains generally flat year to date 2018 over 2017.

As we move into the final quarter of 2018, there are strong indications that homes priced well and in good condition will sell for solid prices. Should demand continue to remain strong relative to supply, some market segments may experience price appreciation.
The final quarter 2018 is poised for strong activity. Home buyers in the area can still purchase with the confidence that purchasing in an up market cycle frequently proves advantageous over time. Now is the time to work with a professional agent to be in your new home before 2019!

Karen Briscoe with HBC Group at Keller Williams is an active and experienced Realtor® in the Northern Virginia marketplace. Karen, alongside her partner Lizzy Conroy and team, works with sellers, buyers, investors and builders in all price ranges. www.HBCGroupKW.com, 703-734-0192, Homes@HBCGroupKW.com.