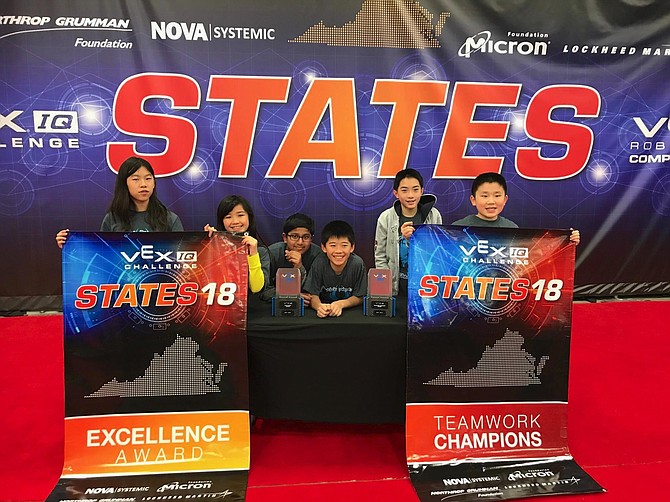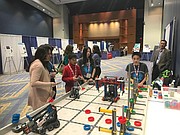 Robotic teams across the globe, be afraid, very afraid. The Vex IQ Robotics team, Rising Phoenix, with team member Matthew Li from Nysmith School for the Gifted in Herndon, recently won at this year's Vex IQ Robotics Virginia State Championship. middle school division, a one-day challenge in Doswell, Va., held Feb. 17, 2018. The other members of the team are friends of Li's from his hometown elementary and middle schools and his sister, Samantha. Matthew's father, Yun Li is the Robotics Team Coach.
Kenneth Nysmith, Head of the Nysmith School for the Gifted, said: "The team is super thrilled…and can't wait to share that news with all friends and family!"
Team Rising Phoenix designed and built a robot in accord with strict VEX IQ requirements to compete against other teams in a game-based engineering challenge of multiple robotic matches played on a 4-foot by 8-foot rectangular field. Classroom STEM concepts, science, technology, engineering and math, were put to the test as team members learned and practiced lifelong skills in cooperation, leadership and communication while building and competing with their robots.

Matthew Li's Vex IQ robotic team, Rising Phoenix, took home the Excellence Award, beating out the other 17 qualified and highly skilled teams from across the Commonwealth. Team members Rising Phoenix also won the Teamwork Champions Award.
The accomplishments of Team Rising Phoenix earned them a coveted invitation to compete in the upcoming 2018 Vex Worlds in Louisville, Ky. later this month. This will be Team Rising Phoenix's third year in a row heading to the Vex Worlds. According to the event website, the 2018 Vex World brings together the top robotics teams from across the world to compete under one roof.