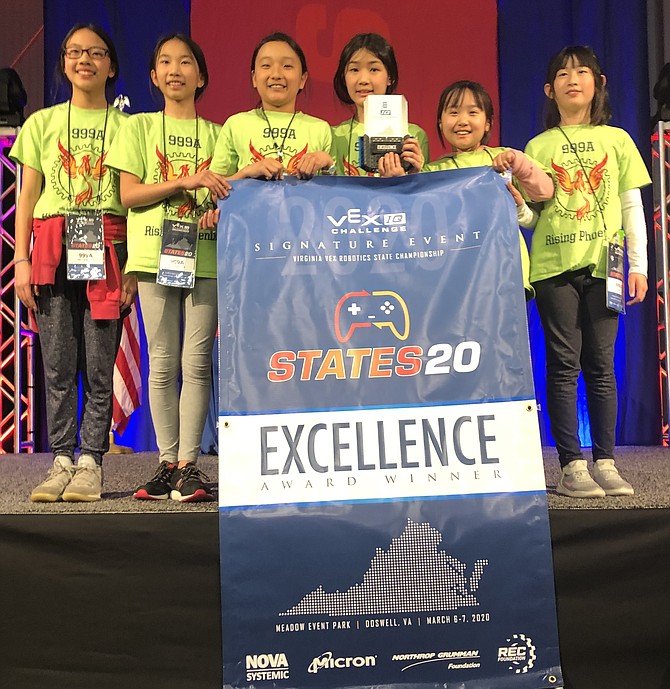 A fifth grade girls robotics team from the Tysons Corner area just won first place in a VEX Robotics State Championship tournament.
The team 999A Rising Phoenix is composed of 6 girls (five live in McLean, one in Chantilly) all in fifth grade, with their Coach Yun Li, a parent of one of the girls, who also lives in McLean. The girls are (in alphabetical order): Mindy Bao, Kristen Han, Samantha Li, Zoe Pak, Renee Xi, and Helena Zhai. This is their first year participating in a VEX IQ Challenge, which is a collaborative teamwork robotics competition where each team builds a working robot and uses software to program it to achieve competitive actions.
The team qualified and did exceptionally well at the Virginia State Championship, achieving the Excellence Award, which is the highest award presented in the VEX IQ Challenge. The Excellence award is presented to a team that exemplifies overall excellence in creating a high-quality VEX robotics program, including building a highly functioning robot, supportive teamwork and camaraderie, a thorough understanding of the software programming, and overall strong contender in every award category. And they also achieved first place in the Teamwork category, where their team worked collaboratively with another to strategize how to achieve the highest points within one minute.
Team 999A Rising Phoenix is now qualified as the #1 team in all of Virginia to participate in the 2020 VEX Robotics World Championship – VEX IQ Challenge Elementary School Division.
The VEX IQ Challenge, presented by the Robotics Education & Competition Foundation, provides elementary and middle school students with exciting, open-ended robotics and research project challenges that enhance their science, technology, engineering, and mathematics (STEM) skills through hands-on, student-centered learning. The VEX IQ Challenge fosters student development of the teamwork, critical thinking, project management, and communication skills required to prepare them to become the next generation of innovators and problem solvers.