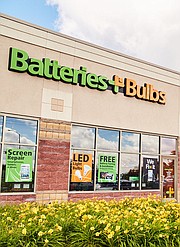 Batteries Plus Bulbs, a specialty store offering more than its name suggests, is now open in Springfield. While the store does, in fact, carry batteries and light bulbs, owner Zuhair Ibrahim says the business does so much more than sell nearly 60,000 different types of products for home and business needs.
The retailer has We Fix It® Repair Centers that fix damaged phones and tablets. Turn-around time is usually less than an hour. These tech centers also replace watch, keyless entry and phone batteries, and rebuild battery packs. The store also offers free system checks and installation on most auto batteries. While there are plenty of other places to buy batteries or light bulbs, it's Batteries Plus Bulbs' main focus—and expertise. Store associates use their product knowledge to solve problems like a cordless power tool that won't turn on, for example.
With five years of franchising experience in the dental industry, Zuhair is now venturing into a new space and plans on opening more Batteries Plus Bulbs locations in the coming years. Zuhair emigrated from Sudan in 2000 and is looking forward to bettering his local community with the presence of the new neighborhood retailer.
This is the first store in Springfield, and the third Batteries Plus Bulbs store to open in Fairfax county.
Address: 6715 Backlick Road, Springfield; Store Hours: Monday – Friday, 8 a.m. – 8 p.m.; Saturday: 8 a.m. – 7 p.m.; Sunday: 10 a.m. – 5 p.m.