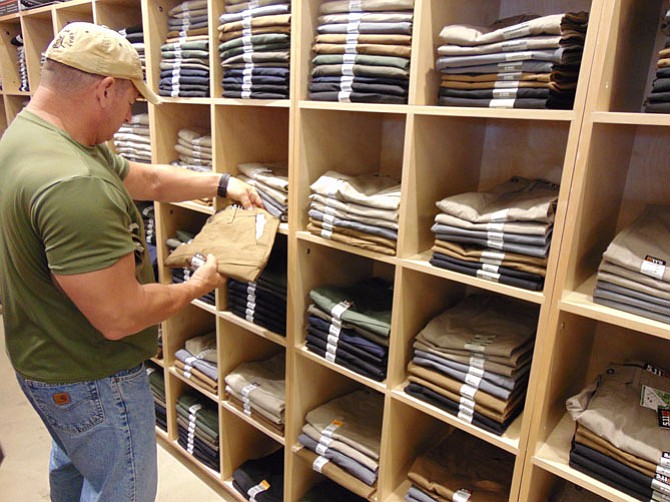 Springfield — A new 5.11 retail store, which sells tactical apparel and gear, held its grand opening on Saturday,
July 29, 2017, across from Springfield Town Center next to Best Buy on Frontier Drive in Springfield.
A crowd was waiting to get into the 10 a.m. opening. More than a dozen people camped out overnight on the sidewalk to receive 5.11 Gift Cards. David and Mia Whiteman of Clinton, Md., arrived on Friday at 9 a.m., and for being first in line, they received a 5.11 gift card worth $511. The first 70 people in line received complimentary 5.11 gift cards.
The event began with a special door breaching commencement and recognition ceremony for both the National Law Enforcement Officers Memorial Fund and the USO of Metropolitan D.C.
The backbone of the business is selling pants and shorts for men and women, from $39 to $79. They offer Stryke, Tac-tech, and Ridgeline pants brands — with a total of nine styles for men and five for women. But they also sell uniforms, tops, outerwear, fitness clothing, sunglasses, watches, knives, hats, slings, gun holsters, footwear and socks. There's also a nylon section with backpacks and bags that make up 20 percent of the inventory.
KNOWN AS 5.11 TACTICAL, the company opened in 2003 and has 19 stores nationwide. It sells in 90 countries, equipping all top military and police units around the world.
"Our mission is to create innovative gear for the most demanding missions starting with police, fire, and military and others who need very rough, tough gear to get their job done," said Tom Davin,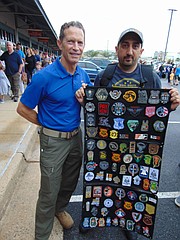 CEO of 5.11 Tactical.
The store is already well-known to some 4 million people in the police, military, firefighter, and EMS corps in the U.S., said Davin. "But we have very small brand awareness outside of that corps group. So when we open a store like this, we get brand awareness and we get people who walk in and discover the product," he said.
He added: "It's a real discovery shopping experience — from pants to shirts to backpacks and boots, so if you're a hiker, you're a back-packer, or somebody who drives off road with a jeep, a four-wheel drive, a motorcycle, come in here and we've got what you need. It's really an adventure store for the broader consumer audience."
"If you want to hike the Appalachian Trail, we'll help you pick out the right boots, pick out the backpack, the pouches, put the accessories on that backpack so that by the time you leave, you're mission-ready. We want to gear you up for that mission," said Davin.
"Our whole purpose at 5.11 is to serve those that serve," said Jeff Roberts, senior vice president of retail and merchandising. Who is the target audience? "Those that are associated with professional law enforcement, EMS, the military, the families of those folks who have found our gear and fallen in love with the product," he said.
He continued: "And this store really exemplifies everything that we do. It's an opportunity to showcase over 900 styles that we make two different times a year and bring it to the public."
Missed the excitement that morning? See it on video here.
THE NEW 5.11 retail store is located at 6575 Frontier Drive, Unit S, Springfield, next to the Best Buy store. It will be open Monday through Saturday from 10 a.m.-8 p.m. EST, and Sundays 11 a.m.-6 p.m. EST