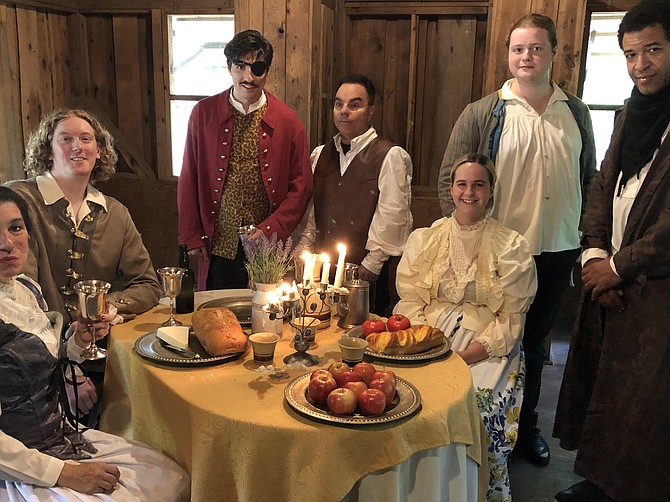 In the 18th century, a citizen of France traveled to America, came to Virginia and changed it forever by founding a French colony here. And in the new, original play, "The Frenchman," presented by the Shoestring Theatre Co., local audiences will be able to learn about his adventures and accomplishments.
Performances are set for Friday-Saturday, Aug. 27-28, at 7 p.m., at Veterans Amphitheater in Fairfax City. It's next to City Hall at 10455 Armstrong St. Attendees are encouraged to bring lawn chairs, blankets and a picnic dinner.
If desired, audience members may also get into the spirit of the story by dressing in 18th-century attire. Tickets are $20 in advance and $25 at the door. Purchase them via https://www.eventbrite.com/e/the-frenchman-tickets-155727736853.
The Frenchman was Pierre du Tubeuf; and in a remote corner of Southwest Virginia, on the Clinch River, he staked his claim to build the colony of St. Marie. His goal was to create a new French settlement far from the threats of the French Revolution.
He brought with him letters of introduction from the Marquis de Lafayette – and dreams of establishing a new coal enterprise in Virginia. However, his enterprise was fraught with hardships.
Du Tubeuf was forced to leave part of his family behind in France. Then, he and his fellow French settlers survived a deadly sea voyage, only to have their servants abandon them upon their arrival in Virginia. But their nightmare was only beginning. In Virginia's Russell County, du Tubeuf soon discovered that nothing was as he had been promised.
"This is a remarkable true story that changed the course of history in southwest Virginia," said Director Amelia Townsend. "And the land where Pierre dreamed of a French colony became Virginia's newest state park in 2021."
Excited to share this story with audiences, Townsend is also proud of her "talented, hardworking and stellar" cast members. They include Camilo Eraso as the visionary Pierre du Tubeuf, Janet Devine Smith as Marie du Tubeuf, John Geddis as the Marquis de Chaulier, Danny Seal as Charles DeSpada and Thomas Jefferson, Edgar Johnson as Simon Perchant, Evan Zimmerman as Francois du Tebeuf, Wendy Labenow as Louisa, and Lydia Matson as Eusebe. Matson is also the show's costume designer.
Jon Roberts, an award-winning sound designer and projectionist, is the production designer. Original, 18th-century music was provided by the Sons of Liberty, a trio of high-school brothers from Big Stone Gap, Va.
Besides the two shows this month, "The Frenchman" will also be performed Sept. 11, as part of a dinner theater, in the gym of the St. Leo the Great school, 3704 Old Lee Hwy., in Fairfax. In addition, a performance is planned for Sept. 18 at ArtSpace Herndon. For more information, contact Townsend at 703-731-2895 or shoestringtheatrecompanyva@gmail.com.
The nonprofit Shoestring Theatre Co. brings the authentic culture of Southwest Virginia to life through original stories presented across the Commonwealth. It's supported by the City of Fairfax, the Fairfax Commission on the Arts, the City of St. Paul, Va., the Knights of Columbus, and the Four Winds at Oakton.