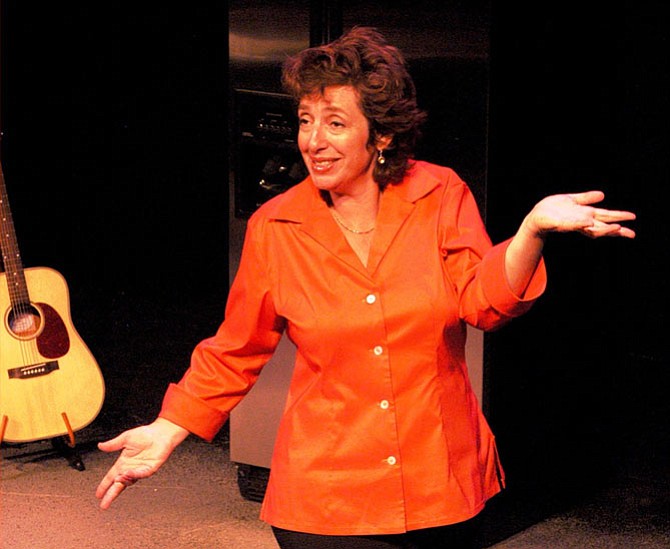 As part of MetroStage's Spring Solo Series, Deb Filler, a Jewish comic performer, musician and writer from Canada by way of New Zealand, will be performing "I Did It My Way in Yiddish (in English)," which she also wrote, from April 13-29.
With a guitar and a raft of lovable characters, she has charmed audiences in Toronto, London, Sydney, Jerusalem, NYC and Los Angeles with stories of her encounters with the three Lennys: Leonard Bernstein, Leonard Cohen and Lenny Kravitz.
"I tell some of my most treasured stories and some classic dirty Jewish jokes," said Filler. "Like the ones I told Leonard Cohen when I drove him in a car service to LaGuardia Airport in 1984. Something hilarious, uproarious and incredible happened on that drive. And later we became buddies. He was so uncynical and he helped me, a young musician, beyond words. A model of generosity and kindness in his performance and in his soul."
"I play a whole whack of characters including Mick Jagger singing in Yiddish — I think you get bang for ya buck! And because music can touch us so deeply, I'm psyched to be bringing some great music to the terrific audiences in Alexandria and D.C.," she said.
Filler added: "This show is about connections between all types of people, young and old, rich, poor, whatever. Nostalgia is a powerful thing. And so is storytelling. I have a rich life's tapestry to draw from, so now I am passing it on. Bring the kids? Sure! We all love a great story ...."
According to Carolyn Griffin, producing artistic director at MetroStage, "More than a decade ago (Filler) graced our stage with her remarkable 'Filler Up!' where she literally baked a loaf of challah and received a Helen Hayes nomination for Outstanding Lead Actress. I have been interested in her return ever since."
She continued: "A natural born storyteller, a musician, a comic, who can play and literally become multiple characters in all of her solo shows, she is a treasure who we are delighted to showcase on our stage. Because that is what MetroStage does — we showcase remarkable talent who tell memorable stories."
Included in the production is the short film entitled "Mr. Bernstein" by director Francine Zuckerman, and written by Filler and Guy Hamling, which has been screened in film festivals around the world. It won the Best Drama at the Toronto International Short Film Festival, The Best Short Film, Screen Guild in New Zealand, and the Film Movement Short Film Award, San Francisco Jewish Film Festival.
Although home is Toronto, Filler is considered New Zealand's only Jewish comic (a Ki-brew-a Kiwi Hebrew). She has performed in television series and on stages worldwide, with productions of "Filler Up!," "Punch Me in the Stomach," and now, "I Did It My Way in Yiddish (in English)."
Griffin said Filler has a fascinating history as a musician, almost becoming a folk singer, has studied acting with the best in New York, performed in political theatre groups, and ultimately became a solo performer with her stories, personality and talent.
She said: "Always with humor but as a daughter of a Holocaust survivor there is always a poignant underpinning to her stories. This is what I love about Deb — her talent as an entertainer but also the heart and soul supporting all of her work. She is unforgettable, and she will be at MetroStage for three weeks in April."
Performances for "I Did It My Way in Yiddish (in English)" are April 13-29. Show times are as follows: Thursdays, Fridays at 8 p.m., Saturdays at 3 p.m. and 8 p.m., Sundays at 3 p.m. and 7 p.m. Tickets are $45. The venue is MetroStage, located at 1201 North Royal Street, Alexandria. Call 703-548-9044 or visit www.metrostage.org.