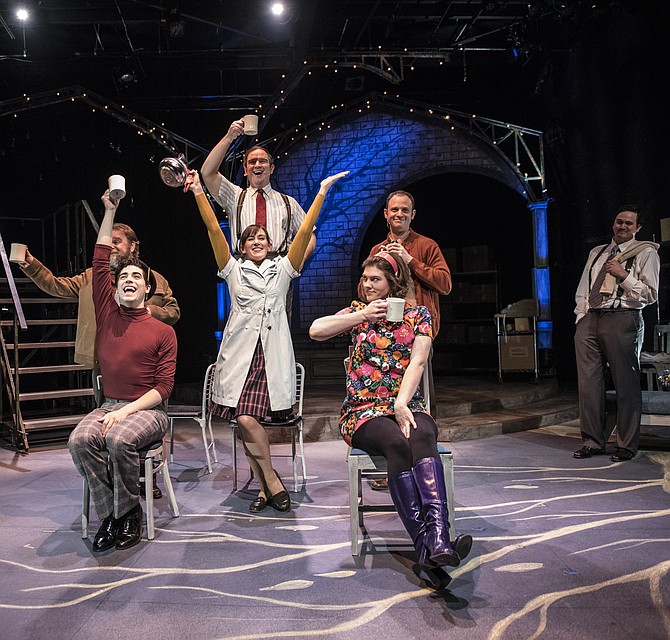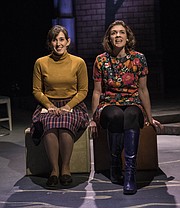 Where and When
1st Stage presents "Fly By Night" at 1524 Spring Hill Rd, McLean. Performances through May 6, 2018. Thursdays at 7:30 p.m., Fridays at 8 p.m., Saturday, 2 p.m. and 7 p.m., and Sunday at 2 p.m. Tickets: Adult general admission $33, Seniors $30, Students/Military $15. Call: 703-854-1856 or visit http://www.1ststa...">www.1ststage.org. Note: Wheelchair accessible. Free parking is available. 1st Stage is about 2 blocks after leaving the Silver Line's Spring Hill stop.
With plenty of upbeat energy and buoyant voices, a clever musical, "Fly By Night" is making its area premiere at 1st Stage in Tysons. It is the rock music tale of a small band of people who journey far and wide, from a small town in South Dakota to New York City, and then into a myriad of personal intersections.

The year in question is the period just before and during the famous northeast United States electric Black Out in November 1965.

Directed with a warmhearted, nimble touch by Kathryn Chase Bryer, her skilled cast of seven hit their marks with great precision and care for the characters they portray. Bryer has a fine feel for what begins as a romantic comedy, then veers to become more somber in its second act.

The cast represents people trying to find their way to fulfill a myriad of dreams from becoming a Broadway star to re-kindling unexciting lives too long behind a Brooklyn deli counter making sandwiches, and, a triangle of star-crossed lovers as well as a mature widower missing his just passed wife. And there is a natty narrator as a guide through it all.

With mostly rock-infused 18 musical numbers all powered by the driving wheel of music director Walter "Bobby" McCoy, "Fly By Night" can be a very toe-tapping evening. There is one song that some will find themselves humming a few bars with its simple rock chords. It is one of those tunes that can be played slowly with an acoustic guitar and a plaintive voice or amped up into a full-throated anthem. Appropriately enough it is called, "Fly By Night."
Kudos to a jaunty Jamie Smithson, who as the narrator (and several quirky female characters), is exceptionally winning with his daunting responsibilities. 1st Stage veteran Aaron Bliden is very likeable portraying an introverted, confused young "deli" man seemingly in love with two different women. The two young women happen to be sisters. One sister is portrayed by Farrell Parker. She is out to find the more in life she seeks as a Broadway actor. Caroline Wolfson is a shy sister and waitress who can find the stars a place to get lost in. Sasha Olinick portrays a father and widower. He has the show's brightest moment with a song and dance routine (choreography from Robert Bowen Smith). It's a show stopper.
"Fly By Night" is an inviting musical evening to experience.