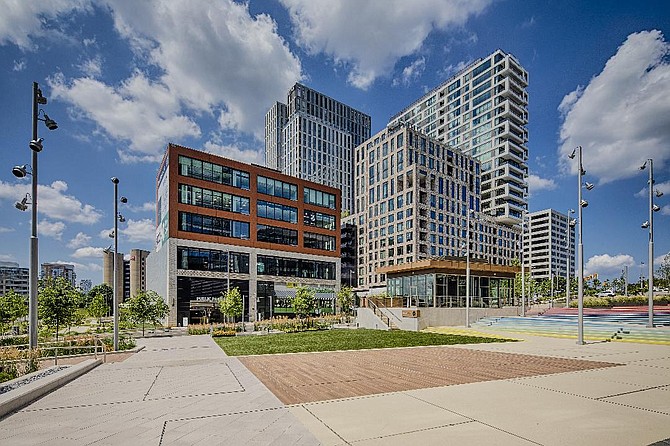 After more than a year of limits on live indoor entertainment with live audiences, the award-winning 1st Stage will return to live performance with a special concert edition of "A New Brain" by William Finn and James Lapine.
"The 1st Stage Board and I are very excited to be able to bring the joy of theater back to our communities. Storytelling around the fire is as old an art form as it gets and as indelibly a part of the human experience as it gets," said Jack Wilbern, Board President, 1st Stage. "Come see us in the real world – or streaming – for this reawakening of theater in Tysons."
"We've been looking forward to bringing live theatre back to our beloved audiences," said Alex Levy, Artistic Director, 1st Stage. This live performance will be the first since February 2020, when performing arts venues shuttered themselves due to health and safety concerns due to the pandemic.
The 1st Stage celebration will center on the concert reading of "A New Brain." It is a musical about hope, recovery, and finding the light even under the threat of illness. The story focuses on a lyricist and musician, career in the doldrums, who discovers, through his recovery from a life-threatening brain disease, how sweet his life has been.
The concert reading will have eight performers directed by Helen Hayes Award recipient and veteran 1st Stage director Kathryn Chase Bryer with music direction by Helen Hayes Award recipient and Northern Virginian Walter "Bobby" McCoy.
Asked what audiences can expect at the concert reading of "A New Brain," Levy indicated an "immensely talented cast telling the story of overcoming health fears and returning to life with a new understanding of love, community and connection…I am so proud to share it with our community as we remerge and remember the power of art and shared experience."
Founded in 2009, 1st Stage has received multiple Helen Hayes Awards (HHA) for outstanding theatre excellence in the DC metropolitan area. In the fall of 2020, 1st Stage received four HHA awards for its pre-pandemic production of "The Brothers Size" and one for its co-production of "The Royale" with Maryland's Olney Theater Center.
Celebrate the return of safe live theatre at 1st Stage with "A New Brain."
Where and When
1st Stage presents concert reading of "A New Brain" on June 27, 2021 at 5 p.m. Through a partnership with The Meridian Group, this special event will be performed outdoors at Boro Park, 8350 Broad Street (in The Boro development), Tysons. This location is down the street from the 1st Stage physical theatre venue. Free livestream tickets and sponsorships with in-person tickets are available. Individual in-person tickets are also available. 1st Stage will be following CDC, State and Fairfax County health and safety requirements. Tickets and information at www.1ststage.org. Note: In the instance of rain, this event will move to livestream only.