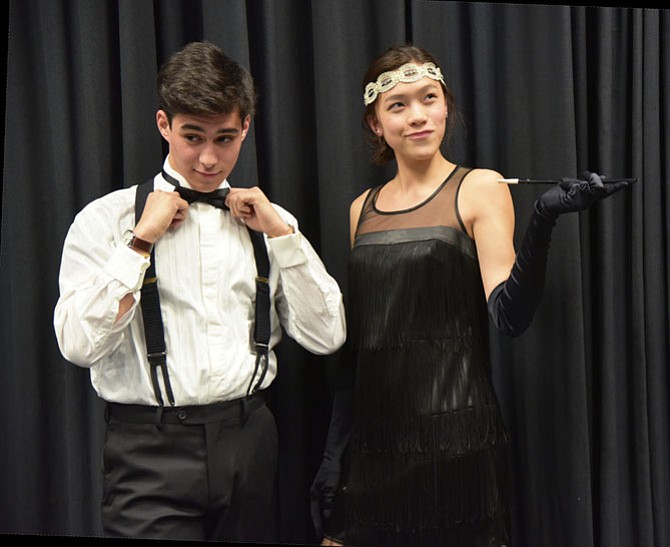 Speakeasy and prepare to laugh as Marshall High School celebrates the frivolity and excess of the 1920s with its production of "Thoroughly Modern Millie" opening Thursday, April 26. Based on the Academy Award winning 1967 film and the Tony Award Winning Broadway musical, "Thoroughly Modern Millie," has it all: a beautiful ingénue determined to make her way in the big city, fun-loving flappers always looking for a party, dashing leading men ready to sweep everyone off their feet, and a human-trafficking ring in a New York City hotel for girls.
When small-town girl Millie Dillmount arrives in New York City, she is determined to be a "modern" 1920s woman who will marry for money rather than love. She throws herself into the flapper lifestyle, finds a job and a rich boss to marry, and feels she's on her way to make her dreams come true. What Millie doesn't realize is that others, including the charming young salesman, Jimmy Smith, and her colorful landlady, Mrs. Meers, have other plans for her.
"This show hopes to challenge people's ideas of first impressions," said Director Jason Tamborini. "Sometimes we are the last ones to know what we really want or need—which Millie and her friends soon find out."
Show dates and location: George C. Marshall High School, 7731 Leesburg Pike, Falls Church; Show Times: April 26 - 28 & May 4 - 5 at 7:30 p.m. plus April 28 & May 5 at 2 p.m.: Tickets are $10 students / teachers / seniors and $15 adults.
Note: Due to some content, this show is considered similar to a PG-13 film.
Visit http://statesmentheatre.org for more information or to purchase tickets.
What About Controversial Depictions of Asian Characters?
The Statesmen Theatre Department invites you to participate in an important presentation and discussion on April 17, 2018 at 7 p.m. In seeking answers to questions surrounding the sometimes-controversial depictions of Asian characters in the musical "Thoroughly Modern Millie" and other celebrated theatre productions involving stereotypes, a larger challenge arose.
How do we come to grips with oversimplified characteristic traits and wrongly-held perceptions of the past that are still present in society, and when portrayed in the arts, are hurtful to some but are meant to be "funny" and "harmless entertainment"?
With this in mind, the school and local community is invited to join the discussion on Race and Stereotypes in Theatre: A Community Forum on Tuesday, April 1 at 7 p.m. in the cafeteria.
Panelists include: Marshall HS Principal Jeffrey Litz; Marshall HS Alumnus Jon Jon Johnson (Class of 2004), professional actor and writer; Priya Doshi, professorial lecturer, Strategic Communication, The American University; and current theatre students.