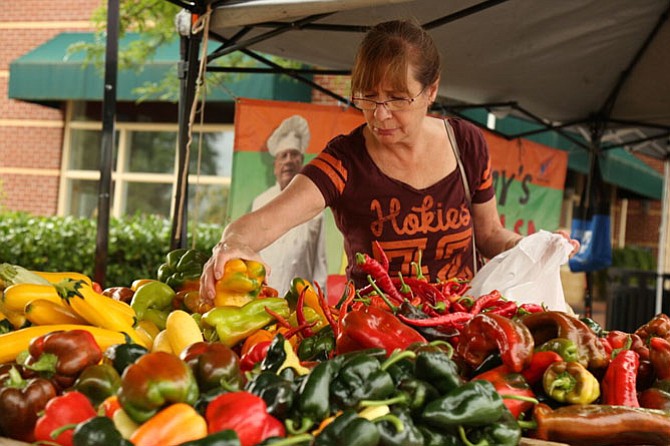 The Herndon Farmers Market is set to open Thursday, April 19 for another fantastic season. Located in 700 block of Lynn Street, Old Town Herndon, the market will operate Thursdays, 8 a.m.- 12:30 p.m. until early November.
The Herndon Market is one of eleven Fairfax County Farmers Markets produced by the Fairfax County Park Authority. On their website, the Park Authority states: "By providing access to locally grown foods, our farmers market program strives to improve the health of Fairfax County citizens, support local food producers, and protect the environment."

This year, the Herndon market features eleven vendors, all of whom are bringing their seasonal abundance of producer-only items, raised either on their farms or made-from-scratch, many using local items in the recipes. The market vendors will offer produce, fruits, berries, vegetables, baked goods, meats, fresh bread, pasta sauces, grits, ground flours, pickles and more.
A Master Gardener Plant Clinic will be on site, staffed by personnel knowledgeable to answer questions about plant selections and their care.
The Park Authority wants shoppers to know that for health and safety reasons, the market cannot accommodate pets, except service animals. In addition, not all vendors may accept credit or debit cards so be sure to bring cash.
The Herndon Farmers Market participates in the SNAP Double Dollar Program, an incentive of the INOVA Health Foundation. According to the Foundation's website, recipients of SNAP benefits, formerly food stamps, can purchase the fresh local foods using their Virginia EBT card and visiting the booth where they can receive Double Dollar tokens, up to $20. Shoppers can use their tokens on any SNAP-eligible food items at the market.
Vendor List: Bread and Water Company, Chef Eloy's Kickin' Salsas, Colvin Run Mill, Fork IT issimo catering, Grace's Pastries, GreenFare Organic Cafe, J & W Valley View Farm, McCleaf's Market, Mt. Olympus Farm, Pickle Factory, Santa Cruz Produce and The Lamb's Quarter.