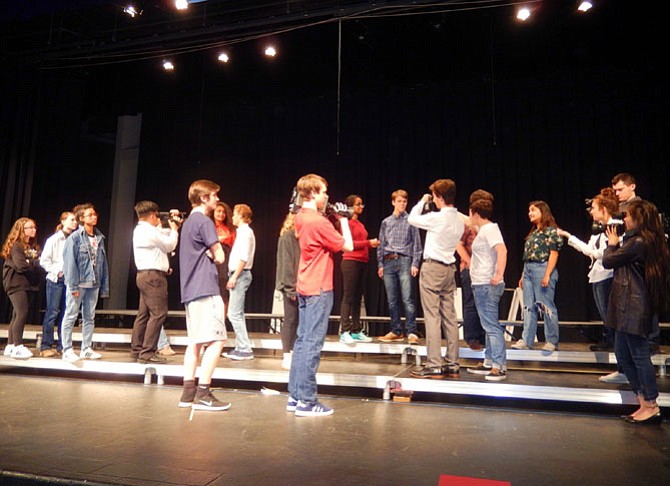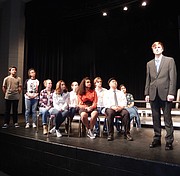 Centreville High first performed "The Laramie Project" 11 years ago. But, said Director Mike Hudson, "With all the school shootings, bullying and bizarre things going on today, we're doing it again."
Show times are Friday, April 27, at 7:30 p.m.; Saturday, April 28, at 3 and 7:30 p.m.; and Sunday, April 29, at 3 p.m. Tickets are $10 at the door or via www.theatrecentreville.com.
This PG-13 show is about the brutal death of Matthew Shepard, a gay young man in Laramie, Wyo., in October 1998. "This event changed the way America viewed the gay community," said Hudson. "What we hope to accomplish with this play is to show the audience that hatred can cause people to think and act in reprehensible ways."
The cast and crew of 35 has been rehearsing since February, and when the story begins, the violence has already happened. So although people will talk about Shepard's death, it won't be shown. Instead, they'll see how a theater company interviewed community members afterward to create a play.
"Some seem to be upright people, but are actually closeted bigots who don't acknowledge that," said Hudson. "So we've gotten input from our school's Human Rights Club [HRC]. And I contacted the Matthew Shepard Foundation, which supplied us with actual photos and videos from that time period and the incident."
Furthermore, he said, "We're planning to have a guided, talk-back session after the Saturday matinee, and we hope someone from the foundation will attend. We also invited the appropriate groups from our FCPS schools to attend. And we're also working with the counselors here to turn this into a building-wide initiative, during the run of the play, to identify and fight hatred. The HRC will help organize and oversee both these things."
Noting that this is an "extremely serious" show for young actors, Hudson said, "It's been a sobering experience for them. But they've approached a very mature topic with intelligence and compassion, and I'm very proud of the choices they've made in creating their characters."
The play will also have some creative and eye-catching special effects. "We're using 300 gallons of water to make it rain, and there'll be a full-out thunderstorm onstage," said Hudson. "It's also going to snow."
The scenes will occur at various locations throughout the town. The front of the stage will be built out toward the audience to allow the actors to speak directly to attendees for more of a dramatic impact. And videos and still projections will be shown behind the actors while they perform.
"It's a heartbreaking play, but also inspiring," said Hudson. "And hopefully, it will start discussions across the community about how hatred can manifest itself anywhere."
Like most of the actors, senior Andrew Dettmer plays multiple roles, including Matthew's father, Dennis Shepard. "After his son's death, he's become a vocal advocate of LGBTQ rights," said Dettmer. "He was an oil-industry safety manager, so his job kept him away from home a lot, and he regrets not having spent as much time with Matthew. It's a hard time for him, so he gives a harsh statement about his son's killers."
Calling it "one of the more emotional moments of the whole play," Dettmer said, he has to find the right balance between becoming too emotional and staying focused on what I'm saying. It's interesting learning more about Matthew and his family and gives me a unique insight."
"I was born after this happened and didn't have any knowledge of it," he continued. "So especially for my age group, I hope this play sparks a discussion about hate and how we, as a society, deal with it and its repercussions and how we move past it. And it's clear that, in the 19 years since this happened, our culture's ideas about this topic have changed, and we're more open to discourse about it."
Senior Jack Wood has two roles. As the Rev. Fred Phelps, he portrays an extremely homophobic pastor from the Westboro Baptist Church. "He protests at Matthew's funeral and screams hateful, anti-gay rhetoric at the mourners," said Wood. "It's challenging and draining because I do this for five minutes."
But, he added, "It wakes people up to the reality that this hate still exists today toward people, just because of their sexuality. It's also an important part because this helps the audience feel more sympathetic toward Matthew, and it enables the hatred to become manifest on stage."
As Greg Pierotti, Wood plays a member of the theater company interviewing the town residents. "He's a gay man, so what happened is personal to him," said Wood. "In one scene, he touches the fence where Matthew was found, and he breaks down and cries. But this role is a lot easier to stomach than my other one."
"It's challenging because I'm not gay, but I have to put myself in his shoes to understand what he's experiencing — knowing that someone like himself was brutally murdered because he was gay. It's a very powerful show. And it's about real people and events — and that's not something you get to do a lot in theater, or experience as an audience member."
Portraying Romaine Patterson, who was best friends with Matthew and knew him well, is sophomore Jules Hoffman. "She's a lesbian and a powerhouse," said Hoffman. "She's headstrong, is a leader and isn't afraid to speak her mind about her beliefs. I also think she might have gotten a little push-back about it."
Hoffman said Patterson is now someone she looks up to. "Once I read her monologue, I wanted this part because she's so powerful and bold and leads a group of people against another group of, arguably, the most hatred-filled people on the planet. This is my favorite role I've ever played because I relate to her on so many, different levels. And in a way, when I'm speaking for Romaine, I'm speaking for myself — which makes it more authentic and, hopefully, will connect even more with the audience."
In this play, said Hoffman, "You learn about this kid who's come to Laramie to attend college and make a living and is then beaten to death. But what people will come to love about this show is how we've grown as a society since then. This incident is the reason why we have hate-crime laws and a more developed human-rights campaign. It's also why people now feel safer to love who they want to, without their lives being in jeopardy."
Sophomore Aswathi Menon plays Zubaida Ula, a Muslim college student in Wyoming. "She's really fiery and opinionated about how the Laramie residents are acting as if this was the first act of injustice done there against minorities," said Menon. "As a Muslim woman, she's faced it, her whole life, and she's calling the town out on it. Her parents are immigrants from Bangladesh, and she came here at 4 years old, so both cultures have influenced her personality."
Menon enjoys her role because "Laramie thinks of itself as a place of acceptance and forgiveness, but Zubaida knows that's not how it really is. People of the Islamic faith are often painted in a bad light and as closeminded, in the news, but she's strong and is an example of how that's not true."
Menon says the audience will appreciate this play's "rawness and authenticity. We're portraying real people who've actually said these words and gone through these experiences. And I feel like we owe it to everyone who's faced injustice — whether about their sexual orientation, skin color, faith or amount of money in their bank account — to give the best performance we possibly can."