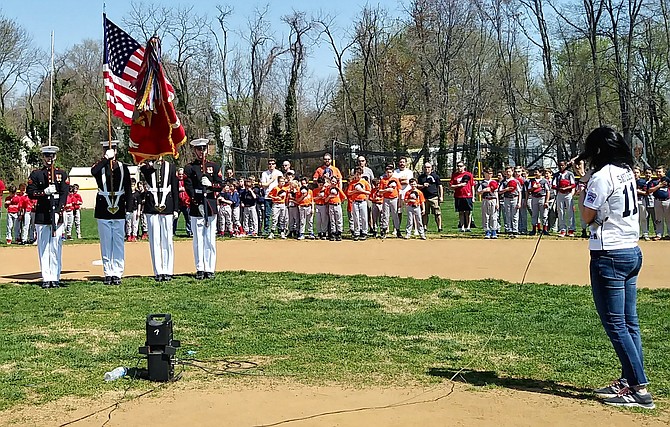 Alexandria Potomac Little League (APLL), started its 15th season on Saturday, April 14, at Bucknell Elementary School.
The league, formerly known as Bucknell Little League for its first 53 seasons, from 1951 to 2003, changed its name and began play as a "new" Little League in 2004.

Almost 400 players, coaches and parents were in attendance, along with state Delegate Paul Krizek (D-44), Little League Virginia District 9 Administrator John Donaldson, and Alexandria Potomac Little League's first president and co-founder of the Alexandria Aces Collegiate Summer Baseball Club Pat Malone, along with West Potomac High School's junior varsity baseball team, to help kick off the league's 2018 season.
Brian Miller, in his third year as league president, was preceded in title by Michele Burgess (2014), Martin Long (2012 and 2013), Warren Payne (2010 and 2011), Michael Aitken (2008 and 2009), Paul Delaney (2006 and 2007) and Pat Malone (2004 and 2005). Malone was also the last president of Bucknell Little League, in 2003, before the league changed its name to Alexandria Potomac for their 2004 inaugural season.
With 67 years of baseball history, Alexandria Potomac Little League is the oldest member of Little League's Virginia District 9 (http://vad9.org), which includes, Fort Hunt Little League, Central Springfield Little League, West Springfield Little League, Woodlawn Little League, Fort Belvoir Little League, South County Little League, Dale City Little League, Woodbridge Little League and Dumfries/Triangle/Quantico (DTQ) Little League.