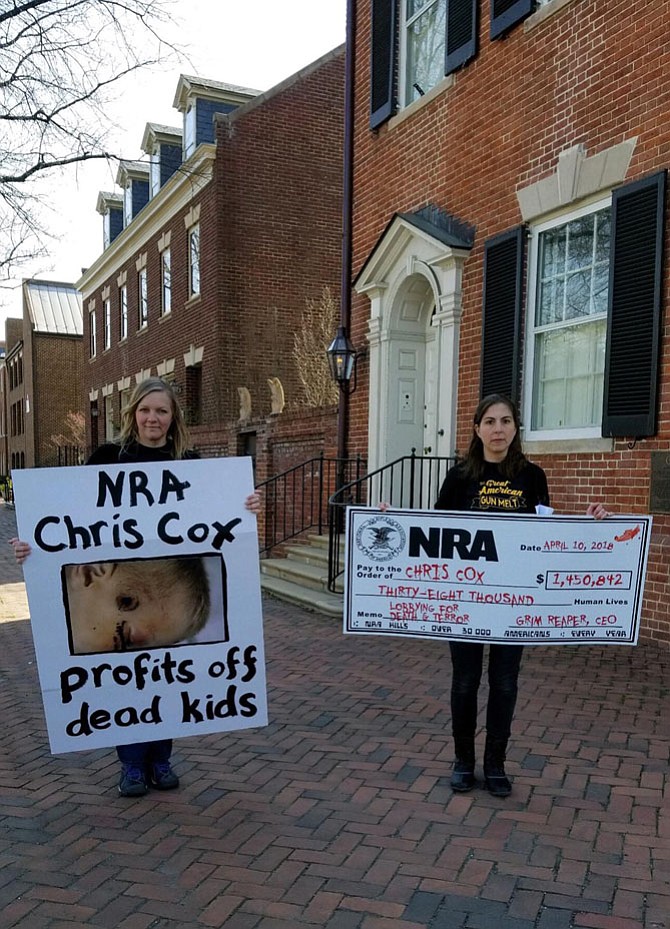 On Tuesday, April 10, friends and gun control advocates Amanda Gailey of Lincoln, Neb., and Catherine Koebel Stromberg of Roanoke, Va., met up in Old Town to protest outside of the family home of Chris Cox — the longtime chief lobbyist for the National Rifle Association — and also outside the interior design business co-owned by his wife, Courtney Cox.
The protesters would later file a police report against Courtney Cox and then receive Federal Express letters to their homes from the NRA warning them of prosecution if they should ever step foot on NRA headquarters property in Fairfax, the two women said.
Gailey, president of Nebraskans Against Gun Violence, and Stromberg, a volunteer with the Blue Ridge Coalition Against Gun Violence, appeared in front of Ivy Lane Living at 309 Cameron St. just after noon. They stood on the sidewalk, held signs and handed out fliers calling for a boycott of the business, and wore T-shirts of their new unofficial gun control organization — The Great American Gun Melt.

"I am now intent on organizing a larger protest with a local gun reform organization and having a collaboration protest in Old Town," Gailey said. "They think they can intimidate people and shut them up, but not us .…"

Gailey and Stromberg claim that Courtney Cox walked out to them while they were protesting, took away Stromberg's iPhone when she attempted to film the confrontation and received a scratch on her hand in the process.
"She [Cox] stepped in front of me and she started saying, 'You're attacking a woman-owned business. This place has nothing to do with the NRA,'" Stromberg said. "She reaches out and grabs the phone right out of my hand and scratches me. I was shocked. ... She said I couldn't record her, and that isn't true. I can record her on a public sidewalk. She threw the phone down and said we were crazy people."
Stromberg turned on the video recorder on her phone after the incident, and Cox can be seen walking away while Gailey says, "You make your money off of death. You make your money off of dead children, and you just hit the phone out of a peaceful protester's hand. You make your money off of the death and misery of Americans … You're a parasite."
Cox then stopped and turned around and said on video, "You are all insane."
Elizabeth Locke, the Cox family attorney, disagrees with Bailey and Stromberg's story of the confrontation.

"That description of the confrontation caused by the women harassing Mrs. Cox is false," Locke said in a written statement. "Mrs. Cox owns and operates and interior decorating business that is not in any way affiliated with the NRA. These non-residents have come to Alexandria to engage in a campaign of harassment of a locally-owned business, to disrupt lawful commerce, to tax our local law enforcement resources, and to publicly shame and harass the wife and family of someone with whom they have a political disagreement. It is despicable behavior."
Minutes later, Stromberg filmed a black SUV double park and a tall man walked out in khaki pants, boots and a gray blazer. The man was taped walking up to the protesters holding up his cell phone as if filming them, cheerfully saying hello and asking for one of their fliers before walking into the interior design business.
Then, two Alexandria Police Department officers and a plain clothes officer double-parked, walked past and greeted the protesters and into the business. As the officers left shortly thereafter, Gailey and Stromberg told them about the altercation, and were advised they could file a police report. They would do so the following day.
In the meantime, they were hungry and broke for lunch before going back to protesting outside of the Cox residence. They said they were able to find Cox's address through the BeenVerified online public database. They picketed outside the home for over an hour without incident, and stood with their backs to the home, holding their signs on a prominent and heavily traveled street corner — and said they also saw the same man in the black SUV who filmed them outside Ivy Lane Living.
THIS ALL OCCURRED a day after the continuance of a court case involving an alleged defacement of Cox's house. In January, Patricia Hill, a Nebraska resident and acquaintance of Gailey's, was charged with destruction of property for spraying a red substance on one of the exterior walls of the building. The case was continued to May 21. Additionally, a new warrant has been taken out against Hill for allegedly vandalizing the Cox's home last October by placing stickers and spraying fake blood on exterior walls.
"Mr. and Mrs. Cox have been targeted over the past few months by repeated acts of criminal and unlawful conduct, including having their home vandalized on two occasions. One of the women who appeared at the Cox's home this week is a colleague of Patricia Hill — the woman who has been criminally charged with two counts of vandalism of the Cox's residence," Locke stated. "The citizens of Alexandria understand that — no matter your political affiliation or beliefs — each one of us has a right to feel safe and secure in our home. These women have clearly crossed the line of civility and human decency."
On Wednesday, April 12, Gailey and Stromberg filed their police report at the Alexandria Police Department at 3600 Wheeler Ave. While talking with Alexandria police about the incident, they say an officer told them that they might be in violation of a section of Virginia law, which prohibits picketing outside of private residences except in cases of labor disputes. It's a misdemeanor and the maximum fine is $500. However, protesting outside private residences has gone unpunished in Alexandria, according to the APD. In 1988, the U.S. Supreme Court struck down a similar picketing law in Chicago.
For instance, there have been a few protests outside Cox's home over the years, and dozens of protests outside of white nationalist Richard Spencer's Old Town home and residence. No one has been arrested at these protests.
"The protesters were informed of the order when they had come to the police department to file another complaint," Alexandria Police spokeswoman Crystal Nosal said. "That code section is under review by the Commonwealth's Attorney. … At this time no one has been arrested outside of Richard Spencer's or Chris Cox's houses."
Del. Mark Levine (D-45), a lawyer, said Alexandria Police should not mention statutes on the books that are unconstitutional.
"I support public protests on public property. You have an absolute right to protest as long as you don't impede traffic on sidewalks or on the street," he said. "The fornication statute has existed for hundreds of years. It says don't have sex outside of marriage or you're a lawbreaker. There are millions of Virginians who have broken this law. If the U.S. Supreme Court says these laws are unconstitutional, you should treat them as a nullity. It's unconstitutional, therefore it's meaningless."
Stromberg says her goal is to disrupt the social tranquility of giants of the gun industry near their homes.
"These are people [the NRA] whose health and happiness is coming from deadly products with almost zero regulatory oversight," she said. "Our goal is to go to the top of the food chain and make these apex gun predators socially uncomfortable, and we decided to do this action as a test case of what we want to see happen — nonviolent, non-threatening, but socially uncomfortable protests that show people in the community who they are associating with."
Locke said that the Cox family "intends to prosecute all criminal activities against their family to the fullest extent permitted under the law."
On Friday, April 13, Gailey and Stromberg returned to their respective homes to find Federal Express-sent envelopes from the NRA. Inside was a note from the assistant general counsel advising them that they would be prosecuted if they ever stepped foot in NRA headquarters in Fairfax.
"Please be advised that your presence on NRA property including, but not limited to, the property located at 11250 Waples Mill Road, Fairfax, Virginia 22030, is not welcome," the letter says. "If you come upon the property of the NRA, you will be trespassing. If you trespass on NRA property, the NRA will contact the police and may take legal action against you. Thank you for your kind attention, Morgan Shields."

The pair of protesters replied by sending back an overnight Federal Express letter that read, "We didn't want to go to your headquarters anyway. Everyone knows your headquarters smells like Ted Nugent."