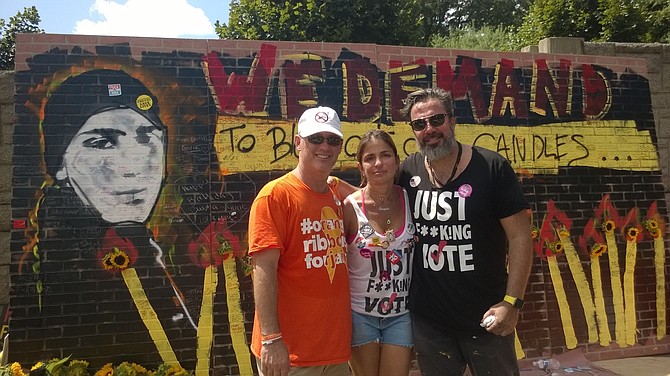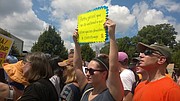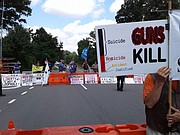 Hundreds of activists gathered Saturday for three hours at 11250 Waples Mill Rd. in Fairfax to protest gun violence at a youth-led rally called March on NRA.
The event was held on the birthday of Joachim Oliver, a student who was fatally shot on Valentine's Day earlier this year at the Marjory Stoneman Douglas High School in Parkland, Fla. Seventeen people lost their lives to a gunman too young to buy beer yet old enough to buy an AR-15 assault rifle he purchased legally last year, according to police reports of the Broward County Sheriff's Office.
Oliver would have turned 18 on Aug. 4 and be old enough to vote on Election Day 2018. A graffiti mural was spray painted Saturday afternoon in his honor and participants wrote their names and messages on the wall. Around 1:30 p.m., a crowd sang "Happy Birthday" and cake was served to protesters.
HIS PARENTS, Patricia and Manuel Oliver, stood in front of the newly-painted mural in their son's honor with another grieving Marjory Stoneman Douglas parent, Fred Guttenberg, the father of 14-year-old Jaime Guttenberg.
Also at the rally: Anna Gonzalez and David Hogg, who survived the Parkland Shooting then turned their anger into action as founding members of Never Again MSD. Their speeches, and 6 minutes and 20 seconds of silence last spring at the March for Our Lives rally in Washington, D.C., moved people from all walks of life to join the hurting teenagers in a nationwide movement for change.
Alex Heckel, 13, his mother Andrea Heckel and younger brother Matthew Heckel, 10, of Alexandria listened to speeches Aug. 4 near the same spot where Matthew Heckel spoke against gun violence at another youth-led NRA protest April 14. Both boys will attend George Washington Middle School in the City of Alexandria, where a student resource officer accidentally discharged his firearm March 13. Alex Heckel said the SRO, who is on administrative leave without pay, is well-liked by students. Alex Heckel believes the incident was an honest mistake. "Every kid forgives you at the school," he said, "and wants you to come back."
Falls Church activist Kris Gregory of the Concerned Citizens Against Gun Violence is no stranger to the sidewalk along Waples Mill Road between the north and south entrances to the NRA parking lot. Each month since the Dec. 14, 2012 killing of 20 school children and six adults inside the Sandy Hook Elementary School in Newtown, Conn., Gregory and other grassroots activists in Northern Virginia have organized a small protest at the NRA in which participants stand along the walkway and hold up signs that decry gun violence and the nation's largest gun rights lobby.
For more than five years, this alliance has worked with elected officials to introduce what they call "common sense" firearm safety bills — which eventually are killed by majority lawmakers both in the Virginia General Assembly and Congress.
"We're all poised to attack," says Carol P. Luten of the Coalition to Stop Gun Violence a few days before a student-led protest at the NRA April 14. At the time, she and fellow activists were awestruck by a new citizens' group mad as hell by gun violence: Teenagers. They sprang into action with national student walkouts and the March for Our Lives rally with sister protests across the country.
"Oh my gosh, this is what's going to push it over," Luten realized last spring.
Teenagers sparked a movement and have been taking their message all over America, with support from other newly-formed student groups — like March for NRA — who are eager to help them change laws that prevent future deaths to gun violence.
"It's a symbiotic relationship in which we have the expertise and they have the traction," states Luten, who believes the preparation of her group and others before hers — like the Brady Campaign To Prevent Gun Violence — is key in their hope for change.
Gregory appreciated the size and diversity of the crowd Aug. 4 March on NRA. She said the protest was wonderful.
"We need everybody involved," she said Saturday afternoon.
Although student organizers anticipated at least 2,000 participants, about a thousand showed up on this hot and humid Saturday afternoon, which offered protesters lots of sun. And sunflowers.
According to organizers, one of the last things Joachim Oliver did for his girlfriend, Tori Gonzalez, was buy her sunflowers. Bouquets decorated the street and organizers handed out sunflowers, bottled water and ice cream to participants as they listened to speeches, cooled off beneath shade trees along the sidewalk or engaged in a heated exchange of words with nearly 50 counter-protesters cordoned off on the north side of Waples Mill Road at the Interstate 66 overpass.
COUNTER PROTESTERS were displeased they weren't allowed to stand along Waples Mill Road in front of the NRA office building during the rally. Paul Brockman, 50, of Annapolis of the gun rights group The Patriot Picket believes it's their right to protest under the First Amendment of the U.S. Constitution.
"We're just here to support the NRA and the Second Amendment," he said before the rally started.
A buffer zone set up and monitored by the Fairfax County Police Department at the north end of the NRA parking lot kept both groups separate but within shouting distance.

"I think the police did exactly the right thing," says U.S. Rep. Gerry E. Connolly (D-11), who attended the rally Saturday. He believes we learned the hard way last year in Charlottesville, Va., what happens when law enforcement officers stay on the sidelines and are not actively involved in crowd control.
"We don't want that in Fairfax County," said the Congressman, who is running for his sixth term in the U.S. House of Representatives against Republican challenger Jeff A. Dove Jr. and Libertarian candidate Stevan M. Porter.
"Today is my son's birthday," said Patricia Oliver. In lieu of discussion about political issues, the grieving mother just wants to give her son "love, justice and tolerance." And sunflowers.
"We are here for a reason," she adds, "to make a change."