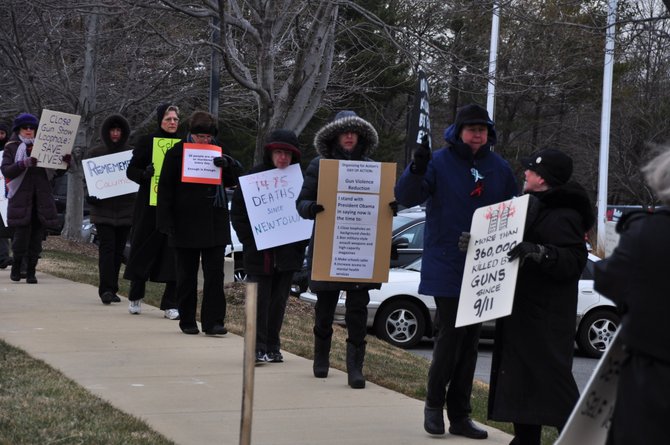 Members of the Reston-Herndon Alliance to End Gun Violence gathered at the National Rifle Association headquarters in Fairfax Friday, Feb. 22, to advocate for stricter gun laws. This was the group's second such protest, where more than 30 members carried signs citing statistics about gun-related deaths.
"We're here to remember the victims and recognize that every day there are new victims of gun violence," said Joanna Simon of the alliance."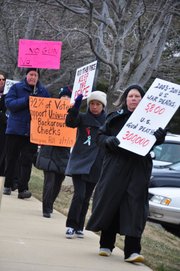 The group marched around in a loop for more than an hour, each member carrying signs that mentioned massacres such as the ones at Columbine High School, Virginia Tech, the movie theater in Aurora, Colo., and Sandy Hook Elementary School in Newtown, Conn.
They specifically want to pass four policies: closing the gun show loophole, limiting the size of magazines, getting rid of illegal, military-style weapons and getting more support for the mentally ill.
"Military-style weapons and high-capacity magazines need to be out of the hands of the public," said Ellen Bussey, a clinical psychologist from Reston. "If you want to hunt, you can have a rifle, and if you want to protect your home you can have a handgun, but that doesn't mean anybody needs to fire 30, 40, 50 rounds before reloading."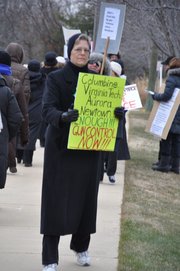 Bussey said she is also a strong advocate for better mental health care to prevent such acts of mass violence, saying there has to be better ways to reach out to those suffering from mental illnesses.
Many of the protesters said they personally didn't have a problem with "reasonable" gun ownership, and had no interest in making guns illegal.
"This isn't guns versus no guns, and events like this help us bring nuance to the discussion, to show that this isn't a black and white issue, we're not against the second amendment, or anything as drastic as that," said Marilyn Adams of McLean, the daughter of a former FBI agent who grew up around law enforcement. "I completely understand the need for guns, but I think this organization [the NRA] is completely out of touch with what their membership and this country want, which is to prevent these terrible shootings."
The group was restricted to the sidewalk along Waples Mill Road during their vigil, since it is county-owned property. They were not allowed on NRA property, and when Adams sat briefly on a light post on the property, she was asked to return to the sidewalk.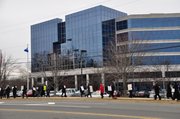 During their vigil, several cars in traffic honked their approval and waved to the group. Gloria Pan of Moms Rising, a national advocacy nonprofit, said: "This is democracy in action. We live in a age where a lot of talk happens on things like the Internet, but a number of people coming out together shows that there are a lot of voices in favor of reasonable, common-sense policies."
The group plans to gather on the 14th of every month at 9:30 a.m., the day of the month and time of the shooting at Sandy Hook Elementary School in Newtown, Conn. In March they plan to print out all signatures from a petition from Moms Rising, of which they currently have about 150,000, and drop the pages off at the headquarters.