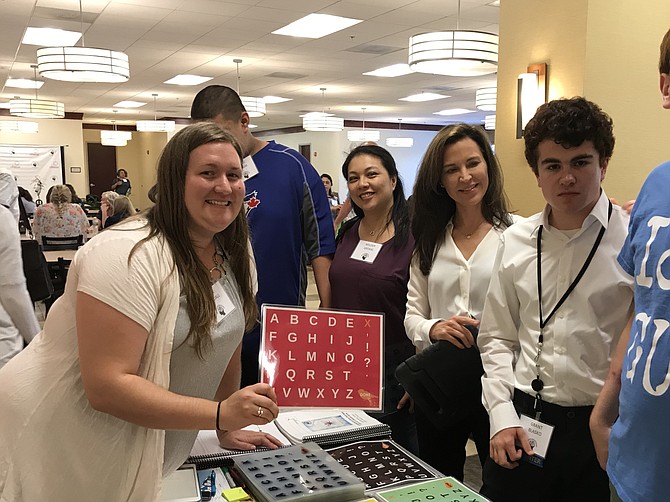 The Herndon-based Nonspeaking CommUnity Consortium (NCC), presented the Second Annual Motormorphosis Conference on Saturday, July 28-Sunday, July 29 at the Executive Conference & Training Center in Sterling.
NCC states they are a nonprofit organization founded by nonspeaking individuals and their allies with the purpose of working toward effective communication access and choice for all throughout life.
"Nonspeaking, minimally speaking and unreliably speaking individuals are on a transformative quest to synchronize mind and motor. Starting with the development of the motor skills to spell and building to the whole body, purposeful movement, this epic transformation can be described as MOTORMORPHOSIS," as stated online for the event registration.

Many individuals at the conference had autism or loved ones with autism which affected their ability to speak. They used Spell to Communicate (S2C), purposefully pointing to the letters on letterboards to spell out their words.
AT THE CONFERENCE, NCC sought to promote access and communication choice for nonspeaking individuals through education, research and advocacy. CommUnity members from technological, service, self-advocacy and academic perspectives engaged attendees in the two-day conference.
Del. Jennifer B. Boysko (D-86) welcomed attendees to the conference via a letter enclosed in the handout package. Boysko wrote, "I hope that [the conference] will be a time of collaboration and growth for you and loved ones... I am proud that we are filled with exceptional and diverse individuals; it is my goal to make sure that every one of my constituents feels represented. Everyone counts... Together, we will make progress for inclusivity."
Keynote Speaker Dr. Anne Donnellan, founder of the Autism Institute in San Diego, is a recognized advocate against restraint and seclusion. She promotes community integration and inclusive education.
Christy Ashby, Ph.D. provided support strategies for perseverance in the fight for communication access and support for students with labels of autism.

Diane Belnavis and Brent Sullivan showcased "Smart Homes Made Simple: Accessing Technology to Increase Independence for Nonspeaking Individuals.

Elizabeth Vosseller, MA, CCC-SLP, Speech Language Pathologist, Owner/Director Growing Kids Therapy Center in Herndon, was one of Sunday's speakers. She cites that one of her clients, Ben, who uses a letterboard to communicate, spelled out during an IEP meeting after the team reported his poor performance on testing: "With all due respect, your tests measure my motor skills, not my cognitive skills."