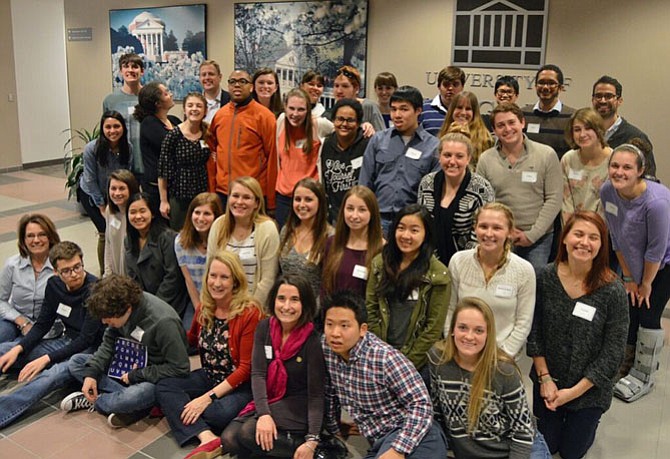 Despite a recent surge in attention and research over the past decade about autism, controversy exists. Autism elicits strong opinions that straddle a line between searching for a cure and respecting autistics for which autism is their identity. One statistic nearly everyone agrees upon though is that autism affects approximately one in 68 children and adults, and it is a lifelong condition.
In his course description for "The Science & Lived Experience of Autism," psychologist Vikram Jaswal, associate professor at University of Virginia, states that at least 10 percent of adult autistics do not communicate reliably, 90 percent are not regularly employed, and 80 percent remain dependent upon their parents throughout their lifetimes. In a recent interview for UVA Today, Jaswal, who is also the father of an 8-year-old autistic daughter, said that most of the research about autism is pretty gloom and doom and didn't reflect the experiences that he and his wife had with their child.
After his daughter's diagnosis, Jaswal changed his interest of studies at UVa from how preschool children learn, to research and advocacy for autism. Gaining a fellowship, Jaswal created the seminar, "The Science & Lived Experience of Autism." It put 20 UVa students "on the front lines" as Jaswal said, to examine studies in autism and work with stakeholders to create questions that reflect the interests of the autistic community.
Jaswal included nonspeaking autistic peers along with his UVa students in the seminars. The autistics participated not as research subjects but were asked for meaningful comments on class readings, what was important in their lives, and input for study and advocacy program designs.
The nonspeaking autistics are clients at Growing Kids Therapy Center in Herndon. Elizabeth Vosseller, speech-language pathologist, is director of Growing Kids Therapy Center. UVa and Growing Kids Therapy Center formed a community-based research program to create questions that focus on the concerns and interests of the autism community and to raise awareness and advocacy.
Vosseller, along with the Growing Kids Therapy Center staff, encourages the nonspeaking autistics to use letter boards as their communication tools. Without them, the students cannot answer questions, not because they don't understand the questions or know the answers but because they cannot speak reliably. In the UVA article published January 2017, "Students Learn First-Hand How People with Autism Feel" by Sandy Hausman, Vosseller said, "They've been set free from a prison of silence. They're really enjoying having a peer group, and as one of our students put it, "To be part of the discussion instead of the topic of the discussion."
MOTOR DISORDER NOT DEVELOPMENTAL DISORDER
In an interview for the article, "Topic — Cure or Not Cure" published by UVA January 2017, Vosseller said that autism is a motor disorder, not a developmental disorder. She explained that speech begins in a part of the brain that controls motor skills. Language, on the other hand, lives in another part of the brain. People with autism "have an issue in the motor area for speech."
The autistics participated in Jaswal's seminar by reading many of the same articles read by their college-aged peers at UVa. The autistics communicated virtually and have had opportunities to meet up with the UVa students in Charlottesville while the UVa students have come to Northern Virginia. The autistics, who call themselves "The Tribe," commented on the weekly readings, using their letter boards to communicate, pointing letter by letter to spell out words and complete sentences which are then recorded by communication assistants and blogged to UVa.
On Saturday, Feb. 11, UVa students and their autistic peers, along with Jaswal and staff from Growing Kids Therapy Center met at the University of Virginia, Falls Church campus for a day-long Action Advocacy Affair. Their objective for the day's exchange was to begin planning the details of programs they'd eventually implement by discussing ideas for raising autism awareness and acceptance.
According to the agenda, after considering how best to raise autism awareness and acceptance, learn what the priorities and values of the autistic community are, and how best to address them, the students welcomed Del. Patrick Hope (D-47), Town of Herndon Mayor Lisa Merkel, and Del. Jennifer Boysko (D-86).

STEREOTYPES CHALLENGED
The event began with statements by the students that challenged stereotypes of autism. The autistics disagreed with descriptions of autistics as being not intelligent, violent, purposefully repeating behaviors, having restricted interests, and lack of feelings. Their words via the letter boards, validated a disconnect between how peer-reviewed science describes autism and how they, the autistics, describe autism.
Ryan McMahon, said, "Most bothersome is the idea we don't have the same capacities for love as NT [neurotypicals, or those without autism]."
Huan Vuong commented on education. "That I have an intelligent mind inside this body hasn't been proved in research," he said. "It is functionally impacting my daily life in school."
When asked how the students could educate people about autism, ideas poured forth from both the autistics and the UVa students.
"Space might allow for something like a TED-type conference with speakers and self-advocates," Diago Fortis said.
Danielle Campion suggested testimonials from The Tribe and UVa students, and to share their prior expectations and how they've changed. Others suggested trivia games, art displays, and interviews.
The discussion turned to how best to go into the community with scientific professionals and members of the autistic community working together as equal partners. Formation of focus groups, interviews, and use of Dropbox for autistics to suggest their needs were all mentioned. Benjamin McGann said, "Create website run by autistics."
Critical to the conversation and key was a balance of power between NTs and autistics. Concern for equal representation was the rallying cry. Emma Budway said, "Everyone has one vote."

Needs for autistics included better opportunities for training teachers and communication partners, shattering stereotypes, creating adult autistic day care centers, and increasing funding.
The students evaluated the system as it is today. The shared consensus was that that NTs dominate opinions about the lives of autistics. "They have the best of intentions," Michelle Cox said, "but leave autistics out." Thuy Vuong, Huan's brother, agreed: "The system segregates rather than integrates." Mentioned also was that there was too much emphasis on autistic children and not enough emphasis on autistic adults.
Specific outcomes they hoped to see to their action plans included a more educated and interested community, greater inclusion especially in schools, empathy, better communication and educational opportunities, and changed laws.
CONVERSATIONS WITH POLITICIANS
During the segment "Conversations with Politicians," Hope listened to the students' concerns and requests. He addressed funding: "People should have access to services and government should provide it for those who cannot afford it. It should be a core function of government. But funding is always debated."

He added, "It's easier to track young students. Twenty-one-year-olds need housing, healthcare, and employment and have very different needs from younger people."

When asked about who is responsible for funding, Hope answered: "We need to ask these questions at local, state, and national levels. If the family is not there, the government needs to be there to take care of them."
Asked if an online network could be created to connect autistics who need a place to live and families or people who would be willing to host them, Hope replied, "We could use a tax break as an encouragement or incentive to house or employ the autistic individuals."
He added, "5 to 10 percent of the workforce could be designated to autistics or disabled."
Hope explained how to achieve new jobs. "Rewrite job descriptions with the goal of achieving a certain level of disabled employment," he said.
Reached after his conversation with the group, Hope said, "Interacting with 'The Tribe' really opened my eyes. Autistics want the same things everyone else wants in life, and should be part of the discussion. While autistics may communicate differently, we all share the same dream and vision for our future. As policymakers, we need to seek full integration that includes housing and employment and makes sure autistics are at the table."
While Hope spoke on the state level, Merkel joined the conversation on the local level. Two of the autistics receive Medicaid.
"People push back on Medicaid but don't know who it helps," Merkel said. "People aren't thinking broadly, and the right conversations are not happening. My town is small; we don't make these laws but serve more as a 'customer service' role. But at that level, there's a similarity between working with those with language differences and communication differences."
Merkel said, "Northern Virginia is wealthier, [than other areas in the state] but there are also more people with more diverse needs." When asked how to get community inclusion at the town level, Merkel responded about the importance of attending town-hall meetings as a way of educating the town and staff."
Asked what was her best takeaway from attending the Autism Advocacy Affair that day. "I think," Merkel said, "The greatest thing to take away is the assumption of competence."
Boysko discussed various means of bringing stakeholders together and referenced a similar advocacy and support scenario for autistics modeled after one involving senior populations in her district.
"Over the course of a three-year period," Boysko said, "they met monthly with stakeholders to talk about problems and goals and what they wanted to accomplish."
She added, "My job is to listen and make the community a better place."
"The fact that you are here is making incredible waves," said Ian Nordling to Boysko. "We are getting somewhere, slowly but surely."
Education for autistics was a concern to many of the young adult autistics there that day, but McGann looked beyond himself and asked about changing educational standards for all special needs students. "You are making a difference, as are we," he said to Boysko, and added, "How can we change the education standards for all special needs students?"
Boysko explained that No Child Left Behind contributed to problems because of the emphasis on testing and that she disagreed with the testing emphasis.
As the Advocacy Affair drew to a close, McGann asked a favor of Boysko. "Spread the word," McGann said. "Tell others what you saw today. If you believe in us, they will too."
He added, "Too many people look at us like dummies whose communication partners are manipulating us. That is not the case."