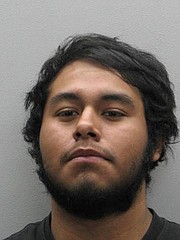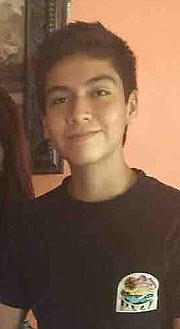 The 18-year-old boy took the stand in court Friday afternoon, and calmly implicated himself in major crimes including robbery, accessory to murder and obstruction of justice. But – thanks to a deal he made with the prosecutor – he won't be punished.
That's because, to save himself, Enrique Rivera agreed to testify against Fairfax City's Uriel Josaphat Espinosa Cruz, who's charged with killing Centreville High student Matthew Ortega. And that's just what Rivera did, July 27, in Fairfax County Juvenile and Domestic Relations Court.
"Matthew put up his hands in front of him and said, 'Stop, chill, chill,'" said Rivera. "That's when Uriel shot Matthew in the head."
Just 17, Ortega was murdered Feb. 13. At 5:17 a.m. the next day, a delivery driver discovered his body lying in the road in the 13000 block of Jeb Stuart Square in Centreville. Police were called, and medics pronounced Ortega dead at the scene.
Detectives initially sought the public's help to identify him and also asked anyone to contact them with information that could possibly lead to his killer. The trail led to Cruz, 18, and officers arrested him March 13. Charged with murder and use of a firearm in the commission of a felony, he's being held without bond in the Adult Detention Center.
BUT LAST FRIDAY, he was in court for his preliminary hearing before Judge John Kassabian. Friends and relatives of both Ortega and Cruz filled the courtroom, while a Spanish-language interpreter translated the proceedings to them.
Testifying first was county police Det. Aaron Spooner. He'd responded to the crime scene and said he saw blood near, around and on the body. He also identified the autopsy and toxicology reports that were done on Ortega. He said no weapons were found at the scene, but "Marijuana was collected in a prescription bottle in a pocket of the victim's pants."
Defense attorney Kasey McNamara asked if any "money, scales or anything else that could be related to the marijuana" were found on Ortega's person, and Spooner said no.
She then called Rivera to the stand.
"I used to live in Centreville, so I knew Matthew from there, and we went to school together," said Rivera. "I knew Uriel since I was a kid in Fairfax." He then identified Espinosa Cruz, sitting at the defense table in a green, jail jumpsuit. Rivera said that, on Feb. 13, he was driving around in his mother's car, smoking marijuana with Espinosa Cruz and a friend nicknamed Peanut before meeting with Ortega.
"It was Uriel's idea," said Rivera. "He said he wanted to rob somebody who had weed; he said it would be easy. [Peanut] contacted Matthew through Snapchat. Matthew sent the address where he was, in Centreville, and I drove there and parked."
Rivera said Peanut was in the front passenger seat, with Espinosa Cruz in the back seat, behind him. Ortega came inside, sitting behind Rivera. "There were people around, so I drove across the street because I knew Uriel was going to rob Matthew," said Rivera. He said the motor was running, and he identified a photo of the neighborhood and showed where he'd parked.
"Uriel pulled out a gun and pointed it near Matthew's chest," said Rivera. "I saw it in the rearview mirror." He said that's when Ortega put his hands, palms out, in front of him and told Espinosa Cruz to stop and chill. Instead, said Rivera, Espinosa Cruz fired the gun.
"After that, [Espinosa Cruz] said, "He's bleeding, he's bleeding," testified Rivera. "Uriel grabbed [Ortega's] feet and I grabbed him, too, and we pulled him out of the car and put him on the ground." Then, he said, they left Ortega lying on the pavement and headed to Safeway to buy cleaning supplies – "Baby Wipes and stuff" – to erase the evidence of the crime inside the car. Said Rivera: "We all cleaned the blood off the backseat and the floor."
"From the time you drove across the street, how long were you there until Uriel took out the gun and shot him?" asked Assistant Commonwealth's Attorney Kathleen Bilton. Rivera said it was maybe a minute or two. She also asked if he knew, before driving to meet Ortega, that Espinosa Cruz had a gun. "Yes, he told us," replied Rivera.
"Did he tell you why he had it or what he intended to do with it?" asked Bilton. Rivera said no. Then defense attorney Andy Elders questioned him. He asked if there was a plan to buy additional marijuana that night from Ortega, and Rivera said there wasn't.
"You were aware you were going to help someone carry out an armed robbery?" asked Elders. "Yes," answered Rivera.
"So you didn't care what happened to Matthew Ortega?" asked Elders.
"I did care about Matthew," replied Rivera. "But I never expected Uriel to shoot him."
"And you were going to get a little free weed out of the robbery and gain some direct benefit from it?" asked Elders. Rivera answered affirmatively. "Did [Espinosa Cruz] ever say he was going to shoot Matthew or that he didn't like him?" asked Elders. Rivera said no.
Elders than asked if, during the ride from Fairfax to Centreville to meet Ortega, those in the car had discussed the robbery. "Uriel told me and Peanut that he was going to use the gun to rob Matthew," replied Rivera. "Uriel expected him to hand [the marijuana] over. I asked him, 'Why are you going to rob him for so little?' because Peanut said Matthew didn't have much weed on him. Uriel just said, 'It'll be fine.'"
Rivera also said neither he nor Peanut asked if the gun was loaded. Elders asked if Rivera's earlier time estimate of the shooting included the drive across the street with Ortega in the car, and Rivera said it did. "So he got shot about 30 seconds later?" asked Elders.
"Yes," said Rivera. "Uriel pulled out the gun from his waistband." He also said Espinosa Cruz never explained to Ortega why he was pointing a gun at him or said anything to him, at all, before shooting him at point-blank range. But, said Rivera, "I saw and heard the gun shoot."
Rivera said he then opened the car door and helped pull Ortega's body outside. "Uriel helped me with the bottom half," he said. "I grabbed the top half, under his arms."
"You just dumped him on the ground and drove off?" asked Elders.
Replied Rivera: "We laid him down gently."
"Did you try to stop the bleeding or call 911 or yell for help?" asked the attorney.
"No," answered Rivera. "What was I supposed to do? Uriel shot him in the head. How was I going to save him?"
RIVERA also noted that he'd accidentally dropped his cell phone on the ground, near the body and – worried that it would link him to the crime – he drove back there and retrieved it, after first getting gas for the car at a station in Fair Lakes. "We were all scared, but we had to go back," he explained. Rivera said about 20 minutes passed between the shooting and when they returned. He said they cleaned the car on a gravel road near Peanut's house and he threw the cleaning supplies in a trash can at his own home.
"You knew, at the time, that – even though you were just the driver – you could be implicated in a robbery resulting in a murder?" asked Elders. Yes, said Rivera. He also said he worried constantly about the police questioning him. When they finally did, he said he lied to them and said he didn't know Espinosa Cruz had a gun and was going to rob Ortega. But a month later, Rivera told them the truth.
"And you didn't lie to the prosecutor because you cut a deal so you wouldn't be charged with murder or anything?" asked Elders.
"Yes, and also because I felt guilty," answered Rivera. "And I didn't want to be in jail for something I didn't know was going to happen. I didn't know Uriel was going to shoot him." Bilton asked if he'd testified truthfully in court, and he said yes.
"After the robbery and shooting, did Uriel take any marijuana from Matthew?" asked Elders. Rivera said no. The judge then found probable cause to believe Espinosa Cruz committed the crime for which he's accused and certified his case to the grand jury for possible indictment.