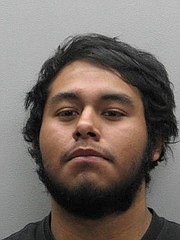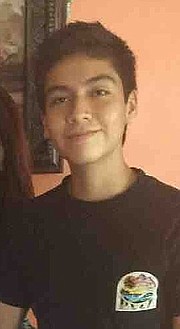 'I heard my mother crying in agony.' —Johnny Ortega, victim's brother
Before Fairfax City's Uriel Josaphat Espinosa Cruz was sentenced for killing Centreville High student Matthew Ortega, the victim's siblings told the judge how his death affected them.
"Matthew was my little brother," said Johnny Ortega. "There are no words to describe this immeasurable pain and incredible loss. Words can't replace a brother, a friend, a son."
Likewise, said Matthew's older sister, Margarita Ortega, "My world has been changed forever because he was so senselessly and cruelly taken from me. I'm overwhelmed with pain and grief, especially when my 6-year-old daughter and 4-year-old son ask where their uncle is."
And while the hole in their hearts will always remain, there is some justice in the world. Last Friday, Nov. 15, in Fairfax County Circuit Court, Espinosa Cruz was sentenced to 17 years in prison.
THE TRAGEDY occurred Feb. 13, 2018, when Ortega was 17 and Espinosa Cruz, 18. And after two eyewitnesses told police what happened that night – obtaining immunity from prosecution for themselves – Espinosa Cruz pleaded guilty, Sept. 9, to second-degree murder.
Assistant Commonwealth's Attorney Kathleen Bilton then explained the case against him. She said a paperboy called 911 after finding Ortega's body in the road, the next day, just after 5 a.m., in front of 13506 Jeb Stuart Square in Centreville.
"He was lying on his stomach with blood coming from his head," she said. But Ortega had no ID on him, so police didn't know who he was. "Det. Aaron Spooner got a list of absentee students and determined it was Matthew, and his mother confirmed it," said Bilton. "The medical examiner said cause of death was a single gunshot wound to the top of the head with a .40-caliber bullet."
She said nearby residents heard a scream, the night before, around 10:15 p.m., and detectives found a pill bottle containing just under 2 grams of marijuana in Ortega's pants pocket. Then, said Bilton, "A friend said he knew Matthew and that Uriel had confessed to killing him and said he'd buried the gun somewhere far away."
Ortega was actually shot inside a car and his body dumped on the ground afterward. He was in the back seat, with Espinosa Cruz next to him and two other people – Enrique Rivera, 18, and a teen nicknamed Peanut – in the front. Rivera presented details of the crime during Espinosa Cruz's preliminary hearing.
Rivera said he was driving around in his mother's car that night, smoking marijuana with Espinosa Cruz and Peanut when "Uriel said he wanted to rob somebody who had weed; he said it would be easy." So they contacted Ortega, who told them where he was in Centreville.
"There were people around, so I drove across the street because I knew Uriel was going to rob Matthew," said Rivera. He kept the motor running and, he said, less than a minute after Ortega got inside the car, he was dead.
"Uriel pulled out a gun from his waistband and pointed it near Matthew's chest," said Rivera. "I saw it in the rearview mirror. Matthew put up his hands, palms out in front of him, and said, 'Stop, chill, chill.' That's when Uriel shot Matthew in the head. I never expected Uriel to shoot him."
Afterward, continued Rivera, "Uriel said, 'He's bleeding, he's bleeding.'" So they pulled Ortega out of the car, placed him on the ground and drove to Safeway to buy cleaning supplies to erase the evidence of the crime inside the car. Said Rivera: "We all cleaned the blood off the back seat and the floor."
Espinosa Cruz later said he didn't mean to pull the trigger. But, said Bilton, both witnesses said he still wanted to take the marijuana from Ortega's pocket afterward, but they told him not to.
In court last Friday, Ortega's siblings read their victim-impact statements. Johnny Ortega was away at college at VCU when, he said, news of his brother's death "shattered my family to pieces. Things were already difficult for my mom because we'd just lost my dad to cancer. I called her on Valentine's Day to tell her I loved her, and she said Matthew didn't come home and she couldn't reach him."
Then, said Johnny, "I saw a news article about a body found in Centreville, with a picture of a hoodie that looked just like his. The next day, my family said, 'Come home.' And when I did, the first thing I heard was my mother crying in agony. My little brother was dead, and his future had been snatched away from him."
"I lost laughter, birthdays, songs and the pleasure of everyday life because Matthew's life was cruelly and carelessly ripped away," he continued. "This was supposed to be a year of celebration for him – senior pictures, prom and graduation. Today – 630 days from his murder – this pain is still with me and will never leave."
Margarita Ortega said, "Whenever I see my mother cry because she misses Matthew, I tell her he's skateboarding in heaven, because that was his passion. He was on the A-B honor roll at Centreville High and wanted to become an attorney and help people. But he'll never get to accomplish his dreams, get married or have children."
Calling Matthew "the embodiment of what's right in this world," she said, "I always thought we'd die of old age together; I never thought he'd be taken so soon. When he was murdered, a piece of my heart was taken with him. Today and for the rest of my life, I'm mourning the loss of my baby brother. Nothing can bring him back – all we want is justice for him."
THE STATE SENTENCING GUIDELINES for Espinosa Cruz ranged from 13-21 years, with a midpoint of 17, and Bilton asked that he receive a "significant period of prison time. Matthew was a kind boy, humble, respectful, loyal – a good student with a bright future. But on Feb. 13, 2018, his light was extinguished by this defendant."
She noted that, in a document Espinosa Cruz wrote about himself for the court, he described his "lack of respect" for others. "He pulled a toy gun on a child in elementary school as a prank; and when it didn't work, he ordered others to beat him up," said Bilton. "He later robbed people of money and weed; and at age 18, he committed murder. He may not have planned to shoot him, but he pulled out a gun and ended Matthew's life – a life full of promise, joy and hope."
Noting Espinosa Cruz's abusive childhood, defense attorney Mike Chick said it "doesn't excuse what he did," but if he grew up in a loving, supportive home, he might not have committed this "accidental homicide." He said Espinosa Cruz was born into a world so violent that his mother left him at age 6 to be raised by his "drunken, abusive father. He became addicted to marijuana as a child as the only way of escaping his reality."
Chick also said his client was diagnosed with complex PTSD, but never received treatment. And because of his conviction and lack of U.S. citizenship, he's now subject to deportation. Chick then asked for a 10-year sentence.
But Judge Thomas Mann had the last word. "This defendant doesn't value life, peace and dignity," he said. "If it wasn't Matthew Ortega, it would have been another person you killed. This defendant is a taker; he doesn't think of others, but only of his own needs.
"He took out a loaded gun, cocked it and pointed it at Matthew's head. I believe he didn't mean to pull the trigger – and yet, he still wanted to rob a dying person. This defendant said he had a gun since age 15 and was involved in a couple shootouts at age 14. So at 18, he was legally an adult, but immature, and basked in his reputation as a tough guy. Even in jail – knowing this day was coming – he got disciplinary charges."
Meanwhile, said Mann, "There's a family whose hearts are broken. The court hopes Matthew's family [eventually] finds some peace." He then sentenced Espinosa Cruz to 40 years in prison, suspending 23, leaving 17 years to serve. Mann also placed him on 20 years' active probation. Finally, he told Espinosa Cruz, "Today has been about your sentencing, but I want everybody to remember this name: Matthew Ortega."