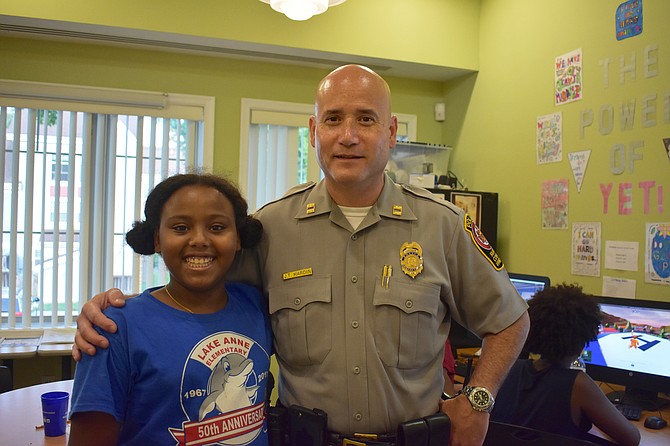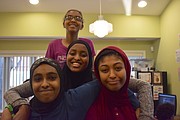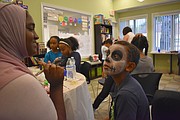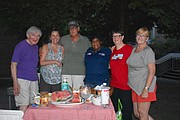 In a community-building gesture in Reston, residents of Hickory Cluster gathered for a potluck dinner on Aug. 7. They talked to their neighbors and even met a family that had just moved in.
"In this day and age, everybody's on their cell phones and they don't get to see each other. They don't get to talk to each other," said Lani Young, neighborhood watch coordinator for Hickory Cluster. "I just wanted our neighbors to have a place to come to meet each other and enjoy themselves."
The Hickory Cluster community gathered in celebration of National Night Out, a nationwide crime-prevention event held the first Tuesday of August, which seeks to build relationships between neighborhoods and local police officers. As neighbors get to meet one another and enjoy their community, as those in Hickory Cluster did, they also talk with members of local police departments who visit the events in their area.
"National Night Out is a national campaign to show crime is not welcome in your community," said PFC Katy Defoe, Crime Prevention Officer at the Reston Station. "The police come in for no other reason but to hang out, have a party and sit and chat."
Defoe said National Night Out gives officers the opportunity to meet with communities that may not typically get to see the police unless something's wrong. This year, 14 communities in Reston participated, including all of Reston's county housing units, which Defoe said was a "win."
One of these communities, Island Walk Apartments, held a highly attended neighborhood celebration with a baking competition and face painting. Police officers handed out stickers and safety-pin police badges while interacting with young residents. The fire department even attended, until they left on a call.
Residents say it is important to see the police in a casual setting.
"Little kids like my sisters, they need to know that they can trust the police," youth volunteer and Island Walk resident Ahlam Ali, 15, said. "Right now, everybody's like, 'Police officers are bad; police officers are hurting people,' when in reality, we have police officers like the ones that came today who are active in the community and here for actually helping."