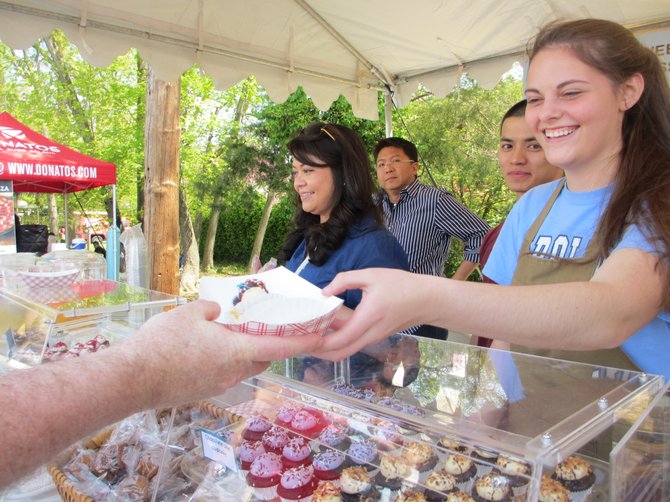 Certainly, Saturday's almost-May weather contributed to the festive mood at the 2nd Annual Taste of Vienna sponsored by the Vienna Volunteer Fire Department. Abundant sunshine and cloudless blue skies lit up Cherry Street on April 27. Throngs of local families, seniors, teens and babies in strollers milled around food and wine tents, under eating tents and along the stage front, where contemporary pop bands performed. It was the kind of community-spirit day Vienna is known for.
"An event like this brings the people of Vienna together," said Vienna Business Association member George Creed. "It helps the fire department make some money, and is fun for everyone.
"This is a fantastic day. I hope ViVa! Vienna!—a month out—has the same kind of weather," Creed said, making a pitch for the Rotary club's three-day Memorial Day weekend festival.
And while many vendors did sell "tastes" —as in sliders and mini-sandwiches—some restaurants went all-out, offering regular-sized pizza slices and crepes. Crepe Amour even sold hand-held filled crepes, a new concept in crepe-dom.
EVEN MORE FASCINATING was the food journeys visitors to Taste of Vienna were taking. Many samplers were hitting up vendor after vendor, taking home what they couldn't finish on the spot. Twenty-eight restaurants, from Bazin's to Ya Hala, served an international eclectic mix of foods, from barbecue to Italian, seafood, hand-held snacks and sweets. Vienna's most popular restaurants were counted and the aroma of cooking meats wafted throughout the community center area. You smelled Taste of Vienna long before you spotted it in the fire department's parking lot.
"The prices are good for what you are getting," said Vienna mom Alyssa Lehman, holding her daughter Maddy's hand. "I'm happy with the prices. Maddy's happy with her smoothie."
Mini-plates and regular-sized plates ranged from $1 to about $6 for the highest-priced offerings. Beer and wine were sold under a designated tent. And Viva Tysons hosted four Washington Redskins cheerleaders.
Vienna resident Cherie Tripp Lejeune called the oyster with a "gorgeous" cheese topping from Mad Fox Brewing Company "just delicious." That was after the vegetable samosa from Turmeric that she enjoyed.
Ashley Stern, a George C. Marshall High School student tasting along with her mother, said she ate the shrimp-and-crab poppers from Maplewood Grill, a samosa from Turmeric, chicken satay from Tara Thai, noodles from Noodles & Company, and a blooming onion from Outback.
Ryan Smith, of Fairfax, was finishing up his strawberry, banana and Nutella crepe from Crepe Amouri when he stopped to talk. He had already eaten a samosa from Turmeric, pizza from Church Street Pizza, and chicken skewer from Plaka and was not finished sampling. He said he would "definitely" return next year.
All net proceeds from Taste of Vienna go directly to the Vienna Volunteer Fire Department. Captain level sponsor was Navy Federal Credit Union, and Firefighter level sponsors were Christina Rice—Re/Max, J.D.A. Custom Homes, the Vienna Business Association and ING Financial Partners. Navy Federal brought in an ATM machine for the event.
Participating restaurants included Bazin's on Church, Blackfinn Ameripub, Brio Tuscan Grille, Caffe Amouri, Chef Geoff's Tysons, Church Street Pizza, Crepe Amour, Culinaria Cooking School, Donatos Pizza, Famous Dave's Barbecue, The Fresh Market, La Sandia, Mad Fox Brewing Company, Maple Ave Restaurant, Maplewood Grill, Noodles & Company, Outback Steakhouse, Pazzo Pomodoro, Plaka Grill, Pure Pasty Company, Robeks Fruit Smoothies, Seasons 52, Sweet City Desserts, Tara Thai Vienna, Turmeric Indian Dining, Vienna Inn, Whole Foods and Ya Hala Lebanese Restaurant.
THE NEXT BIG FUNDRAISER for VVFD, 110 years old, is the auction and formal ball in July. At the auction on July 12, bidders can win a date with a firefighter. The formal ball is on July 20. There, now you have your date mapped out … to the ball on July 20.
"This is a great way to see friends and support the fire department," said Linda Colbert of Vienna, strolling and sampling with her family. "And you get to taste all the wonderful food in Vienna."