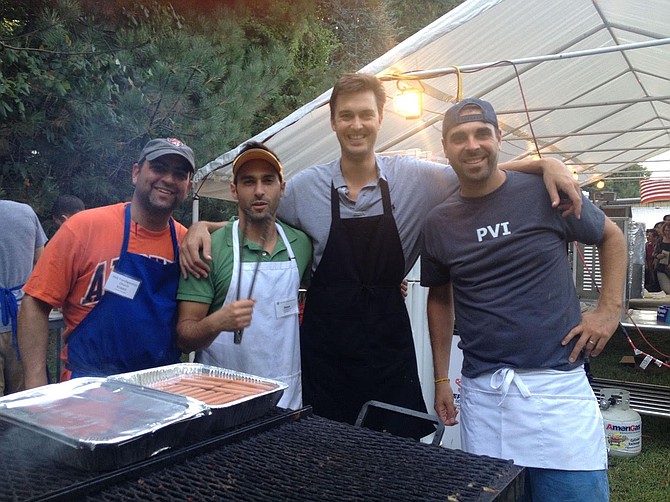 For most Americans, Labor Day weekend marks a major change — vacation is over, kids are heading back to school, and the outdoor grilling season is just about over. For devoted foodies who love handmade treats, freshly grilled meats, and a festive atmosphere, one area destination provides family fun, frolic, and food in one appealing setting: the Middle Eastern Food Festival at McLean's Holy Transfiguration Melkite-Greek Catholic Church.
Hosted by the parish as an area family favorite, the festival is celebrating 25 years of bringing the Middle East cultures and foods together to celebrate life and brotherhood. Crowds attend, because besides the fun and frolic, the food rules.
After all, this is a food festival, and consider what's on the menu: roasted lamb dinner; kibbeh platter; vegetable platter; sandwiches such as beef-lamb shwarma and falafel; and ala carte dishes that range from spinach pie, hummus, and stuffed grape leaves to several more offerings. To wrap it up, guests have a choice among numerous Arabic sweets (also available for take-home) plus American and Arabic coffee.
One of the big draws during the festival is the grilled meats that turn up in the roast lamb dinner and among several other entrée and sandwich offerings. Of course, the smoky aroma coming from the grill out back of the parish hall sparks appetites for sure. Manning the fires this year as in years past is Robert Salem, who admits he is not a professional grill master, just doing what he loves. "I have been running the grill for 5 or so years," he said. "I just have home experience, but I get great joy when I cook for people …There is love in what we do."
As Salem noted, the recipes are all family favorites, his and other parishioners' families, and everything is done fresh and by hand.
"When we make the kefta, sometimes I have formed all the patties on my own," he said. "I mix, and form, and grill." He added that he uses his mother's recipe, but really as a guideline. "I don't measure the ingredients. We spice to taste, then mix and taste and mix again."
The most popular grilled meat is the beef-lamb shawarma, and the chicken comes next. "The kefta is my favorite," he said, "now that I am using my momma's recipe," adding that in the past the kitchen served lamb on the spit. Now, the lamb is oven-roasted, but still very popular.
As he concluded, the festival serves thousands of guests, starting at 11 a.m. Saturday for a full 12 hours. Sunday's eating starts after morning liturgy, and ends earlier than Saturday hours. "God willing," he concluded, "we have good weather."
Holy Transfiguration Melkite Greek Catholic Church, 8501 Lewinsville Rd., McLean, Va. 703-734-9566. Admission and parking are free. This year the festival runs from 11 a.m. to 11 p.m. on Saturday, Sept. 1 and then will be held again on Sunday, September 2 from midday until early evening
Kefta
A Middle Eastern favorite, kefta consists of ground beef and/or lamb that is seasoned and shaped into a patty or into a sausage shape. The meat can be grilled, fried, or baked. Plan to serve the meat on a pita bread with onions, spice, chopped tomatoes, and tahini sauce. This recipe is Robert Salem's creation.
Serves 6 to 8
1 pound ground beef
1 pound ground lamb
1 large onion, peeled and chopped
1 cup chopped parsley
2 to 3 teaspoons ground cinnamon or allspice
2 teaspoons salt
Combine all ingredients in a mixing bowl. Taste for the right seasoning. Form the meat into hot dog lengths. Wrap in the pita with seasoning, tahini, and chopped tomatoes, and form into a roll.