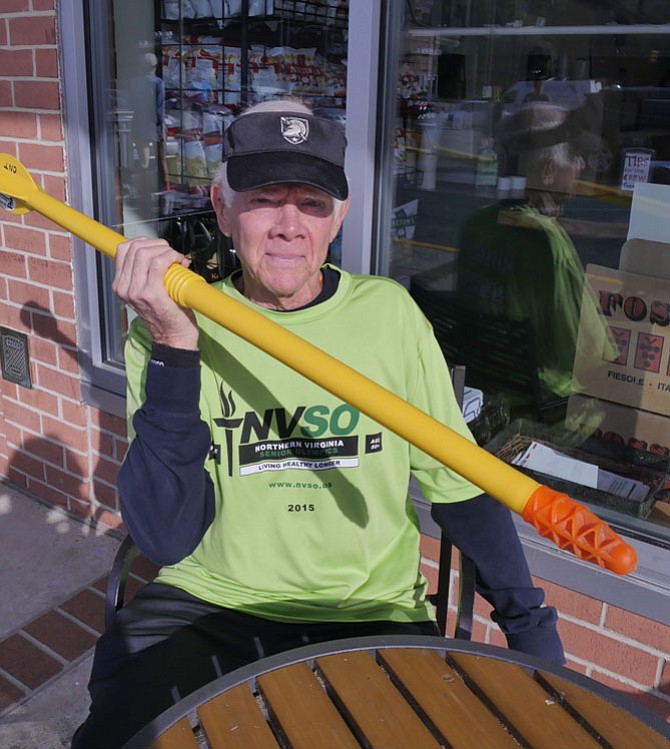 The deadline for Northern Virginia Senior Olympics (NVSO) has passed with 752 competitors signed up for one or more of the 70 events offered this year. NVSO begins Sept. 9 with the Opening Ceremony including running of the Olympic torch around the track at Thomas Jefferson Community Center followed by track and rowing events and diving later in the day. NVSO continues until Sept. 20 with events at 28 park and community and senior centers around Northern Virginia.
Eighty-two-year-old Charles Toftoy says he was selected to carry the torch last year. Toftoy says he has been competing "for I would say over 20 years." Toftoy says he was a sprinter in school running the 100-yard dash and then got talked by a friend into running a marathon. "I got hooked but after running the Boston Marathon I thought enough of that. What's next?" He said, "I turned to the Triathlon (run, bike, swim). I really loved that." That eventually led to the Senior Olympics.
But Toftoy stressed that anyone can enter NVSO. "The whole purpose is to put an emphasis on good health, having fun together. It is a diverse group of people from all walks of life." Toftoy added, "I'll help guys 96-years-old hit the softball off the tee. I'll hold them up. The softball throw has a lot of enthusiasm." And he says there are sports that people in wheelchairs can do like Scrabble, cribbage, bunko and dominos. and rapid chess, a new sport this year. Vera Punke, 102-years-old, has entered duplicate bridge and Maira Kennedy will compete in the 100-year-old category for Wii Bowling.
Toftoy says he has participated in 27 different sports in his 20 years and with the addition this year of singles, doubles and mixed doubles pickleball he will increase that number to 30. "I used to do so many events but I have scaled back." He says he was in too many events. "I was surprised I got obsessed with pickleball since I started it last December so I spend more time."
He points out that pickleball is the fastest growing sport. "It's very unique with so much tactics and strategy. There are so many skill sets you have to learn. For instance," he said, "there is dinking where you just put the ball over the net and it lands in the kitchen. It has to bounce once." Add to that the side spin "where you come across the ball at about 40 degrees and it hits here and goes across to a person's backhand."
There is only one sport that Toftoy has entered only once. "I decided not to do rowing again because it was too hard. You'd have to really work at it to be good, and there were too many other things." For now that involves playing pickleball three times a week year round. And Toftoy thinks next year he will enter eight ball pool. "But that competition is scheduled at the same time as pickleball this year. And I'll probably throw the turbo-javelin again next year."
He remembers when he was practicing the long javelin at Washington-Lee High School baseball park. "I had the cones all lined up and ready to go. Two men in suits and ties came running across the field waving their arms." It turns out it was the superintendent of parks and that the long javelin is illegal in Arlington. This led to the 500 gram turbo-jav event instead.
Toftoy says he thinks the most difficult sport he has entered is the running long jump. "It's really tough on the knees." He says years ago he was competing in the Virginia senior games in the running long jump and wanted to make it to National. "My first two tries I was off the line with my feet. I only had one try to go. After all the training I was sweating it out." But he made sure his feet didn't go over the line and third time around he made his longest jump ever and got a gold medal.
Toftoy says he keeps trying to realize his age so last year he took a senior fitness survey. "I had to do all of these things. My physical age turned out to be 57 so when people ask me how old I am, I just tell them 57."
For more information on the schedule and venues contact nvso1982@gmail.com or the hotline number 703-228-3300 ext 9996.