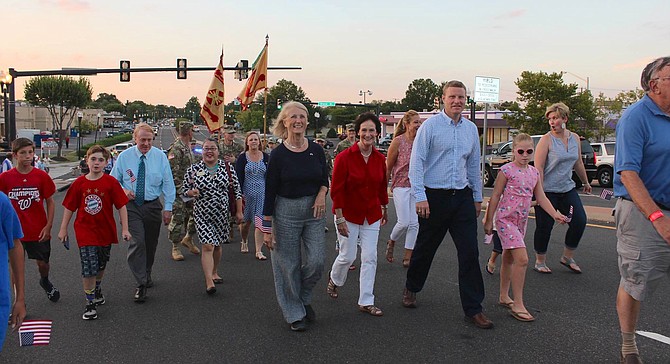 What Goes On in Lee District
Annual Springfield Bridgewalk – this year on Tuesday, Aug. 28 at 7 p.m.
Lee District Nights – summer series of free public concerts
National Night Out – annual event throughout neighborhoods solidifying partnership with local police to work together to fight crime
Farmers Markets – Springfield Town Center, Huntington, Kingstowne
The Embark Richmond Highway plan, which was approved by the Board of Supervisors earlier this year, is going to change commuting in Lee District for the better. It is a new land use plan that supports walking and biking. It also calls for a bus rapid transit system in the short term, and the extension of Metro's Yellow Line in the long term.
Here is a link to a video which explains how this futuristic vision will create ease for our commute along Richmond Highway: https://www.youtube.com/watch?v=hq9druGj2t8.
This plan is long overdue. Mt. Vernon Supervisor Dan Storck and I will spend much of the next year working to bring it to life. In fact, we have created a group, the Strategic Economic Development Team, which meets monthly, and have already come up with great ideas for the future of the Richmond Highway corridor.
Our other revitalization area, Central Springfield, is seeing tremendous positive growth. Springfield Town Center was again the third most valuable property in Fairfax County, which continues to jump start interest in our area. Now that the Transportation Security Administration is moving to Springfield, I expect much of this positive momentum to continue. We've already approved the next phases of Springfield Town Center and Kingstowne Center, which will continue to push forward this effort.
Lee District parks also have an exciting year ahead. This will be the first full year that the accessible Family Recreation Area at Lee District Park will be complete. Now, people of all abilities can enjoy the trails, waterparks, and amenities we have to offer.
This will be an important year for Lake Accotink, which has been the subject of many community meetings working towards a long-term solution to save the lake.
It will also be another great year to visit Lee District's crown jewel, Huntley Meadows Park, which features majestic forests, meadows, wetlands, and a boardwalk.
We will be seeing a number of new trails and bike paths coming online for residents. Although this may seem to be of small consequence, it is big for promoting multimodal options, which makes a major impact in our district. Our Office of Community Revitalization is also investing in our area with improvements such as street sweeping, curb/median repairs, and other beautification efforts.
It's a pleasure to represent Lee District and partner with the great communities in it. We will continue to move forward, keeping our future bright in the year ahead.