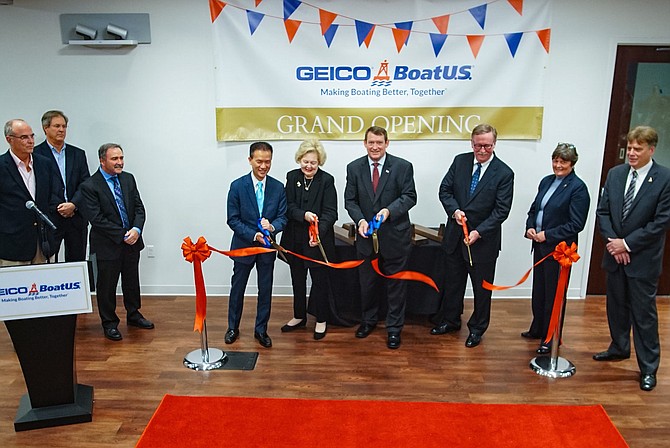 After more than 40 years at its location at 880 South Pickett Street in Alexandria, Boat Owners Association of The United States (BoatUS) and GEICO Marine Insurance officially opened the organization's new headquarters at 5323 Port Royal Road in Springfield. Attending ribbon cutting event were Supervisor Pat Herrity (R-Springfield), GEICO President and CEO Bill Roberts, and BoatUS CEO Kirk La.
BoatUS is the nation's largest advocacy, services and safety group for recreational boaters and employs nearly 400 in the region. BoatUS' South Pickett Street location was a former U.S. Army depot when BoatUS Founder Richard Schwartz developed the building for the association's national headquarters. The new headquarters is the first in the 52-year-old organization's history built for the sole purpose of serving the more than half-million BoatUS members and GEICO Marine Insurance customers.
"This new 65,000-square-foot building will help us grow for the next 50 years," said BoatUS CEO Kirk La. "We will need new team members who are looking for opportunity and a solid career path. With its great amenities, this facility makes BoatUS and GEICO Marine Insurance a very appealing place to work."
The newly constructed building is home to association and corporate headquarters, with insurance policyholder and claims customer service, as well as nationwide 24/7 dispatch operations for recreational boat owners. BoatUS's 24-hour TowBoatUS on-water assistance fleet is the largest in the nation with more than 600 towing-response vessels.
In a twist of fate that some say is a homecoming for the organization, 40 years ago, Founder Schwartz had an early BoatUS headquarters office located just one block away.