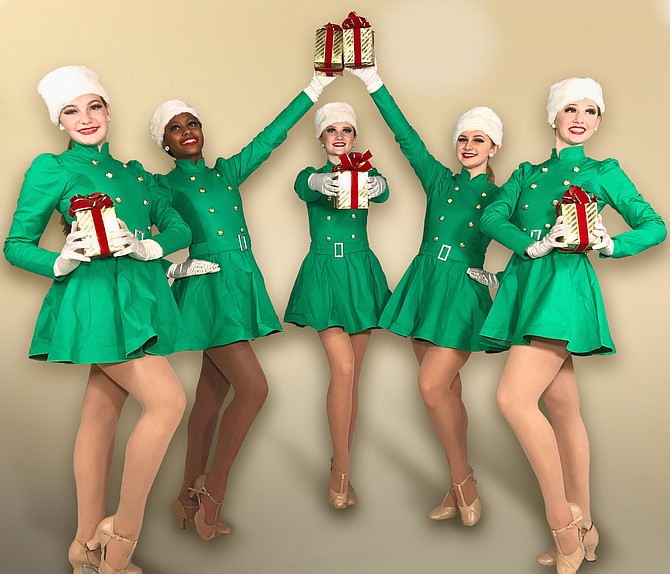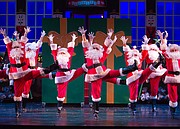 The dancers of Encore Theatrical Arts Project are kicking up their heels with glee, getting ready for their upcoming, holiday extravaganza, "An Invitation to Christmas." The show runs Dec. 7-16 in the Richard Ernst Theater at NOVA's Annandale campus.
In the story, the elves at the North Pole are super-busy with so much work to do that they need extra help. So they send out invitations to children selected by Santa to attend Elf-Training School. However, one of the new recruits is a full-grown man, and his classmates wonder why he's there. He does, too, since he thought he was going on a job interview.
The cast of 24 dancers, plus adult guest performers Jack Stein and Allen McRae, have been rehearsing since August, and Director/Choreographer Raynor van der Merwe says things are coming along really well. "We had our first, dress rehearsal and, suddenly, the characters came to life," she said. "And many of the performers are triple threats – dancing, singing and acting.
"Besides being a visual feast for the eyes, the show is uplifting – from the story to the music," she continued. "We have lots of new numbers, plus some old favorites. I look for music that might be familiar, but not something people will hear over the radio. So I choose songs that move the story forward, put people in the holiday spirit and let them escape this busy season for two hours."
THE SCENES take place in New York City, Santa's workshop at the North Pole and outdoors in a snow-covered, winter wonderland. And van der Merwe describes the costumes as both "colorful and glamorous."
"Everybody's working hard and has clicked really well," she said. "It's a great unity and, when everything comes together, it's magic. And that's what I love about theater – the community of it. No one does it on their own; the script, choreography, sets and lighting are among the puzzle pieces that must fall into place to make something unique and special. And with a live audience, each performance is different."
Faith Chun, a freshman at Trinity Christian School in Fairfax, plays an elf named Cookie. "She loves baking treats and has an energetic personality," said Chun. "She gets excited after making cookies and other baked goods, but is disappointed when they're all gone. It's fun playing her because of her energy, and I'm sometimes that way, too."
Chun's favorite dance is "Rockettes," during which the dancers wear white leotards with white fluff in back and have their hair in high ponytails. "I like that style of dance, with the kickline, and the number has both fast and slow parts," she said. "We have sharp poses, so we have to really be in synch."
Dancing since age 3, it's her seventh year with Encore. "Dancing is always my passion," said Chun. "It makes me happy and is my favorite thing to do. It takes me away from my stress and schoolwork, and I really enjoy doing it." Regarding the show, she said audiences will like "the storyline and the dance styles. It will allow them to connect to Christmas in a different way and is enjoyable to watch."
High-schooler Bea Tremblay dances in the ensemble and portrays a mail carrier. "She delivers the invitations to the kids, as well as to the adult, George Parker," said Tremblay. "She's undercover from the North Pole, so she's in New York street clothes. I wear a U.S. Postal Service hoodie and hat, plus gray slacks. She's a little mischievous and jolly because she knows she's handing out invitations to a magical experience."
Tremblay enjoys taking her character in a humorous direction and working with the other actors and dancers. She especially likes the "Santas" number. "We wear big bellies, wigs, hats, boots and Santa costumes," she said. "It's a high-energy dance, and 26 of us are onstage; and it's so much fun that I'm smiling the whole time."
She's danced since age 10 and is in her fourth year with Encore's performing company. "The company creates a community, and the other girls and I support each other and have formed a family," explained Tremblay. "And it's so nice dancing together without having to compete. We can concentrate on the art and performance quality."
CALLING THE SHOW "fun-loving and happy," she said, "We have lots of little kids acting, too, and they're really doing a great job. We've got bright and beautiful costumes, and the set puts you in the Christmas spirit as soon as you see it. We also have cool props, neat vocal numbers and a lot of actors who make it what it is."
Becca Perron, a Paul VI High freshman, plays Digits the elf. "She works in the mailroom and is very serious," said Perron. "She doesn't like her supervisor, Dally, because she bosses her around. Digits also thinks Dally is lazy and she should have her job. She's fun to play because she's not like me, and being an elf is just the best time. I get to be over-the-top and really let myself go."
It's Perron's ninth year with Encore and sixth with its performing company. Her favorite dance is "Rag Dolls" because, she said, "We get to make really funny faces and expressions as Raggedy Anns and Andys. And we especially like it when the kids in the audience laugh.
"As a group, we put so much passion and love into our shows," she continued. "So when we see a big audience, it's just the greatest feeling. We're well-known for our professional sets and performances that set us apart from other dance groups."
High-schooler Kate Persell portrays Jingles the elf, who supervises the children who've been invited to become elves. "She's really cute, but likes to stay organized," said Persell. "She's friendly with the kids, but snarky with the adult trainee. I enjoy acting, and it's fun to play someone different from my own personality."
She's danced with Encore since third grade and loves the many, different styles of dance. "I can get my energy out, it's a good form of exercise and I do it with all my favorite people," she said. Persell particularly likes the "Once-A-Year Day" number. "All the elves are doing a hectic dance, running around like crazy, getting ready for Christmas," she explained. "There's no resting point, and I love rushing with adrenaline, the whole time. And when we do the final pose, it feels so good."
Persell said the audience will enjoy the storyline because "It's humorous, with the businessman in an elf costume that doesn't fit him. The children in the cast are super-cute and talented, and the dance numbers are spectacular."
To Go
Show times are: Dec. 7 at 7:30 p.m.; Dec. 8 at noon, 4 and 7:30 p.m.; Dec. 9 at noon and 4 p.m.; Dec. 14 at 7:30 p.m.; Dec. 15 at noon, 4 and 7:30 p.m.; and Dec. 16 at noon and 4 p.m. Tickets range from $19-$26 via www.encore-tap.org or 703-222-5511.
Location: Richard Ernst Theater, NOVA campus, 8333 Little River Turnpike in Annandale.