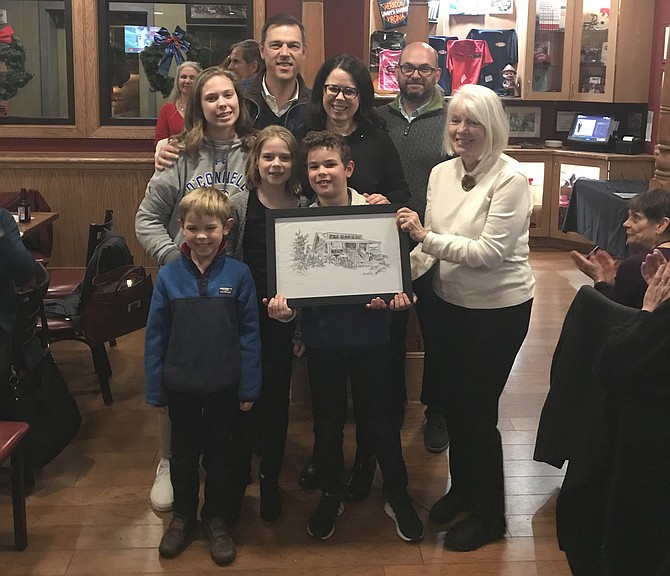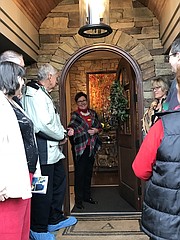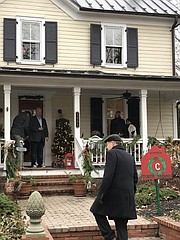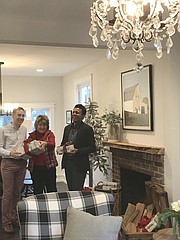 A reported 500 people turned out for the 2018 Herndon Holiday Homes Tour, a festive tradition that began in 1979. Planned and facilitated yearly by the Town of Herndon Cultivating Community Initiative, all six of the homes on this year's tour, held Saturday, Dec. 1, showcased the small town's neighborly spirit and community pride according to Kelly Berg and Keven LeBlanc in their "Message from the Co-Chairs."
This year's tour featured homes of historical or local interest. Two houses were built circa 1890-1910, two midcentury, and two recently.

Nancy Royer of Gaithersburg, docent, stood on the porch of Tour Stop C, 1005 Grant Street, the home of Betsy and Dal Frock, sponsored by the Herndon Historical Society. "My sister owns the home, and I'm thrilled to introduce the community to the historical significance of homes like this one built in 1910," Royer said.
Alexa Browe of South Riding, tour-goer stood on the porch of Tour Stop D, 724 Grace Street, the home of Sarah and Perry Fri, sponsored by the Rotary Club of Herndon. "I always love the tour. This is my sixth time participating… I work at Herndon Florist, which sold tickets."

In 2012, the Fris purchased an empty lot in the historic district. Four years later they moved into their newly constructed home that would serve "as a headquarters for their daughters and their friends, and suit their needs well into the 'empty nest years.'"
The Herndon Woman's Club sponsored the home of Kathryn and Chris Adams at 777 Third Street, one of the two newer homes on tour having been built in 2006. The home showcased the family's special love of the Christmas season and passion for hospitality.
The brick rambler of Sue and Paul Daniel, 641 Oak Street was built in 1967 and is within walking distance to the downtown. Order of the Eastern Star sponsored the home. According to the Daniels, the house and its historic neighborhood make for the perfect place to begin and end every day… enjoying the warmth of the fireplace in winter.
Proceeds from the Holiday Homes Tour go to the many participating Herndon civic organizations whose docent volunteerism allows the Town of Herndon Cultivating Community Initiative to produce the event. from the Co-Chairs' to attendees.
Next year's Holiday Homes Tour of Herndon is Saturday, Dec. 7. Tickets and information will be available at Herndon-va.gov/homestour.