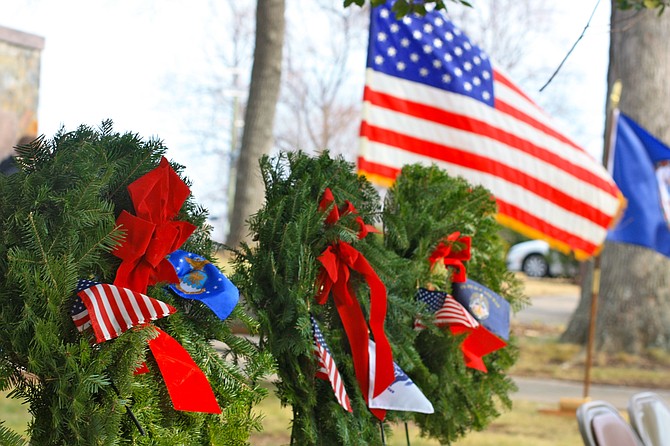 National nonprofit Wreaths Across America is working hard to ensure no veteran laid to rest in Herndon is forgotten this holiday season and fundraising has begun for this year. On Saturday, Dec. 15, 2018, National Wreaths Across America Day, live balsam remembrance wreaths will be placed at the graves of fallen veterans at nearly 1,000 locations across the country and overseas. In Herndon, a remembrance ceremony will be held at Chestnut Grove Cemetery on Saturday, Dec. 15 at noon.
"For the fifth year, the Town of Herndon, in partnership with the Herndon Woman's Club, will join Wreaths Across America to honor more than 800 veterans who were laid to rest at Chestnut Grove Cemetery. In a short ceremony, the club will remember the fallen, the prisoners of war and the missing in action and honor those who have served and are serving this great nation," a press announcement reads. The goal is to place a commemorative wreath on every veteran's grave. Volunteers, including members of our military, Herndon fire and police departments, Herndon Boy Scout Troop 1577, Herndon Fortnightly Club and Adams-Green Funeral Home will assist with the ceremony and wreath placement.
Officially established in 1872, Herndon's Chestnut Grove Cemetery is the final resting place of veterans, dating back to the War of 1812. Your support is needed now to ensure enough wreaths will be provided. The cost to sponsor a wreath is $15. To show your support and to sponsor a wreath(s), send a check made payable to Herndon Woman's Club, P.O. Box 231, Herndon, VA, 20172. Donations are also accepted online at www.wreathsacrossamerica.org/VA0143P.