Herndon — Herndon Woman's Club (HWC) wants to remember the Fallen, honor those who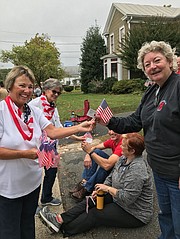 serve, and teach children the value of freedom by joining Wreaths Across America to honor veterans who are laid to rest at Chestnut Grove Cemetery in Herndon.
According to the organization's website, on Dec. 16 "the club will remember the fallen, the prisoners of war, the missing in action, and honor those who have served and are serving this great nation with a short ceremony." Volunteers will then place commemorative wreaths on nearly 770 veteran's graves.
At the Herndon Homecoming Parade, Herndon Woman's Club members Linda Crawford and Susy Ledgerwood distributed small plastic flags to parade viewers. Attached to each flag was a card requesting that the recipient consider sponsoring a wreath at $15 in advance.
As of Oct. 15, the official website for Wreaths Across America reported Herndon Woman's Club had reached "23 of 775 Wreaths Sponsored, 3 percent to Goal."
For more information on how to support Herndon Woman's Club and Wreaths Across America, visit: www.wreaths.fastport.com, www.Herndonwomansclub.org or write to Herndon Woman's Club, P.O. Box 231, Herndon, VA 20172.
More like this story