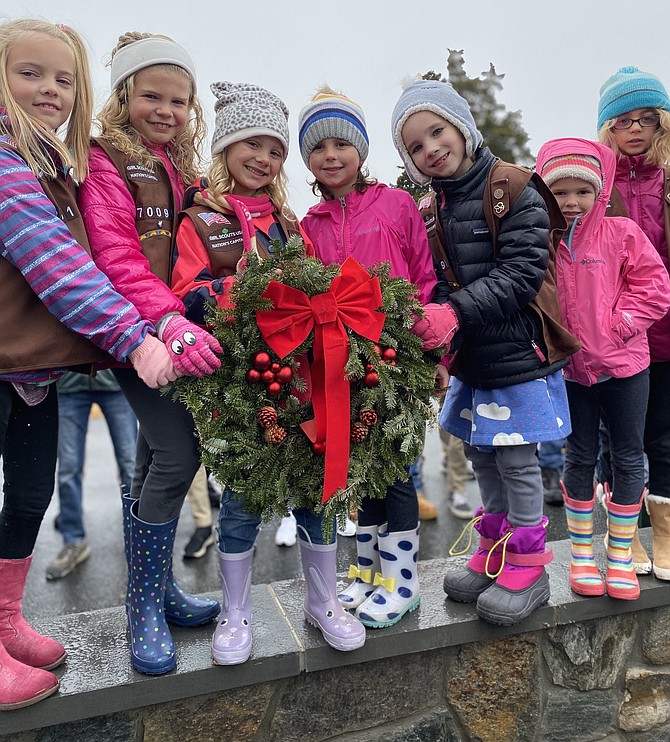 Bigger than one town, created for all, people from across Northern Virginia gathered at Chestnut Grove Cemetery in Herndon shortly before noon on Dec. 14. They came from surrounding towns, communities and counties, stretching far and wide, to lay wreaths at one of the more than 1,200 locations nationwide this year on Wreaths Across America Day. "Today, we want to show a united front of unity all across the United States of America as we remember the fallen, honor those who serve and teach our children the value of freedom. We shall not forget. We shall remember," said Kathy Herbert, President of Herndon Woman's Club (VA0143P), to the gathered crowd of hundreds at Chestnut Grove Cemetery in the Town of Herndon.
Wright and other members of the Woman's Club, the Herndon Fortnightly Club, South Lakes High School Army Junior Reserve Officers' Training Corps Color Guard of Reston, the Reston Chorale Bobby Pins and more were there to support the ceremony and the staff at the town-owned cemetery. Many of them and members of other service organizations, would assist others in placing remembrance wreaths on the graves of the 848 veterans laid to rest in the cemetery, not to decorate their graves nor remember the servicemembers' deaths, but as Wright said, to remember their lives and thank them for their service to the United States.
Wright said, "We are proud to be Americans who live in a free society made up of many people, and many races, from various walks of life. The freedoms we enjoy today did not come without a price… As we honor those who serve and have served, and the sacrifices each has made, a memorial wreath to represent each branch of the Armed Forces as well as those taken Prisoners of War and those Missing in Action will be placed."
One by one, Wright called seven members of the Armed Forces from across the region forward to lay Remembrance wreaths in "memory of those who served and are serving. Sergeant First Class Cynthis Scheffler, United States Army...Staff Sergeant Sergio Frintrop, United States Marine Corps...Captain Tammy Tideswell, United States Navy retired ...Tech Sergeant Demarcus Shanklin, United States Air Force...Commander Daniel Alcorn, United States Coast Guard... Sergeant First Class Justin Isoline, United States Merchant Marines...(and) now, Colonel Craig Barnhard, United States Air Forces retired will lay a remembrance wreath in honor of the 93,129 United States servicemen from all branches of the service whose last known status was either Prisoner of War or Missing in Action. These individuals have never returned to their families and homes. We shall not forget you," Wright said.
After the formal ceremony, hundreds of civilians, active duty and former members of the United States Armed Forces placed balsam remembrance wreaths tied with a red velvet bow from Columbia Falls, Maine on the markers of United States veterans laid to rest in the cemetery. They said the veteran's name aloud and said "thank you" in a show of gratitude and respect.
Jacob Crochetiere, 10, of Chantilly, and his father, Terry, who served in the United States Air Force, prepared to place a remembrance wreath on a grave. Jacob said, "We're here so we can remember veterans because they served and kept us safe."