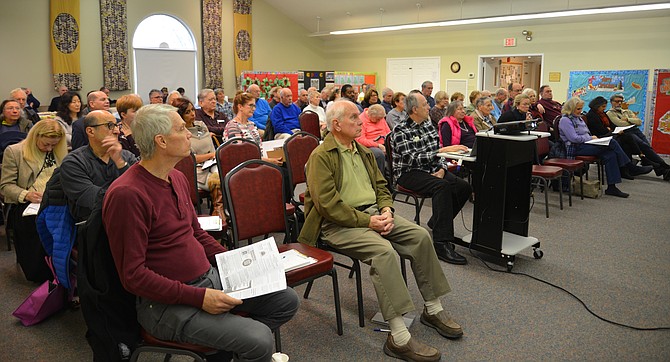 A panel of interesting and informed experts kept a room full of Great Falls citizens glued to their seats and taking copious notes for more than two hours on Saturday, Dec. 1. The Great Falls Citizens Association (GFCA) hosted the seminar for "Savvy Seniors and Their Families" in a meeting room at Christ the King Lutheran Church on Georgetown Pike.
GFCA president Bill Canis welcomed the sizeable crowd of attendees, and did the honors of introducing the panel, and facilitating the Q&A session after the speakers' presentations, starting things off by noting that the GFCA, celebrating its fiftieth year in service to the community, was also reaching "those golden senior years."
Canis said the GFCA decided to hold a meeting on senior issues after being approached by two groups, looking to expand services into the Great Falls area.
"We put their information in our newsletter," he said, but after some discussion and obvious interest, the GFCA determined that a gathering of numerous field experts was in order, so they organized the seminar.
THE TURNOUT seems to have proven their instincts to be correct.
"Or else it was just the wonderful homemade pastries by GFCA board member Jennifer Falcone that really brought this many people out on a drizzly Saturday morning."
After Canis's welcome, Dranesville District Supervisor John Foust declared that senior issues and serving older adults in the community has long been a priority.
"The predicted shift in the population where the over-65 contingent will double in size between 2010 and 2030 has been described in studies as a 'Senior Tsunami,' and we had better prepare for that day," cautioned Foust.
In October of 2011, Foust was a driver behind a district-wide meeting on older adults living in the area. About 100 people attended that meeting, and it was the start of things to come.
"Fairfax County is one of the only such jurisdictions in the nation that have anything like the Fairfax 50+ Committee and Plan that are actively engaged in developing policies and programs aimed at protecting seniors and enriching their lives, at educating seniors and those who support them."
Foust concluded his remarks by saying he felt fortunate to live in this county, since "I satisfy most of the statistics we've been talking about already!"
The objective of the "Savvy Seniors" seminar was to inform and provide resources on older adult issues, and the GFCA pulled together experts well-prepared to offer insight from all angles.
Carol Blackwell, an active member of the Great Falls community for more than 40 years, was on hand to talk about the wide variety of services and programs offered by the Great Falls Senior Center (GFSC). Blackwell, the president of the GFSC, described the day trips, seminars, workshops and classes, and other events that the GFSC has organized since its inception in 2012. The GFSC partners with Fairfax County Department of Neighborhood and Community Services to enhance its offerings.
"Our biggest challenge right now?" said Blackwell. "Today we are a virtual center, a center without walls." To better meet the needs of local older adults and to "give people a place to drop by and stay connected in the community," Blackwell says the group is "dreaming big" and hopes to someday either share space with an expanded Great Falls Library, or to "have a place of our own" in which to hold their events and invite seniors to meet and mingle.
Blackwell also has significant experience with the needs of adults with dementia and their caregivers.
"Staying engaged really helps those suffering with dementia live a better quality of life."
Speaker Carol Edelstein is a founding member and the secretary of the newly formed, all-volunteer Shepherd's Center of Great Falls. After twenty-plus years working with seniors, especially those with dementia, and developing an intergenerational program for seniors and kids as the head of a non-profit private school in Fairfax, Edelstein continued serving older adults as a volunteer driver for the Shepherd's Center of McLean-Arlington-Falls Church. It wasn't long before she decided that her neighbors in Great Falls could use the same sort of assistance, getting rides to medical appointments and other important errands, and getting a little handy help around the house.
The Shepherd's Center of Great Falls is just about ready to launch. Affiliated with the nationwide Shepherd's Centers of America, this local branch is actively recruiting volunteers and ready to take transportation requests.
"Our services are free to our clients – except for any parking charges – and the rides can be one-way or round trip," said Edelstein. "Our volunteer drivers are background checked and we provide supplemental insurance when they drive a client … and they accept only the rides that work for them. There is no requirement of so many days or hours to volunteer. It works well for all parties."
Toni Reinhart is the Director of Dementia Friendly America-Herndon, and the owner of a Comfort Keepers in-home care company. She's on a mission to raise awareness about dementia and to make the world a friendlier place for those it effects.
"Even with all of my experience with seniors, I didn't fully understand the difficulties of living with dementia until it affected my own father," she told the attendees.
Taking dementia-sufferers out into the world can be difficult. "But isolation makes the progression of the disease even faster," said Reinhart, so she offers seminars on communicating with those with dementia and works on creating a dementia-comfortable environment.
"We are about keeping people – all people – connected with the community."
THE COUNTY itself was represented at the seminar, with Grace Lynch, the community outreach manager for Fairfax County's Division of Adult and Aging Services on hand.
Lynch came prepared with stacks of informational material, but the objective of her remarks was to inform the public that her office can be the free "one stop shop" for all of the issues associated with aging.
"The changes that occur as we age can be complex. Physical, social, financial, and more. Where to find the right assistance and put it all together can be a daunting task. We are here to help."
The county operates an "Aging, Disability and Caregiver Response Line" Monday through Friday, staffed by experienced social workers.
"We can send you in the right direction, provide translators if needed, or even in-depth assessment consultations for more complex situations. You have an advocate in Fairfax County government."
Lynch also detailed some of the preventative programs offered through the county, and the outreach resources on public television Channel 16, and via their "Hot Topics" educational podcasts. Highly recommended by Lynch was a free subscription to the Golden Gazette newsletter. "It really keeps you up to date and in the know and provides lots of valuable information."
Karen McPhail, RN, MSN, CDP, spoke about concierge care management for all aging-related issues, not just healthcare. She is the managing director of Eldementals, LLC, with a specialty in managing complex care needs.
"We are true micro-managers, watching every step and reviewing or advocating for you. We have to be experts in our field."
Whether you use a service like Eldementals or you go it alone, McPhail's advice is "pre-planning is the best thing to do to ensure that your wishes and needs are heard and met." She strongly recommends being sure that trusted friends or family know where to find information in an emergency.
"You really need a trusted financial advisor and good elder care attorney." She also suggests preparing a Durable Power of Attorney as part of that pre-planning "so that your representatives are not making the decisions so much as acting on your wishes."
The final speaker to present before the Q&A was Stan Corey, who was a Certified Financial Planner Professional, a Chartered Financial Consultant and Certified Private Wealth Advisor for almost 40 years.
Corey has taken those years of experience and authored two books so far.
One of those is on a "difficult subject," but one that Corey says needs to be discussed. "The Divorce Dance" addresses "protecting your money, managing your emotions, and understanding the legal issues if you initiate or are faced with divorce." Corey mentioned the topic at the "Savvy Seniors" gathering since he says that the fastest growing population segment experiencing divorce is now those over 65.
"But today I want to focus on 'When Work Becomes Optional,'" he continued, referencing the title of his latest book.
Corey talked about the suddenness of the changes that occur with retirement, noting that those often the hardest affected are professionals and upper level management.
"For so many in these categories, what they were doing was their identity. It's hard when you take that away from one day to the next. Now what do you do?"
When "teaching" retirement these days, Corey says the most important lesson is that the act of retiring is not the goal, "it's only the 50-yard line, or half time. You need to continue planning for your life events."
Resources
Couldn't attend the "Savvy Seniors" seminar or just want to know how to access some of these resources? Here's a start:
The Great Falls Senior Center – www.greatfallsseniorcentergfsc.wildapricot.org.
Shepherd's Center of Great Falls – www.thescgf.org. 703/586=9696
Dementia Friendly America – Herndon - www.dfaherndon.org
Fairfax County Division of Adult and Aging Services – 703/324-7948 (Mon-Fri. 8 a.m. – 4:30 p.m.) for Response Line. www.fairfaxcounty.gov/OlderAdults. Also see the 50+ Plan on the county website.
Golden Gazette – subscriptions – 703/324-5633 or email birendra.kunwar@fairfaxcounty.gov.
Eldementals – www.eldementals.com. 703/399-4028
Stan Corey – www.divorcedance.com
Many of the websites include additional resources and blogs on related topics.