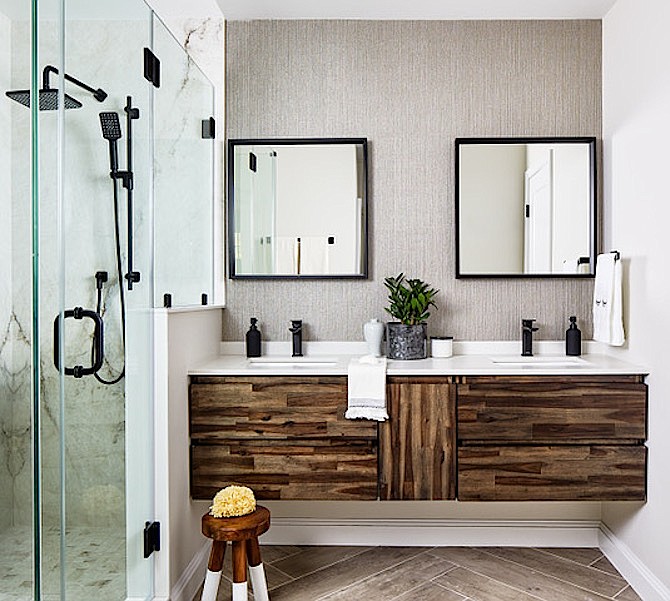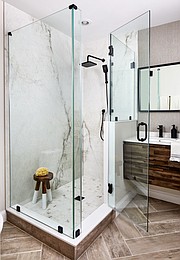 Sometimes regarded as a strictly functional space, bathrooms might bring to mind brushing and flossing rather than style and comfort. Whether you're working on a tight budget or creating the bathroom of your dreams, two local designers offer inspiration.
"Even if you're only able to spend a limited amount of money, creativity is a necessity," said Marcie Taylor of Marcie Taylor Designs in Alexandria.
Taylor recalls helping a couple who'd grown tired of the outdated master bathroom in their Springfield home, but couldn't afford a total overhaul.
"I told them that they needed to invest in one statement piece and then add some less expensive accessories," she said. "We salvaged a crystal chandelier and hung it over the bathtub to create a focal point. We replaced the grout around the tub and sink which looked dingy against the existing white tile. We then added a matte black faucet and found a shower head in the same color."
When designers at InSite Builders & Remodeling transformed a cramped and outdated Jack and Jill bathroom in Bethesda into a master bath suite befitting a luxury spa, they had to expand the footprint of the bathroom by using square footage from an adjacent bedroom. The additional space was used to add a double sink, a new closet and a large zero-entry glass shower.
Helping to create a sense of tranquility, the design team used materials such as a white countertop, dark wood cabinets, a floating vanity, black fixtures, and a hinged glass shower door. "The shower is a major focal point," said Stephen Gordon, InSite Builders & Remodeling. "It [has] full-size porcelain slabs which eliminate grout lines."
"Even if you're just doing a spruce-up, a bathroom project can seem like a major undertaking," said Taylor. "But I can't recall anyone who didn't think it was worth the effort."