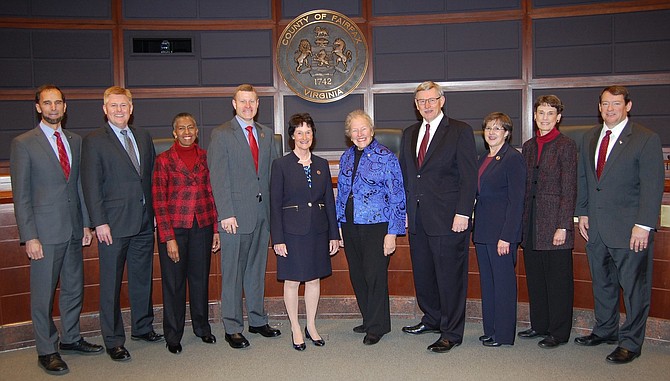 On Thursday, Dec. 6, Chairman Sharon Bulova of the Fairfax County Board of Supervisors announced that she will not be seeking re-election in 2019.
"It has been an honor to serve the Fairfax County community," Chairman Bulova said. "During these past 30 years, I have been privileged to work alongside dedicated elected officials at every level of government, with talented, caring county staff and a county full of enthusiastic community volunteers. While I will not be running for re-election in 2019 I sure do have a lot to look back on with great satisfaction."
Bulova served as the Braddock District Supervisor on the Fairfax County Board of Supervisors from 1988 - 2009, and was elected Chairman of the Board of Supervisors in a special election in 2009. She was re-elected Chairman in 2011 and again in 2015. The year 2019 will mark her 10th year as Chairman and her 31st year as a member of the Board of Supervisors.
During her career, Chairman Bulova is proud of her role in founding the VRE commuter rail system, piloting Metro's Silver Line Phase 1 over the finish line, navigating through the Great Recession and federal sequestration while retaining Fairfax County's triple A Bond rating, founding Faith Communities in Action, initiating Communities of Trust, convening the Ad Hoc Police Practices Review Commission, helping launch Diversion First, facilitating the new vision and plan for Tysons, and spearheading numerous environmental, historical and cultural initiatives on behalf of the residents of Fairfax County.
"There is still much to do and contribute," Chairman Bulova said. "My term does not end until the end of next year. I look forward to working with you during these months ahead and thank you for your engagement, support and participation in your community."
The upcoming election for the Fairfax County Board of Supervisors will take place on Nov. 5, 2019, and the new Board will begin its work on Jan. 1, 2020.
IN OTHER NEWS, more change is coming to the Fairfax County Board of Supervisors. Supervisor John Cook (R-Braddock) has announced he will not seek re-election in 2019. Supervisor Linda Smyth (D-Providence) has also announced that she will not seek re-election in 2019. Supervisor Jeff McKay (D) has announced that he will run for Chairman in 2019, vacating his Lee District seat.
Reactions
Ensuring Prosperity, Quality of Life
U.S. Senator Tim Kaine (D-VA):
"As former mayor to a city of 200,000 people, I have enormous respect for Sharon Bulova's leadership of a county of 1.1 million. Over the past 30 years, Fairfax County's population has grown by nearly half, and Sharon's service during that time has played a major role in ensuring the prosperity and quality of life accompanying that growth. Congratulations, Sharon, on a job well done."
A True Community Treasure
U.S. Rep. Gerry Connolly (D-11), former Chairman of the Fairfax County Board of Supervisors:
"I have had the pleasure of knowing and working with Sharon Bulova for more than 20 years and she is a true community treasure. Under her leadership, she turned the idea of the Virginia Railway Express into a reality. As Chairman, she guided the County through the worst of the Great Recession, while still maintaining the critical investments and services that Fairfax residents have come to expect. And over her years of public service, she has helped transform our community into one that is envied by all others.
"Sharon's time on the Board will be remembered for her decency and commitment to collegiality, her willingness to listen to her constituents and bring people together, and her drive to leave Fairfax a better place for future generations. I want to thank my dear friend for her lifetime of service and the undeniable mark she has left on our community."
Gold Standard
Sen. Chap Petersen (D-34)
"I first met Sharon Bulova in 1996 when I was a young lawyer entering the political world. She was (and is) the gold standard by which local officials can be measured. Her retirement marks the end of an era in Fairfax County which history will remember as one of prosperity and good will."
A Strong Proponent of Economic Growth
Gerald L. Gordon, Ph.D., president and CEO of the Fairfax County Economic Development Authority:
"Chairman Bulova has been a strong and effective proponent of economic growth and the Economic Development Authority and me personally for many years. The effects of her leadership will be felt throughout the county for generations to come. Her support of our global outreach marketing has been particularly forward-looking and effective over the years."