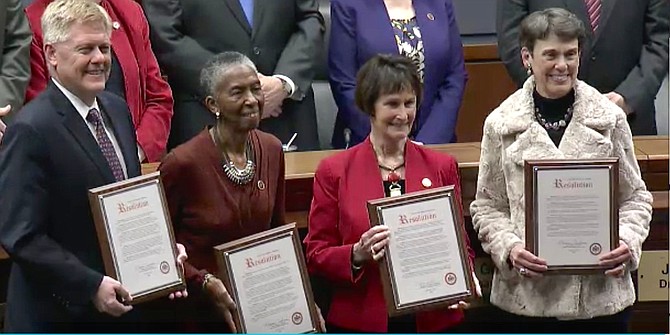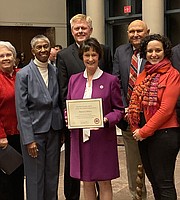 At the end of December 2019, Chairman of the Fairfax County Board of Supervisors, Sharon S. Bulova ends 31 years of service to the County, 21 years as the Braddock District Supervisor and 10 years as Chairman of the Board. During her last month in service, Chairman Bulova continued to lead the locality of 1.1 million people and also shared her heartfelt thanks to constituents, staff and others.
"It has been a great ride," Bulova said on Dec. 3, when she chaired her last Fairfax County Board of Supervisors Meeting. "I have loved the relationships that we have had among my colleagues on the Board and our county staff. …We are all in the trenches together, making things happen together. We don't always agree on things, and yet we are able to come together and work things out. …Thank you for the opportunity to serve with you and previous boards."
Bulova presided over the meeting that began at 9:34 a.m. that day and adjourned, eleven hours later at 8:41 p.m. "I love local government, even on days like this. You have to love people, love human nature. We manage change, which is not easy. Things can be emotional, but it is people coming together and participating in the process of governing (that) is so critical. I think we do that well in Fairfax County," she said.
Highlights of Board actions taken at the Dec. 3 meeting under the gavel of Chairman Bulova:
Adopted the 2020 Legislative Program for the Virginia General Assembly, Approval of the County's 116th Congress Federal Legislative Strategy and Principals;
Received reports from various councils including the Racial Equity Stakeholder Council and a presentation by the Environmental Quality Advisory Council;
Approved projects submitted for the FY 2026 Regional Surface Transportation Program and Congestion Mitigation and Air Quality Federal Funding Through the Northern Virginia Transportation Authority;
Approved a Construction Administration Agreement between Fairfax County and the Town of Herndon for the Herndon Metrorail Station Access Management Study Project (Dranesville District).
Nearing the end of the meeting, Bulova thanked her staff over the years, her current staff and staff that served her since she was first elected as the Annandale District Supervisor, which later was named the Braddock district. Bulova recognized the services of the outgoing Board of Supervisor members, Braddock Supervisor John Cook (R), Providence District Supervisor Linda Smyth (D) and Hunter Mill District Supervisor Cathy Hudgins (D).
During Chairman Bulova's last days in service, the tables turned. Supervisors, as well as members of the Virginia General Assembly and leaders of neighboring jurisdictions in the Washington D.C. Metropolitan Region set about to recognize and thank Bulova for her distinguished and extraordinary service, at the Dec. 3 Board of Supervisors meeting and Bulova's Dec. 9 retirement reception held at the Fairfax County Government Center.
On behalf of the Board, Mason Supervisor Penelope A. Gross (D) presented a Resolution for the Chairman at the Dec. 3 meeting. The resolution recognized Bulova's service representing Fairfax County on multiple fronts including the Metropolitan Washington Council of Governments; as founding member, "I would say, godmother," Gross said, of the Virginia Railway Express; founder of several community groups such as Faith Communities in Action and Communities of Trust; and sponsor for groups on key County initiatives such as the Diversion First, Stakeholders Group, the Fairfax County Private Sector Energy Task Force, the Governing Board for the Office to Prevent and End Homelessness and more.
"She will be remembered for distinguished public service and achievement, love for history and the arts, and excellent doodling skills," said Gross. "Be it resolved the Fairfax County Board of Supervisors on behalf of all residents does hereby thank Sharon for her extraordinary service on the Fairfax County Board of Supervisors," said Gross. The motion carried unanimously.
As the meeting was about to adjourn, Bulova forecast what is on the horizon for Fairfax County. "I think we're (heading) toward a beautiful future," she said referencing the new 2020 Fairfax County Board of Supervisors to be led by current Lee District Supervisor and Chair-elect, Jeff McKay.
During the Dec. 9 "Goodbye Reception: Farewell, Chairman Bulova!" held in the Fairfax County Government Center, Virginia State Sen. Chap Peterson (D-34) and Del. Mark Keam (D-35) presented Bulova with Proclamations from the Virginia Senate and House respectively. Others also presented proclamations and certificates, one after the other to Bulova, citing many specific programs and initiatives she started. However, consistent throughout the presentations, speakers repeated the same words over and over to describe Chairman Bulova: giving, self-effacing, mentor, leader and calm.

Bulova's term ends at the end of Dec. 2019.
Swearing in of newly elected and re-elected members of the Fairfax County Board of Supervisors, Fairfax County constitutional officers and the Northern Virginia Soil and Water Conservation District directors is scheduled for Monday, Dec. 16, at 6 p.m. in the forum of the Government Center; they will take office at the beginning of 2020.
'I Enjoy Serving the Community'
Q&A with Fairfax County Board of Supervisors Chairman Sharon Bulova, two weeks before she retires.
Q: What action taken during the Dec. 3 Board Meeting was most meaningful to you, and why?
A: Recognizing my outgoing colleagues. I have worked closely with Supervisor Cook, Supervisor Hudgins, and Supervisor Smyth, and I can speak to their dedication and commitment to both their districts and Fairfax County at-large. I have thoroughly enjoyed working with them over these many years and am happy to see them recognized for their service.
Q: What motivated you to serve as Chairman of the Fairfax County Board of Supervisors; over time, did your reasons to serve change as you sought reelection?
A: My reason for serving as Chairman of the Fairfax County Board of Supervisors and Braddock District Supervisor before that has always been the same: I enjoy serving our community. Through ups and downs, I get great satisfaction working on constituents' concerns and issues.
Fairfax County – Looking Back
Q: Describe a challenging time and how you guided others toward a solution. How did you re-access the situation and modify plans, acts, or approaches going forward?
A: The most challenging time of my Chairmanship was the police shooting of John B. Geer in 2015. It was an awful event that severely impacted trust in our local government. To develop changes in our response to critical incidents, I created the Ad Hoc Police Practices Review Commission and Diversion First, two of the most meaningful initiatives of my career. The Police adopted new policies, with a focus on "the sanctity of life," de-escalation, and transparency when responding to critical incidents. I hope these initiatives continue to promote community trust, transparency and safety well into the future.
Q: Your most memorable experience as Chairman of the Board of Supervisors.
A: There really are too many to describe. Establishing the VRE Commuter Rail system and helping it develop into a popular, successful service; the creation of Faith Communities in Action, where houses of worship work in partnership with our local government to address community challenges; the extension of the Silver Line Metrorail into Tysons and Reston; navigating the Great Recession in a way that brought the community to the table to help identify strategies for adjusting to vastly reduced revenues.
I consider One Fairfax to be the most impactful initiative our Board has adopted during my time as Chairman. It is a joint social and racial equity policy that commits the County to intentionally consider equity when making policies. When the County is making policy decisions, we must make sure that all our residents have access to opportunities that will help them to succeed. I am extremely proud of this initiative and look forward to seeing its positive effects throughout the years to come.
Q: Name the one item you received over the years, that touched your heart most deeply and why it did.
A: I regularly attend the Sheriff's Department Back-to-School "Shop with the Sheriff" event at the Target Store in Burke. Through the generosity of local business and the Sheriff's Department, elementary school-aged children residing in homeless shelters are treated to a shopping spree at Target. I always give welcoming remarks outside of Target to the children, who have been paired up with Sheriff Deputies.
After this event in 2010, I received a handwritten letter from the mother of one of the children. She described how excited she was when "a big yellow school bus" pulled up to the shelter where she was residing. A smiling Sheriff's deputy escorted her daughter, Angelica, to the bus to have lunch and to go shopping. The daughter returned ecstatic with new clothes, shoes, and school supplies. The mother thanked Fairfax County and me for caring so much and for "making her day." It is a wonderful letter. I have kept it and take it out to read every once in a while. I am looking at it now.
Fairfax County – Looking Forward
Q: What skills and leadership style did you bring to the role of Chairman, and do you see such present in the incoming Supervisors and Chairman-elect Jeff McKay?
A: As Chairman, I believe it is essential to listen and to be open to collaboration. Jeff McKay has demonstrated those skills as Lee District Supervisor and as Chair of the County's Budget Committee.

Q: What do you think could be improved in Fairfax County? What is more important for the County, or are they equal – constructing new housing and commercial spaces or rehabbing/expanding/better utilizing existing?
A: It is all important. Fairfax County was developed mostly during the '60s, '70s, and '80s. Revitalization of older commercial and industrial areas is critical and presents opportunities to create mixed-use, walkable new development. The establishment of more housing that is affordable to all income ranges is critical for our quality of life and for our local economy.
Q: About traffic: How would you like to see the new Board mitigate the concern or replace the current solution?
A: The ultimate answer to traffic congestion lies in better land use planning and development. Transit-oriented, compact and walkable new development takes the pressure off congested roads and highways. Unfortunately, I won't be in office to see the completion of Phase II of the Silver Line to Dulles Airport and into Loudoun County, but I look forward to seeing the new Board bring this transformational project to fruition.
Q: If the County received a $1 million grant to use any way it wanted, what would you like to see done with the money?
A: Early childhood education.
Retirement
Q: The first day you are no longer Chairman (after you sleep in), what are you going to do that morning? What about the weeks and months that follow?
A: The first day I am no longer Chairman, I will go for a jog as I always do before spending a relaxing day with my husband. In the following months, I plan to visit with my grandchildren on the west coast and to spend some time in France with my sisters and daughter. After that, I have always wanted to write the history of the VRE. It is a great story, full of funny stories and interesting characters. I will finally have time to do that.
Viewpoints: Community leaders on Sharon Bulova
Phyllis J. Randall, Chair of the Loudoun County Board of Supervisors: "I want to thank Chairman Bulova for her many years of service, but also more personally being a guide and mentor to me during my first term as Chair of Loudoun County. She passed the baton to me, and it's my intention to make her proud."
Bryan Hill, Fairfax County Executive: "I wish her all the best in retirement, and she should be happy never to receive another phone call from me with bad news as it will always be good news going forward. And thank you for the opportunity to run Fairfax County."
Gregory Scott, director of Information Technologies, Fairfax County: "I'd like to thank her for all the support she's given Information Technologies over the years and helping us to continue to be innovative in the way we deliver services to constituents in Fairfax County."
Jay Dorsey: "Simply put, she's one of a kind. I've seen my share of elected officials who exert leadership and display of power that comes with their position. I have not seen an individual with her responsibilities that treats every single resident of Fairfax County like she does."
Sheriff Stacey Ann Kincaid, Fairfax County: "Sharon has done so much good for Fairfax County. I have always enjoyed working with her, especially on our Diversion First initiative. I wish her all the best in a well-deserved retirement."
Retiring Hunter Mill District Supervisor Cathy Hudgins: "I think she had the ability to have a calming approach to dealing with some of the most difficult issues as if there is none. She has a very even personality."

Former Mount Vernon District Supervisor Gerry W. Hyland (D): "Our Chairman has been a loving leader of all, our consistent, loving leader of the Board of Supervisors. Her presence has been an inspiration. Sharon has left her fingerprints, footprints and heart print all over the landscape of Fairfax County. We are so much better because of her efforts."
Brad Waller, Visiting Scholar in Residence at George Mason University: "We consider it an honor to be in Fairfax County and raise our two beautiful children here. It's a wonderful place to live, and we are grateful to Chairman Bulova for her dedication and service."
State Senator Chap Peterson (D-34), presenting the Virginia State Senate Proclamation: "She's always been a gold standard in terms of service. What I admire most is her self-effacing personality."
Del. Mark Keam (D-35), presenting the Virginia House of Delegates Proclamation: "She's always put the community ahead of herself."
Chairman, Fairfax County Commission for Women & VAratifyERA Leadership Team, Lisa Sales: "Chairman Bulova has led with a steady hand, kind heart, and always with a focus on strengthening community, which everyone knows. What she might not know is how she has impacted girls and women in the County and how we look to her for examples of leadership for what is good and what is right; we watch her and look to emulate her class."
Mayor of Herndon Lisa C. Merkel: "Sharon Bulova has been a supporter of, partner to, and advocate for the Town of Herndon, our citizens, and our businesses. We are deeply appreciative of her service. On behalf of my colleagues on the Herndon Town Council, I wish her all the best in her retirement."
Shyamali Roy Hauth, EVP, Outreach Virginia Equal Rights Coalition: "I admire Sharon Bulova's compassion in leadership. Her contributions to Fairfax County will live on."