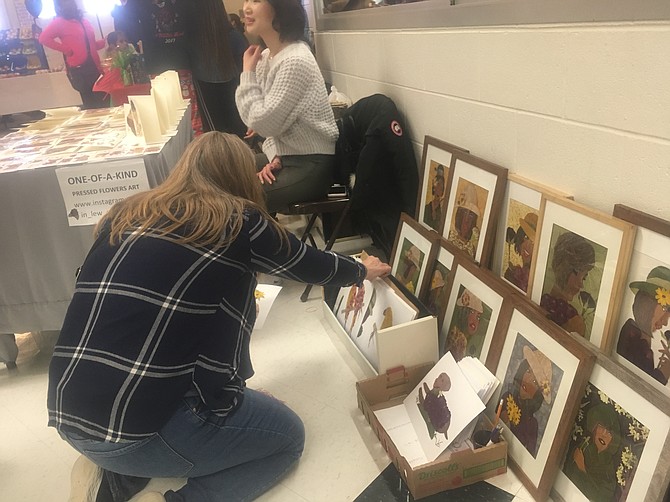 Last spring and summer, Phet Lew grew plants in her garden that were destined to become artworks that are the backbone of their business. On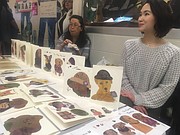 Saturday, Dec. 1, the flower art filled the table at the South County Holiday Extravaganza at South County High School where Lew and her daughter Mani Chinyavong, of "One-of-a-Kind Pressed Flower," were catching the eye of the shoppers. The art was "petals and leaves from her garden," said Chinyavong, a student at South County.
Kristen Shaffer and her daughter Sofia, 15, looked at the art. "This is amazing," said Kristen, pointing at a dog art piece. "We have Charlie, a Chocolate Labrador that looks a lot like that," she added.
The craft show was full of tables like that with handmade art from local artists, food, drink and clothing filling up the halls at South County. Carla Olivo, a Fairfax Station resident, was in her sixth year of managing the event. "It is the major fundraiser for our all-night graduation party," she said. It was a fundraiser for other school groups as well, and it has become more as the event grew through the years. "It's really expanded in the last years," she said, "we've tried to make it a holiday event than just a craft show."
Planning starts each year in the previous spring, and by the time December rolls around, more than 100 vendors are lined up, the plans are set and volunteers lined up to help. Students get community service hours, so there was no shortage there. "We couldn't do it without them," said Lita Higgins who was manning the volunteer table.
The South County Leadership group was part of the volunteer staff. That group gives the students skills in team building and people skills, said David Behar, a South County junior. They were selling cookies and sweets in a side room at the fair. "We're going to use all the proceeds to buy gift cards for the homeless kids," said Sara Wynkoop, a South County senior.