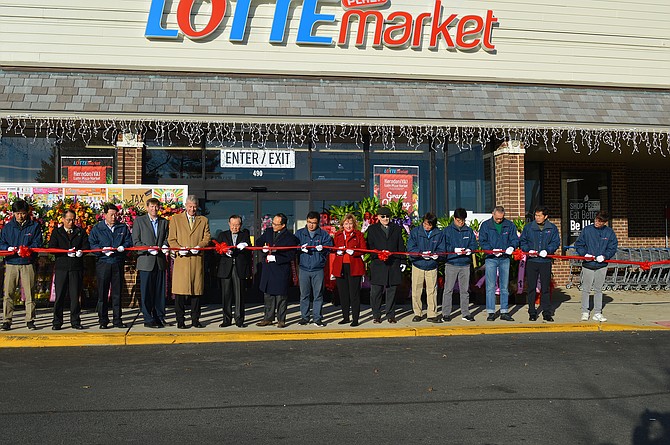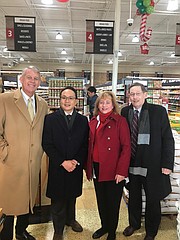 The Herndon Lotte Plaza Market held its Ribbon Cutting, white-gloved and 15 scissors long, on Friday, Dec. 7, 2018, welcoming shoppers to its Grand Opening. Located at 490 Elden Street in Herndon Centre, Lotte strives to be the premier source for Asian groceries in Virginia and Maryland according to its website.
The K-Mart Center now needs to be called the Lotte Market Center, said Mike O'Reilly, member of the Herndon Dulles Chamber of Commerce, part of the Dulles Chamber of Commerce. O'Reilly participated in the Friday, Dec. 7 ribbon cutting ceremony along with Herndon Town Councilmembers Sheila Olem and Richard Kaufman.
"At the grand opening of its grocery market this week, Lotte showcased its fresh fruits, vegetables and fish," said O'Reilly. According to Lotte, they offer an extensive selection of fresh fruits and vegetables, including organics and their seafood is the "absolute best and freshest seafood available… When it comes to seafood, freshness is paramount."
Herndon Town Councilmember Sheila Olem commented that Lotte not only has Halal meats for sale but also has a deli with ready-to-eat selections of cooked Halal meats and other items.
"Congratulations to A. J. Dwoskin & Associates (Real Estate & Development for Herndon Centre), The Town of Herndon's Economic Development Office, Dennis Holste, and the Herndon Chamber of Commerce for welcoming this great new market to our community," said O'Reilly.
Alvin Lee, President Lotte Market, shared how the Town of Herndon provided the most supportive cooperation that Lotte Market has ever received from any government entity, and that resulted in the smoothest build-out and opening the corporation has ever had.
"We love Herndon, not only for the diversity in population but also diversity in its mix of old town feel and new development projects," Lee said.