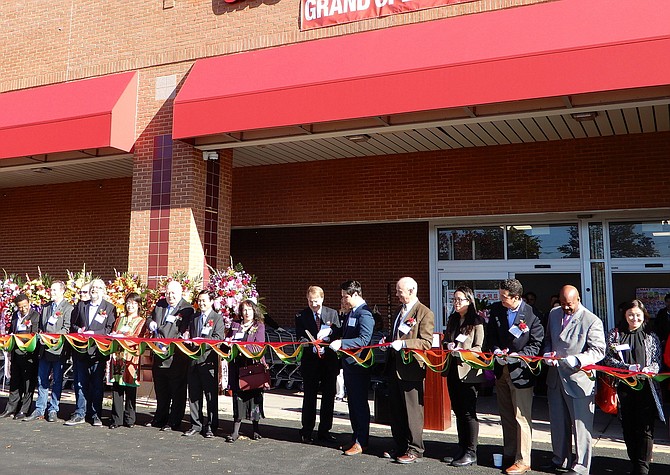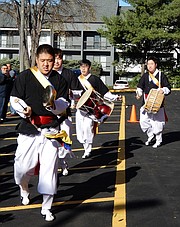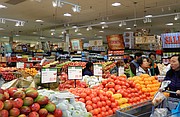 With speeches, drummers and happy smiles all around, H Mart recently celebrated the grand opening of its new grocery store at 11200 Fairfax Boulevard in the City of Fairfax. Moving from its former location across from Paul VI High School, it replaced the former Giant Foods store that had been in that spot off Route 50 for many years.
H Mart's new store is 60,000 square feet, and this popular Asian supermarket offers a wide array, including produce, meat, seafood, groceries, housewares, ready-to-cook items, a food-court and even a branch of the Paris Baguette bakery.
The grand-opening event featured a VIP tea for City of Fairfax officials and other dignitaries, a ribbon-cutting ceremony, speeches and a performance by traditional Korean drummers. The store then officially opened to an eager public.
"I congratulate H Mart President Brian Kwon and his remarkable team on repurposing this building for its new store on Jermantown Road and Route 50 [Fairfax Boulevard]," said Fairfax Mayor David Meyer. "High-quality grocery stores that offer diverse products are key to the City's economic development. H Mart's commitment to the City has been longstanding, and its relocation to this spot is an affirmation of its confidence in our community."
Pleased with the new store and H Mart's relationship with Fairfax, Kwon said, "We were able to open here and create this beautiful market because of all the support we've had here from our friends, neighbors and the City for 17 years."
Attendees also included Fairfax City Council members Michael DeMarco and Sang Yi, Police Chief Erin Schaible, Assistant Fire Chief Andrew Wilson, City Treasurer Tom Scibilia, Economic Development Director Chris Bruno, Central Fairfax Chamber of Commerce Chairman Doug Church, Asian American Chamber of Commerce President and founder Cindy Shao, H Mart Marketing Manager Sam Kim, plus John Sabo and Mary Valenta with Fairfax's Economic Development Authority.
Inside the store's food court, Schaible said, "I'm always looking for places for lunch; I'll have to try this. It's like a food adventure."
At the ribbon-cutting ceremony, Meyer said, "When you come in this store, you'll see a remarkable transformation of this space. Some 29 percent of Fairfax residents were born in another country, and this store's message is that all are welcome here. I encourage all our citizens to become customers of H Mart."
"Bringing in new businesses makes the City a better place to live, work and, now, eat," added Church. "Welcome, H Mart."
Speaking on behalf of her organization, Shao said, "We bring our warmest congratulations and wish your business many years of future success. It's great to see you representing the Asian and international communities."
Councilman Yi said H Mart is "part of the Fairfax City family. I think we're one of the best cities in the region for businesses. Grocery stores provide the food our families eat, and a lot of my paycheck goes to H Mart. This store opening is also symbolic because of our strong, Asian American population here. But it's a grocery store for everybody, and I'm so proud to be here today; congratulations."