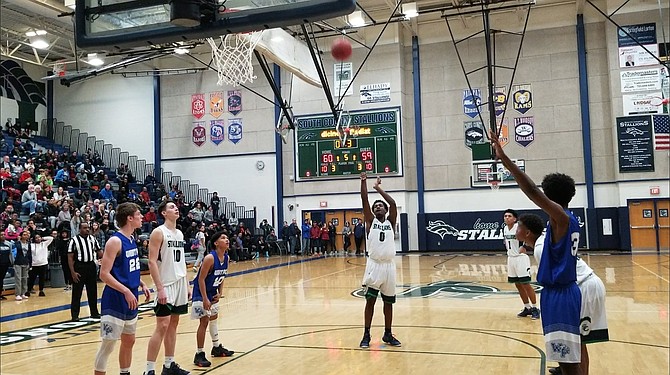 "You're always proud that you win… A win is a win, whether it's [by] a half a point or 40 points. We just have to get better as a team." —South County head coach Mike Robinson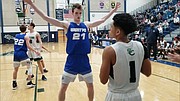 With a two-point lead and just 1.3 seconds remaining in overtime, South County head coach Mike Robinson responded with equal parts disappointment and disbelief when one of his players failed to hit the rim while intentionally trying to miss a free throw – a violation that gave possession to West Potomac with no time running coming off the clock.
Moments later, Robinson paced with frustration in front of the Stallion bench when one of his players committed a foul, giving the Wolverines a chance to tie the score at the free-throw line with less than one second remaining.
When the final buzzer sounded, the South County boys' basketball team had crawled out of an early 9-0 hole, overcame a 13-point second half deficit and defeated previously unbeaten West Potomac 61-59 in overtime on Dec. 14 in Lorton.
After the game, Robinson said he was proud of his team for the win, but there was a lesson to be learned for the defending state champion Stallions.
"Guys, they think because they have a lot of talent that they can just come out and it will be easy for them," Robinson said. "They don't understand that they're hunted right now. Until they understand that … there are going to be a lot of games like this until we get our act together from the start."
Last season, South County became the third consecutive Fairfax County team to win the 6A state championship, joining Westfield and Woodson. This year, the Stallions, who return some talented players from last year's championship squad, are learning what it is like to play with a target on their backs.
"Every team gives us their best every game," said South County junior Will Wilson, who scored the team's final six points against West Potomac at the free-throw line. "We've just got to learn that every team is going to do that, so we have to come out hard."
South County trailed 39-26 early in the third quarter after West Potomac standout guard Daryl Mackey Jr. knocked down a pair of 3-pointers to start the second half.
But thanks to eight third-quarter points from Donovan Myles and some clutch fourth-quarter buckets from Andre Speight, the Stallions battled their way back. South County took its first lead when Speight came up with a steal and scored late in the fourth, giving South County a 55-53 advantage.
A 3-pointer by West Potomac's Ethan Payne tied the score at 58 and sent the game to overtime. The Wolverines, who were without Mackey after the senior suffered a second-half ankle injury, managed just one point in the extra period.
"We've just got to get the energy up faster," Wilson said. "We can't wait until the second half to start playing hard. [West Potomac] came out hard and we didn't come out as hard, we came out kind of lackadaisical."
Wilson finished with 12 points.
Speight led South County with 17 points and Myles added 10.
Seniors Noah Bullock and Jake Latta, and juniors Xa'Vian Myles and Cody Kellem also return for South County.
South County followed the win over West Potomac with a 60-53 victory over Oakton the following night. The Stallions entered Tuesday's matchup with Hayfield with a 5-2 record, with both losses coming during a trip to Utah.
South County will travel to face Woodson at 7:30 p.m. on Jan. 4.
"You're always proud that you win," Robinson said. "A win is a win, whether it's [by] a half a point or 40 points. We just have to get better as a team."