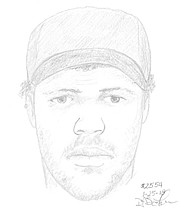 Fairfax County Police Department detectives released a composite sketch of a man they believed was involved in the possible attempted abduction of a child. The preliminary investigation shows that an 8-year-old girl got off her school bus on Wednesday, Jan. 24, near the intersection of Frye Road and Madge Lane around 5:15 p.m. While walking home, she was approached by an unknown man. The man tried to talk with the girl but she refused. The man then grabbed the girl's arm, at which point she was able to break free and run away. The man began to chase the girl for a short distance, before he stopped.
The girl was able to make it home safely and told her mother about the incident. The man was described as black, between 40 and 50 years old, 5'6" to 5'7", with a medium build. He had short hair with a short beard, a mole on his left ear, and a tattoo on his inner right forearm. He was wearing a black zip-up jacket with gray pockets, a black baseball hat with gray writing, black pants, black shoes, and a black or gray backpack.
Detectives will continue to canvass the area, review video surveillance in the area, and speak with any witnesses.

The police are asking for assistance in identifying the man in the sketch, anyone with information about this incident is asked to contact Detective Hengemuhle at 703-246-3086 or the Fairfax County Police at 703-691-2131. To submit a tip anonymously through Crime Solvers, visit www.fairfaxcrimesolvers.org or text-a-tip by texting "TIP187" plus a message to CRIMES (274637). Anonymous tipsters are eligible for cash rewards of $100-$1,000 if their information leads to an arrest.