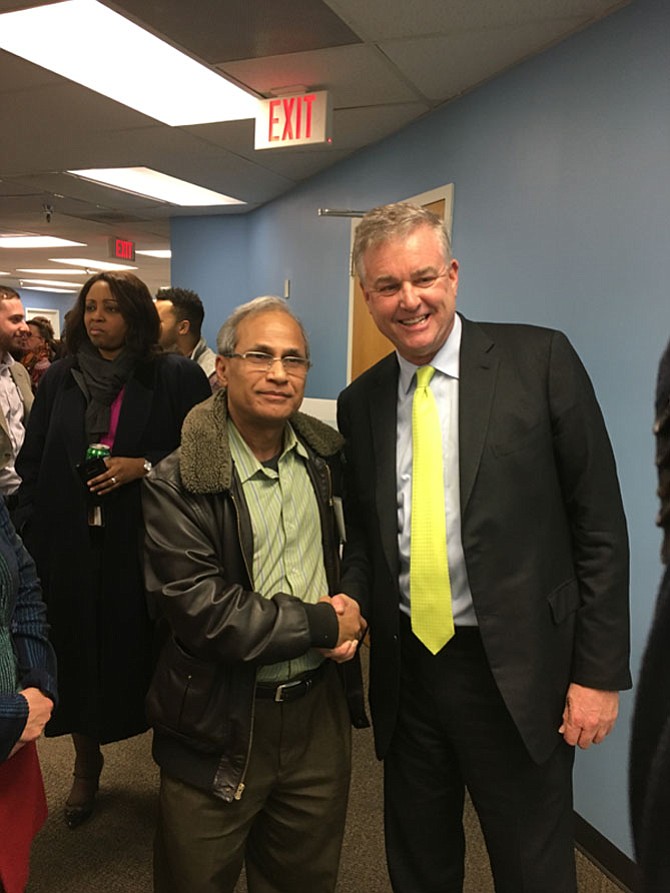 Panel on the Opioid Crisis
Democratic Congressional candidate David Trone will be hosting a community service event this weekend on the Opioid Crisis.
Rockville Opioid Community Service Event
Saturday, Feb. 10, 12:30 p.m., The Johns Hopkins University Montgomery County Campus, Room 121, 9605 Medical Center Drive, Rockville. Free parking is available on-site.
The panel will include: Emily Keller, Hagerstown City Councilwoman; Cynthia Terl, Community Engagement Director at Wells House, Inc. and Frederick County Local Health Improvement Priority Behavioral Health Workgroup; Korey Shorb, Executive Director, The Ranch Drug and Alcohol Addiction Treatment Center; Meghan Westwood, LCSW-C, Executive Director, Maryland Treatment Centers, Inc.; and Chris Frenier, Founder of the F.A.C.T. program (Fostering Alternative Choices in Thinking).
With almost a month left before the Feb. 27 filing deadline for candidates for the upcoming elections, many candidates are already actively running.
"This is the when you have to get your name ID up and raise money," said Christopher Hearsey, a Montgomery County Democrat running for Maryland's Sixth Congressional District.
So far there are 10 candidates from the two major political parties registered on the Maryland State Board of Elections website www.elections.md.us.
Four Republicans, Kurt Elsasser from Washington County; Amie Hoeber, Montgomery; Lisa Lloyd, Montgomery; and Bradley Rohrs, Montgomery; are in the running to replace Maryland's current Sixth District Congressman John Delaney, who has declared as a presidential candidate for the 2020 election.
Six Democrats, Andrew Duck, of Frederick County; Nadia Hashimi, Montgomery; Christopher Hearsey, Montgomery; Roger Manno, Montgomery; Aruna Miller, Montgomery; and David Trone, Montgomery; are registered.
All the major party candidates will vie for the right to represent their party in the general election during the primary election June 26. Libertarian candidate Kevin Caldwell, of Frederick County and Green Party candidate George Gluck, Montgomery County are unopposed so will not be on the primary ballots.
Local businessman Trone opened his Montgomery County campaign office in Potomac Thursday evening, Feb. 1.
Almost 100 people, including staff and volunteers enjoyed a light supper and heard the candidate lay out the main points of his platform.
Ruth Tockman, of Potomac, was among the attendees. She said she was invited but didn't quite know how she got in the invitation list.
"I will be a Trone supporter," she said.
Louis Solomon, of Bethesda, said he was there to see what was going on.
"I'll take notes then compare them to other sources," he said. "I'll be glad to listen, there are certain problems I'm interested in."
Mike Tofigh, of Potomac, said he was interested in Trone's foreign policy.
"he did great with the [Muslim] ban," Tofigh said. "He donated money and got lawyers [to help people.]"
A quick survey of other candidates showed that, of those who responded, most were working from home or "borrowed" office space as they get their campaigns in gear.
Lloyd said she does not have an official campaign office.
"This is a very grassroots campaign," she said. "I show up anywhere there is a group of people [to talk about the election]."
Hoeber said she has a temporary campaign headquarters in Rockville, Elsasser said he is working from home as is Rohrs.
"We are trying to keep things simple now," Rohrs said.
Hashimi said she is working from home and a couple of rooms in her husband's Silver Spring office.
"We're doing that to be budget friendly," she said.
Hearsey is using "a little space in my apartment," he said.
Duck, Manno and Miller did not respond.