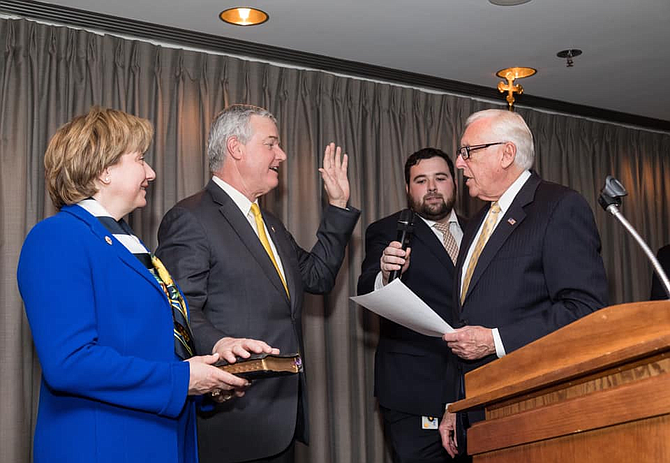 David J. Trone, Democrat, businessman, philanthropist and politician, was sworn in Jan. 3 as the District 6 representative to the U.S. House of Representatives.
Trone is a Potomac resident who takes over the seat vacated by John Delaney who stepped down to devote his time to a presidential run in 2020. Trone defeated Republican Amie Hoeber in the general election. He refused to take outside money and spent over $18 million of his own money on his campaign, according to the Center for Responsive Politics Open Secrets.org website.
"I was so honored to be sworn-in today as your next Congressman for Maryland's 6th District. Thank you Majority Leader Steny Hoyer for administering the oath and James E. Clyburn for your words of inspiration as we start our first day. Let's get to work," Trone wrote on his Facebook page Jan. 3.
He was not available for comment, but on Jan. 1 he posted a New Year message on Facebook, showing his intention for moving ahead with his campaign promises: "June and I would like to wish everyone a Happy New Year! In 2018, I heard on the campaign trail that people wanted to see more compassion, competence, and civility in Washington. Now my team and I are ready to get to work to bring those values to Congress and to represent the people of Maryland's 6th District."
Trone, 63, is a co-owner of Total Wine & More, a national beer, wine and liquor chain. He is married to June Trone and is the father of four children.
He graduated with a bachelor's degree from Furman University and an MBA from the Wharton School, University of Pennsylvania.
Local residents can contact Trone through his Montgomery County Office in the Cabin John Shopping Center, 11325 Seven Locks Road, Suite 280. Phone: 240-907-2392.