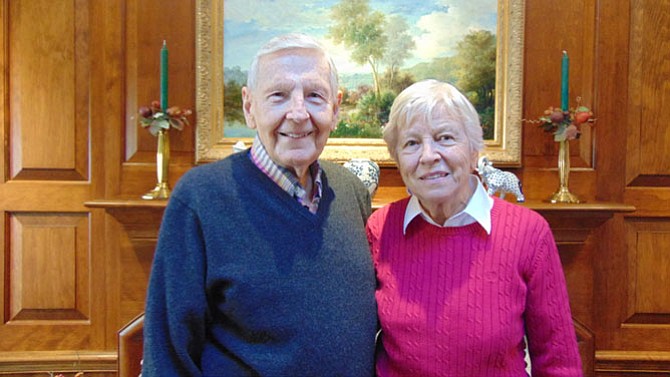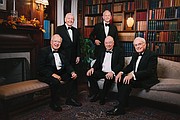 Dr. Robert Nirschl, M.D., 84, of Chain Bridge Forest in McLean is one of five people to win the 2017 Mayo Clinic Distinguished Alumni Award last October for his work in the international field of orthopedic medicine. The Mayo Clinic Board of Trustees gives the award annually to acknowledge the contributions of Mayo alumni to the field of medicine, including medical practice, research, education and administration. Nirschl completed his residency in orthopedic surgery at the Mayo Clinic in 1963. He was a longtime orthopedic surgeon at Virginia Hospital Center.
"It's a huge privilege and huge honor to be selected as distinguished alumni – there are 30,000 people who went through the Mayo educational system starting around 1900. Looking back at that legacy is a huge honor and then to be honored by the group – it's surreal stuff in a sense," he said.
He said the Mayo brothers – William and Charles Mayo who developed the Mayo Clinic – not only appreciated quality care but they also understood that it required research and advancement of medicine. "So, this was not only doctors involved in delivering care, but also doing research to enhance the progression of medical knowledge," he said. "So, it's quality care plus research plus education."
Nirschl is a world-renowned expert on tennis elbow, known as epicondylitis, which is a tendon overuse problem. During his 55-year career, he has been instrumental in the initial recognition, treatment and investigation into the pathophysiology of this condition, and invented the Nirschl Operative Procedure.
His work expanded not only to the elbow, but to the shoulder rotator cuff, the knee cap tendon, Achilles tendon in the lower leg, Plantar Fasciitis in the foot, and all of the tendons.
"Tennis elbow is a failure of the tendon and the tendon, under duress, will mechanically break down. The blood supply to the tendon is altered so the blood vessels get squeezed out," he said.
DURING HIGH SCHOOL, he played tennis his senior year and picked it up again when he moved here and played at the Tuckahoe Recreation Club in McLean. Around 1966, he got tennis elbow and read some articles by orthopedic surgeons about the problem. So, he started to do research and found that what was available in world medicine was inadequate and erroneous. He looked into doing a different tennis elbow operation so he went to the cadaver lab at Georgetown University. There, he did dissection on the elbow and found that the malady of what was happening with tennis elbow was the tendon, which was hidden.
"None of the surgeries found where the real problem was. I redesigned the whole surgical approach to the elbow, tennis elbow and golfer's elbow. I found the shoulder was involved and began to alter the shoulder surgery," he said.
Nirschl's research of sports techniques produced new treatments for tendon injuries of the shoulder, elbow and lower extremities. The Nirschl operative procedure for elbow tendinosis (tennis and golfer's elbow), as well as his classification of pain phases and microscopic evaluation with Virginia Hospital Center pathologist Russell Stay (1979) of tendon failed healing is now utilized by physicians worldwide.
He said for 100 years, the failure of tendons was called tendonitis. "The whole idea was when we did analysis of the tissue, we found out there were no inflammatory cells in the tissue, this was not an inflammatory problem, therefore we changed the name from tendonitis to angio-fibroblastic tendinosis. We found out this was a degenerative process rather than an inflammatory process," he said.
He started filming tennis stroke mechanics of world-class tennis players on the 1970 U.S. Davis Cup Team in Cleveland and analyzing mechanics of not only tennis but all sports. He compared these players to recreational tennis players. With this information, he recognized injury-producing patterns and recommended good stroke/sport mechanics, and accommodating equipment.
He's worked with Donald Dell of Potomac, a sports agent who represented tennis players Arthur Ashe, Ivan Lendl, and Jimmy Connors. Through the years, he's operated on two Wimbledon champions, 30 world-class tennis players, and one elite cricket player named Sachin Ramesh Tendulkar of India. All in all, he's operated on roughly 11,000 people and consulted with as many as 150,000 people.
Nirschl has given 500 talks (in eight foreign countries); been published in 140 medical magazines and journals; was the medical editor for World Tennis Magazine where he published 51 articles; and also produced 10 videos on shoulder and elbow surgical techniques.
"When I go to national meetings, people say 'thank you very much for what you did.' It's been fascinating in a lot of ways when I think about it," he said. He's now taken a course on how to write his memoirs, so that's on his to-do list.
Nirschl is the founder of the Virginia Sportsmedicine Institute and Nirschl Orthopaedic Center for Sports Medicine and Joint Reconstruction (1974), and was the founder (1989) and director of the Nirschl Orthopaedic Sports Medicine Fellowship program for 25 years, where he trained and influenced orthopedic surgeons.
He's mentored hundreds of medical students, family practice residents, orthopedic surgery residents, family practice sports medicine fellows, and post-graduate orthopedic sports medicine fellows. Two of his fellows, Francis O'Connor, M.D. and Robert Wilder, M.D., have become chairmen of medical school departments.
Nirschl was the first doctor in the country in 1974 to put Nautilus exercise machines in a physical therapy unit. He developed an education program with 45 graduate orthopedic surgeons who spent a year learning about non-surgical and surgical techniques.
He is the original faculty director of the Primary Care Sports Medicine Fellowship for the Uniformed Services University of the Health Sciences in Bethesda, Md., the medical school for the military. "They take four doctors a year and they have formed family practice sports medicine programs at military installations around the world," he said.
He was a founding member of the U.S. Tennis Association's Sports Science Committee (1988), and he was appointed orthopedic consultant to the President's Council on Physical Fitness and Sport during the Reagan years (1982-89).
Nirschl was born and raised in South Milwaukee, Wisc.; he studied for two years at College of the Holy Cross in Massachusetts (1951-53), then transferred to Marquette University in Milwaukee, but did not complete his bachelor's degree. He graduated from the Medical College of Wisconsin (1958), then interned for one year at St. Mary's Hospital in Duluth, Northern Minnesota (1958-59). He also earned a master's degree in orthopaedic surgery from the University of Minnesota (1963-66).
He completed his residency in orthopedic surgery at the Mayo Clinic in 1963, was an orthopedic surgeon and Lieutenant Commander in the U.S. Navy for several years, and then came to Washington, D.C., in 1965 and worked at Georgetown University Medical Center as well as in private practice associated with Virginia Hospital Center, then called Arlington Hospital.
OVER THE YEARS, he became the team physician for the Bishop O'Connell and Yorktown High School football teams, and worked with W.T. Woodson, Charles County, Md., and was team physician for Marymount University.
He has been recognized as one of the area's "Top Doctors" for many years in Washingtonian and Northern Virginia Magazines, and has been listed in top doctors in America by the Consumers' Research Council of America.
Today, 55 years later, he is still practicing medicine three days a week, still doing consultations and second opinions, but has stopped doing surgery. "There are a lot of patients who show up for second opinions so I use my experience and wisdom," he said.
A parishioner of St. Agnes Church in Arlington, he said the concepts of Catholicism and the concepts of the Mayo Clinic are similar -- and that is to do what's in the best interest of the patient. "You want to do what's good for society and mankind and for your patients, so Catholicism plays a major role in that," he said.
For his legacy, he hopes to be remembered favorably. "My start was on the elbow and shoulder, and also the alteration and understanding of tendon failure and development of rehabilitation programs and the education of young doctors. And also delivering clinical care, to be able to be of some help to the patient population. The legacy of trying to deliver quality and cutting-edge care and medical research on the basis of what we've learned," he said.
He ended by adding: "One of my most important 'Nirschlisms' for young doctors is, No. 1, you identify the pathology correctly; No. 2, you deal with it in an appropriate manner; No. 3, you leave the good stuff alone; and No. 4, you get the hell out of there before something bad happens. That's my advice to young surgeons when they're doing an operation."
Nirschl is married to wife Mary Ann for 59 years; the couple has three grown children: daughters Suzanne and Julie, and son Robert C.