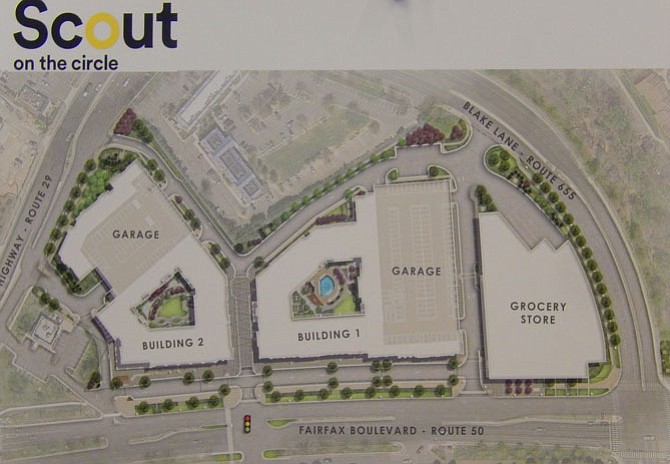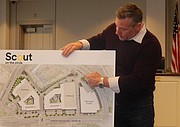 During the recent community-outreach meeting, Andrew McIntyre, with Combined Properties, gave attendees an update on the Scout on the Circle project.
The already-approved, mixed-use development will replace an obsolete strip mall with 400 rental apartments, 29,000 square feet of retail, a Giant grocery store and two parking garages. It's at Fairfax Circle, flanked by Fairfax Boulevard (Route 50), Lee Highway (Route 29) and Pickett Road, with easy access to and from major highways.
"We love the community and we're excited to be part of the next iteration," said McIntyre. "The cost of the total project is about $150 million. Most developers don't have as big a stake in their projects – and that shows our commitment to the City. We recently launched our leasing effort for the inline retail. We're currently negotiating with a small, independent coffee shop which wants to be across from the grocery store."
Clark Builders Group is the contractor, and McIntyre said they hope to "start knocking down buildings" sometime in mid-February, with groundbreaking tentatively set for Feb. 20. And with the Metro station less than a mile from this site, a bus stop there will enable both City residents and GMU students to reach it from the shopping center.
"Going east, there'll be a new [traffic] signal near the Chick-Fil-A," said McIntyre. "And we'll do everything we can to minimize construction disturbance to the City. It should take about 32 months from the start of work to substantial completion. There's a heavy amount of utility relocation and undergrounding to do. We expect to deliver the pad to Giant around month 17 or 18. Giant will construct its own building; we'll build everything up to it."
Regarding the apartments, he said they'll all be rentals to make this project economically feasible. "Right now, this property is assessed only on its land – $90 million worth of value," said McIntyre. But once everything's in place, he said, it will add more to the City's tax base. "You'll be seeing a lot of us, over the next three years," he told the residents. "We're excited to get started."