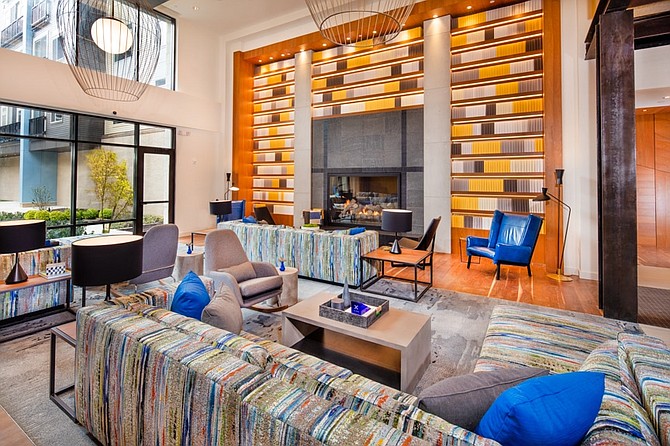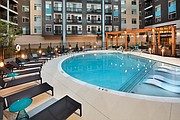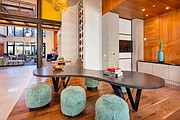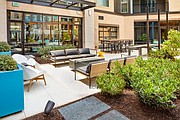 The new, mixed-use development, Scout on the Circle, has transformed its section of Fairfax Boulevard in Fairfax City. The Giant grocery store has opened, and the first residents have moved into the 400 luxury apartments being built there.
The 551,000-square-foot, $150 million project at Fairfax Circle replaced an obsolete strip mall with the apartments, 29,000 square feet of restaurants and shops, the new Giant, plus two parking garages. At the intersection of Routes 50 and 29, it's just a mile from the Orange Line Metro.
"We're proud that we could take an over-50-year-old shopping center and rebuild it into a modern, state-of-the-art, residential, retail and restaurant oasis that will serve the needs of Fairfax for many years," said Ronald S. Haft, chairman of the project's developer, Combined Properties.
The retail space is currently 80-percent leased, including leases in the final stages of negotiations. Confirmed tenants include Republik Coffee, TeaDM, Peri Peri Original and the Nail Bar. And Fairfax residents are delighted to see this long-awaited development finally coming to fruition.
"The City of Fairfax congratulates Combined Properties on the opening of its signature mixed-use, multifamily residential and commercial project, Scout on the Circle, at the east entrance to our City," said Mayor David Meyer.
The bright, spacious apartments feature layouts ranging from junior one-bedrooms to one-, two- and three-bedrooms with balcony and den options. Enhancing the modern aesthetic is custom artwork, as well as a vibrant color scheme.
Residents will also enjoy resort-style amenities that include two courtyards with grilling stations and fire pits, a sunny deck and saltwater pool, tailored communal spaces, a cinematic screening room and a fitness center with cutting-edge equipment and technology.
"We're thrilled to deliver a property at the northeastern gateway to Fairfax City that is representative of the City's transformation into a more urban, walkable community," said Combined Properties executive Vice President Andrew McIntyre. "The interest has been incredible; and despite the challenges of COVID-19, we were able to quickly adapt to show our property, sign leases and facilitate move-ins."
The apartments in one of the buildings are complete and available to lease. The second building is still under construction. For more information, go to https://scoutonthecircle.com/. Virtual and in-person tours are available by appointment at 703.750.8140.