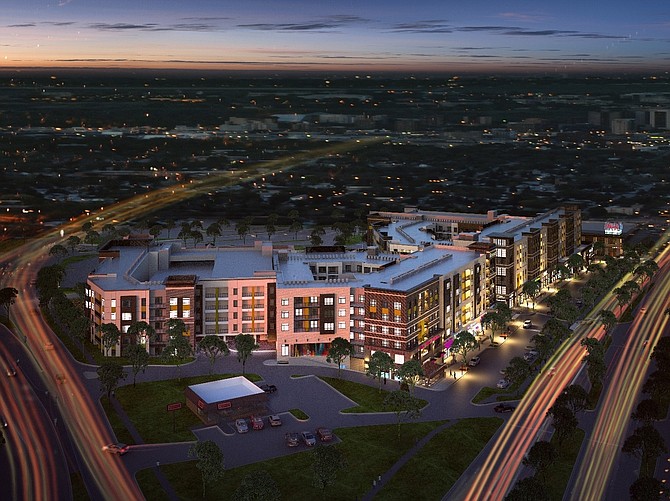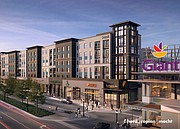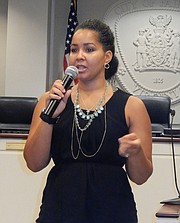 When Combined Properties gave Fairfax City residents an update on the stalled, Scout on the Circle project, on July 20, the developer said it was working hard to finalize the lease with its grocery-store anchor. The deed is now done and, last Thursday, Aug. 3, Giant Food was announced as that anchor store.
"The City of Fairfax is very pleased that Combined Properties has this lease agreement with Giant Food for a store at Scout on the Circle," said Mayor David Meyer. "Combined Properties has a first-rate project that will become an iconic entrance to our community. We congratulate Combined Properties and Giant and look forward to having this new, commercial center in our city."
The already-approved, mixed-use development will replace an obsolete strip mall with 400 Class-A apartment units, 29,000 square feet of retail and the Giant – which will be a 54,000-square-foot, full-service, grocery store with pharmacy. Two parking garages are also part of the project.
Dubbed a "transit-oriented development," it's located at Fairfax Circle and flanked by Fairfax Boulevard (Route 50), Lee Highway (Route 29) and Pickett Road, so it will have easy access to and from major highways. And now that the lease agreement has been signed with Giant, the project's construction schedule has been accelerated, with work expected to begin late this year or early in 2018.
However, at the outset of July's informational meeting, things weren't quite so rosy. "There's been a very long and frustrating delay on this project," said Meyer. "So I've asked Combined Properties to meet with the citizens and hear their concerns."
Andrew McIntyre, the company's senior vice president for business development, told the crowd Scout on the Circle is a "very important project" for his firm. "Our desire is to have a shovel in the ground by the end of this year or the first quarter of next year," he said. Noting that it takes a long time to "take a large site like this out of use and redevelop it, Mcintyre said, "We would have wanted to keep the shopping center going [as it was] for a longer period of time."
He also stressed that it's a $150 million-dollar project and Combined Properties is now in the final design, permits and drawings stage. And he said that, once it finalized the lease with the grocer, that entity would attract other retail to come there. But it's a deliberate and complicated process.
"The builder is CBG, Clark Builders Group, and we need the lease, permits and a joint-venture equity partner who'll match the $25 million we're investing before we can begin work," said McIntyre. "You have a hole in your community, and we empathize with that. But right now, we are bleeding money and generating no revenue. So we're very motivated to get this moving."
He said their brokers "feel strongly that this is a very good project. We've already spent $6 million to $7 million to get to where we are today – not to mention the millions we spent paying off the debt. And because of that, this pushes it to the top of the stack for investment folks. We expect to identify that partner by August-September and then go out for debt financing. Then CBG can proceed [with the work]."
REGARDING THE RESIDENTIAL COMPONENT, Project Manager Aisha Hill, Combined Properties' director of development, said 6 percent of the apartments – all rentals – will be affordable housing. The retail will comprise grocery store, plus two other buildings with retail on the first level and five stories of residential above.
"The apartments will be 1-, 2- and 3-bedroom for a plethora of options for families, singles and retirees downsizing," said Hill. "Most are 1- and 2-bedroom units. Parking-garage entrances will be from Route 50 and from a back street. We've taken every step we can to make sure this is a great project. We anticipate the residential to be open in spring 2020, two years after the start of construction."
McIntyre said businesses survive in a retail development by creating a community, not just for the immediate residents, but for the city at large. "We want people to do other things there – such as errands and snacking – besides shop for groceries," he said. "There's even an alley there for entertainment, such as cooking classes, music or yoga. It's also about the experience people have there."
"At Combined, we're a retail company and know the kind of businesses we want there," added Hill. "We want to pick the right and strongest retailers we can find."
"We don't do things the cheapest way," said McIntyre. "We want to create value and have excellent design that will be enduring and that people will respond to in a positive way."
Explaining the project's name, Scout on the Circle, Hill said research yielded many ties to a specific, female, wartime spy, or scout, in this area, and "We changed the meaning of 'scout' to being about the exploration of life in a new place."
Next came questions from the audience, and resident Billy Reilly asked, "At what point do you decide the type of stores coming in there?" McIntyre said that's their "big challenge in the next couple years. We want any retail where people want to stay, to drive rents and be competitive – for example, a gelato shop where people can stay and visit with their friends."
However, another male resident said, "We have a lot of vacant retail space in Old Town, and I'm concerned that it'll take patronage away from that part of the City."
But Meyer replied that "This project is on the edge of the City limits and in a different, geographic position. I think high-quality redevelopment anywhere in the City will help the entire City."
A man from Foxcroft Colony Condominiums, across Route 50 from this project, said he was glad to hear about its progress and would appreciate a safe, pedestrian crosswalk to it for his community. Meyer said, "Hopefully, we'll have another meeting like this before Jan. 1. And I'd like to talk about what the City's going to do about changes to Route 50 regarding the redevelopment of this site."
MEANWHILE, Combined Properties Chairman Ronald Haft is delighted that a lease was signed with the project's grocery store. "With the state of the art Giant Food anchoring this exciting mixed-use development, Scout on the Circle is destined to be a premier property in the market," he said. Store officials are pleased, too.
"We are thrilled to be expanding our footprint in the Northern Virginia community with the addition of our new City of Fairfax store," said Giant Food President Gordon Reid. "For 81 years, Giant has continually sought opportunities to serve the greatest number of people in the region, offering quality products and services."