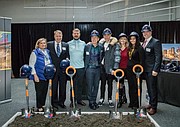 It took a while to get there but, at long last, construction has begun on the mixed-use development called Scout on the Circle. The ceremonial groundbreaking was held Feb. 22, and City of Fairfax dignitaries, residents and representatives of developer Combined Properties joined in the celebration.
"We're so excited to get to this day," said Project Manager Aisha Hill. "Our vision for Scout on the Circle, after many years of planning, is finally taking a step forward visually today."
The 551,000-square-foot, $150 million project will replace an obsolete strip mall with 400 luxury apartment units, 29,000 square feet of restaurants and shops, plus a 54,000-square-foot, full-service, Giant Food store with pharmacy. Two parking garages are also planned.
Viewed as a transit-oriented development, it's located at Fairfax Circle and flanked by Fairfax Boulevard (Route 50), Lee Highway (Route 29) and Pickett Road, so it has easy access to and from major highways. It's also less than a mile from the Vienna Metro Station.
Andrew McIntyre, the company's senior vice president for business development, previously explained that businesses survive in a retail development by creating a community, not just for the immediate residents, but for the city at large. So, he said, "We want people to do other things there – such as errands and snacking – besides shop for groceries. There's even an alley for entertainment, such as cooking classes, music or yoga. It's also about the experience people have there."
In addition to the Giant, the retail uses will be in two other buildings with retail on the first level and five stories of residential above. The apartments will be one, two or three bedrooms, although most are one- and two-bedroom units. Parking-garage entrances will be from Route 50 and from a back street. All rental units, the apartments are anticipated to be open in spring 2020, and 6 percent will be affordable housing.
DEMOLITION of the former Fairfax Circle Plaza began the first week in March, and the project is slated for completion in 2021. And at the groundbreaking ceremony, there were smiles all around, plus heartfelt comments about what Scout on the Circle means to both the City and the developer.
Fairfax Mayor David Meyer commended McIntyre, Hill and their team who worked with City staff through their site plans, permits, engineering, financing, coordination with Fairfax County and other agencies to get approval for this project. He thanked City staff, as well, for expediting the review and processing of the necessary paperwork.
"Today is a great day for Combined Properties and a great day for our City and region," said Meyer. "On behalf of my colleagues on the City Council and all the citizens of the City of Fairfax, I extend hearty congratulations to Combined Properties on this groundbreaking."
He also thanked Combined Properties Chairman Ron Haft for his "commitment and leadership" in seeing this project through. "Your company has had a commercial presence in our City for a long time," said Meyer. "This project will be a signature, commercial center that sends several, huge messages to our citizens and to the business community in the Washington Metropolitan area."
"It says Combined Properties isn't a one-trick pony, but that it plans and invests for the long term, and we're pleased you are here," he continued. He said it also reinforces the fact that the City of Fairfax is open for business and welcomes new development.
Furthermore, said Meyer, "This project will be of superior design and quality and will serve as an outstanding gateway entrance for our City. It will provide high-quality residential and retail for its occupants and customers. Combined Properties is also providing 24 affordable-housing units in its apartment complex – and this speaks volumes to Combined's commitment to commercial enterprise with a social-justice presence."
Also addressing the crowd was Combined's President and CEO, Kathy Bonnafe. "This is such a wonderful day for us," she said. "We have envisioned this project for 13 years."
HAFT, a longtime City resident, called Scout an exciting mixed-use development destined to be a "premier property" in the market. Noting that his company used to just be a shopping-center developer, he said, "We're now trying to build communities within these developments where young and old can get together and share their experiences."
He said Scout will enable people who left the City to come back, or longtime residents – who don't want to deal with a big house, anymore – to find a place to live right here in Fairfax.
"This gives an option I think people will appreciate," said Haft. "We have four commercial properties in the City, and we want this one to continue our tradition of success. This is a complicated project and there are a lot of people to thank for helping us reach this point. There aren't a lot of projects like this in the U.S., so we thank City staff for taking a chance and letting us do something progressive for the community."