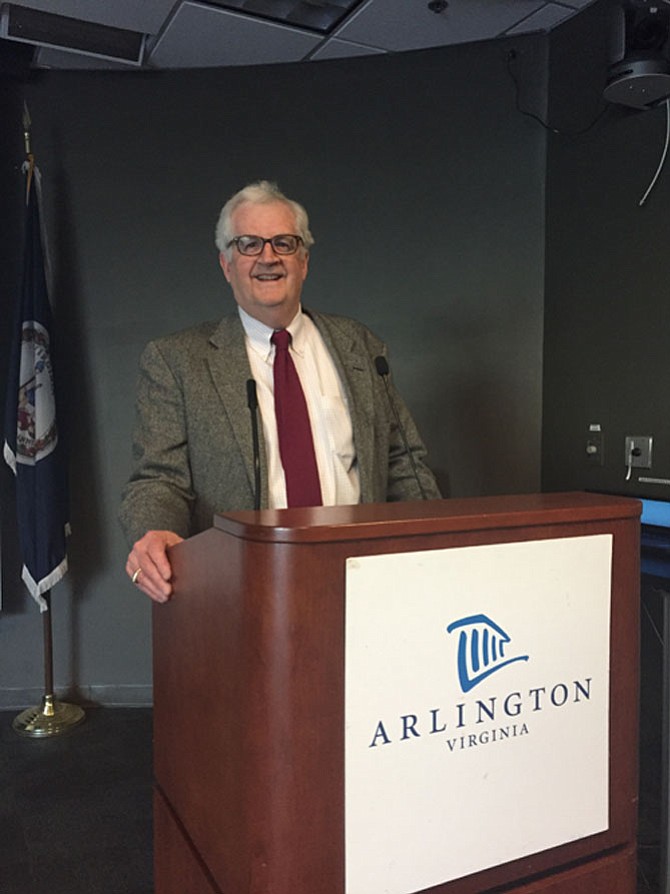 Everyone knows the highlights of Arlington's tourist attractions: The Marine Corps and Air Force Memorials, Arlington National Cemetery, etc. But beneath the surface of Arlington County are countless fascinating pieces of local history. No tourist bus will take you to the scene of Arlington's motorcycle gang shootout. There's no tourist pamphlets commemorating how Military Highway was built over three days.
At a public lecture in Arlington's Central Library, local historian and reporter Charlie Clark promoted his new book "Hidden History of Arlington" and talked to a full house about some of his favorite stories stashed away across the county.
"History in Arlington is a little less formal than in Alexandria," said Clark. "Most of the history here is reading between the lines."
Clark said the county's Civil War history is a perfect example. While Alexandria was occupied by Union troops and played a substantial role in the national drama, Arlington was more of a pass through, with a few of its own famous residents and brief skirmishes like the recently memorialized Battle of Arlington Mill.
Clark was born in D.C., but was raised in Arlington and graduated from Yorktown High School in 1971. Clark admitted some North Arlington bias in his writing, particularly around the neighborhoods where he grew up. There are stories from around there not marked on any official signposts, but that only the residents know. There are places like "Speed Hill" on Nellie Custis Drive, where teen drivers since the '60s have tested their speedometers on what was reportedly the steepest hill in Arlington.
Many of the places Clark noted weren't secret, but were off the beaten paths. Powhatan Springs, for instance, was a vital watering hole throughout the county's history. According to legend, Chief Powhatan, for whom the springs are named, once held festivals there. It was noted on a map by John Smith. George Washington's troops disbanded there after General Braddock's defeat in the French and Indian War. But currently the springs are obscured and the springs themselves are largely uncared for.
But Arlington is more than just its locations. Clark also talked a bit about what makes Arlingtonians unique.
"Arlington is unusual," said Clark, noting that it was the only jurisdiction in Virginia to oppose secession and was the first to integrate its schools. "It's southern enough to identify, but northern enough that [the Deep South] is exotic."
Clark compared the local population to the cast of the NBC show "Parks and Recreation," a group of honest, do-gooders who try their best but things still go awry. They're a body of citizens that aren't afraid to challenge their local governance on issues, pointing in particular to the struggle put up by local citizens last year when Arlington worked to relocate Fire Station 8.
During the talk, Clark also ran the gamut of minor celebrities with a connection to the county — like Nicholas Hammond, one of the Von Trapp children in the Sound of Music, who grew up in Arlington County, or Warren Beatty, Shirley MacLaine, and Sandra Bullock, who all graduated from Washington-Lee High School. One personal note of pride for Clark was tracking down stories that golfer and tea-lemonade mixer Arnold Palmer had been married in Arlington, despite most of his public records saying he was married in Falls Church. Palmer had eloped with his wife Winnie Walzer after her father refused to give his consent. They drove south out of Pennsylvania and Clark was able to find the original marriage documents in the Resurrection Lutheran Church: in Arlington.
During a question and answer session with the audience, several local residents asked Clark to weigh in on various local historical topics. Debbie Berry asked about an infamous motorcycle gang shootout that took place in 1966. It was a topic that Clark, and others in the audience, remembered personally from when they were growing up locally.
"I was 13 and in junior high school, and we all heard about it," said Clark. "It was kind of a spooky event."
Clark said there was a prominent motorcycle gang that controlled the east coast at the time; the Pagans. Many of them lived in the local area. A meat cutter at a Safeway decided to form a temporary rival gang called the Avenger's. The apostrophe, Clark noted, was a grammatical mistake. The same night as Yorktown's graduation, a group of Pagans went to the upstart rival's work where the Lee Harris Shopping Center is today. Police had heard about the potential fight and moved in to arrest, but not before over 100 shots were fired. And yet, no one was injured. Clark said this was likely because the Pagans and rival gang were more interested in scaring each other than killing anyone. Clark said the gang shootout, and the presence of the Pagans in general, was a relic of another time in the county's history, when blue collar work was still prominent.
Clark also spoke briefly about a few of the ghosts rumored to haunt Arlington. It was one of the most commonly requested conversation topics from the audience, and afterwards it was something some said they'd like to hear more about.
"I wanted to hear more of the ghost stories," said Debbie Berry. Berry said stories of the supernatural, true or not, are always fascinating as a mix of local history and compelling dramas, "Whenever I go to historical places, I always go on the ghost tours. They are always interesting."
Connie Francis, a local resident, said she found the whole discussion about local history fascinating. Of particular note to her was Clark's note that Arlington Hospital had been segregated for years, meaning any black Arlingtonians born in a hospital had to do so outside of the county lines.
"I found it all really interesting," said Nancy Alikonis. "I'm a regular reading of his column and this is a very interesting topic."
"I read this book and the one that came before it," said Bryan Deitch. "When my wife told me about this talk being held here, I had to come."
Deitch said he and his wife have lived in Arlington for 10 years and are fascinated by some of the county's buried notorious past, like the prominent local Nazis and KKK groups that paraded in Arlington in full force. Deitch says it's a reminder of how much things have changed in Arlington. Deitch also said he enjoyed another book recently by local writer Michael Lee Pope called "Shotgun Justice," about a commonwealth attorney in Arlington who launched a crusade against illegal bars, bordellos and casinos. Deitch said it was those kinds of local history pieces that don't always make it onto the historic district signs that fascinate him the most.
"History is one of those interests where you either have that interest or you don't," said Deitch.