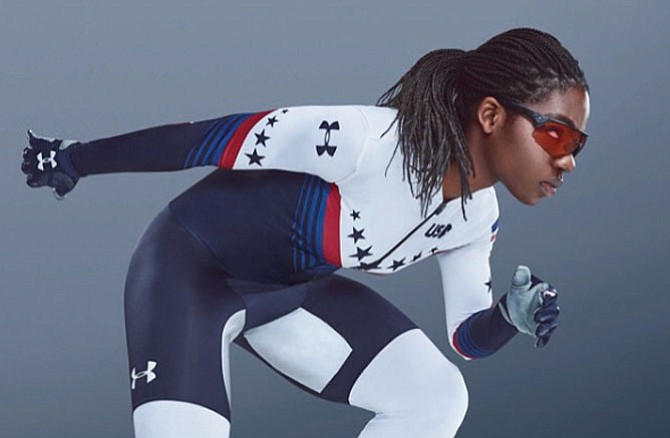 After sweeping the 500m races during December's U.S. Olympic Team Trials in Kearns, Utah, Reston speedskater Maame Biney, 18, made her Olympic debut as a member of Team USA at the PyeongChang 2018 Olympic Winter Games. The high school senior, who hails from Ghana and lives in Reston with her father Kweku Biney, is the youngest member of the U.S. Olympic short-track speed skating team, a medal contender, and the team's first African-American female speed skater to qualify.
Biney attended South Lakes High School in Reston until she relocated to Salt Lake City to train with the U.S. short-track team in July 2017. Since then, Biney has lived in Utah with a host family who was with Biney's father at the Olympic trials to cheer her on.
Short-track skaters mass start each heat with four skaters and must finish in either first or second to place in their heat to advance. Skaters can reach speeds of up to 30 miles per hour as they race counterclockwise on a 111.2-meter oval course, bumping into each other and fighting centrifugal force on the tight corners. It is that low left bodyline and their rubber-tipped gloves skimming the ice that makes short-track speed skating unique.
Hopes and dreams are hinged on a competition that – from start to finish – is under a minute. Although speed, strategy, and planning are critical, sometimes unexpected events, come into play.
At the Gangneung Ice Arena on Saturday, Feb. 10, 19:52 EST, in Heat 5 of the 500-meter short-track speed skating race, Biney captured second place behind FAN Kexin (CHN) qualifying her for Tuesday's quarterfinals. The Reston teen, with a time of 43.665 seconds, edged out KIM Alang (KOR) with a time 43.724, a .059 second difference.
Biney and U.S. Short Track Coach Anthony Barthell had devised a plan before the 4 1/2-lap race – pull away with a strong start and then block South Korean KIM Alang, 22, the crowd favorite. The plan worked. Biney held off KIM Alang in the last lap with a great defensive move and with her sprint to finish, Biney advanced.
In the stands, Biney's father cheered as did Vice President Mike Pence who later tweeted, "Congrats to @BineyMaame on advancing in Women's 500M! @SecondLady & I are rooting for you! Let's go#TeamUSA #pyeongchang2018."
In Tuesday's Quarterfinal Heat 3, Biney sprinted off the line and was bumped by Sofia Prosvirnova from Russia throwing off her rhythm. Biney finished fourth out of four with a time of 44.772 seconds. Prosvirnova ranked first with a time of 43.466.
Biney is planning to compete in the 1500m on Saturday, Feb. 17 and depending upon the outcome, may be bringing home more than determination and her infectious smile when she returns home to friends and former classmates in Reston.